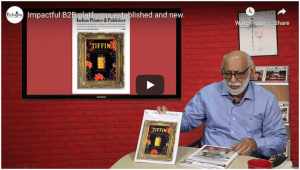 Don't waste a full year to reach one of the most dynamic packaging markets in the world. Why wait for 2021 to connect with the subcontinent's fast-growing packaging industry from your responsive hub in New Delhi?
Interpack and drupa are postponed to 2021. This is the time to reach out to captive audiences by using the most influential channel and platform in South Asia. The Delhi-based B2B monthly Packaging South Asia – its web platform, eMail newsletters and eMagazines are the most influential communication channel in the region.
In its fourteenth year, Packaging South Asia reaches owners and professionals across Bangladesh, Bhutan, India, Mauritius, Nepal, Pakistan, Sri Lanka, the Middle East and Africa as well. The magazine's premium content, look reflects the spirit of change, modernity, and excellence. This is the relevant platform to reach out to the professional and world-class packaging industries that are emerging in this region.
Manufactured goods, organized retail, domestic consumption, and exports are growing in this region. The packaging industry in the subcontinent was growing in double digits before the disruptive Covid-19 pandemic. The pandemic has highlighted the importance of hygienic packaging for food, pharma, beverage and liquor that drive the packaging industry in this region. Increased urbanization and modern multi-brand retail are factors in a society where packaging itself implies quality.
The event calendar is disrupted
The major packaging and label events in South Asia, Europe and North America have been canceled or postponed. More than ever, the opportunity is to use our omnichannel platforms for communication, interaction, engagement to an audience that is hungry to keep up with the latest technology. Our readers want to know what is possible. What is new? Is it appropriate for their needs!
In a disrupted environment, the best messaging is by using the reliable and trusted B2B trade platforms that we have created over 40 years. Your potential customers are in the habit of reading us on their phones, their computers and in print.
Premium content in the right context
The Packaging South Asia platform covers the entire packaging supply chain from marketing and design, printing and converting, filling and sealing, end-of-line, track and trace, and logistics. All print, decoration and converting technologies including, gravure, offset, flexo and digital are covered. All formats and technologies are covered, just have a look at our website. The perspective of end-users – brand owners and packaging buyers inform our tech-savvy content.
Can we expand your universe?
With ever-expanding domain knowledge, one of the best editorial teams in the industry dominates print and web in this region. The opportunity for enterprising suppliers is to do more with our platforms – to use our channels to reach beyond their own universe. To go beyond the few known customers and reach a larger, more random, yet still addressable and targeted universe.
Our integrity and fairness are valued by our readers. Packaging South Asia establishes the right context for your products to be seen and appreciated. Our readers are in the right frame of mind where they are looking for innovation, efficiency and first-mover advantage. With first-hand coverage of national and international events, conferences, installations, and plant openings, we are one of the top packaging monthlies in Asia.
Along with a monthly print run of 6,500 copies, premium content is updated daily on our website and at least two eMail newsletters go out across geographic boundaries every week. In addition, our eMagazine is circulated among 4,500 brand and product managers, packaging buyers, suppliers, machinery manufacturers and industry experts and leaders in the region.
Tech and business savvy equals the power to influence
The B2B print issue magazine is posted on the 5th and 6th day of each month. Apart from the daily updates to our web site, we have four packaging related newsletters each week. On Sundays, we send out a packaging design and marketing column from our archives. On Tuesdays and Thursdays we broadcast our packaging newsletters. On alternate Wednesdays, we send out our two fortnightlies. IndiFoodBev.com is a fortnightly magazine on the food and beverage processing and packaging segments. healthtekpak.com covers healthcare & diagnostics & packaging.
Our web analytics, SEO and social media are increasingly gaining traction and often place our multi-channel platforms first globally, on web searches of industry events and stories.
To receive a copy of our eMagazine and media kit please fill out the form in the sidebar on the top right of this page. Respond with your queries, ad material and editorial information to:
Please respond with your queries, ad material and editorial information to:
Email: marketing2@ippgroup.in or ads1@ippgroup.in or marketing4@ippgroup.in.
Please email to us for Packaging South Asia's Media Kit 2019 at marketing2@ippgroup.in
or fill out the form in the right-hand column of this web page.
Edited on 14 May 2020