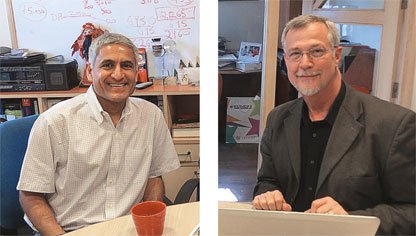 Obaly Morava's HP T400 Simplex inkjet for corrugatedBoxing cleverPackaging print is facing many of the same kinds of pressures that have driven other sectors to invest in digital technologies. There is the same need to cut down on waste and to avoid having stock tied up in warehouses. Brand owners are constantly looking for ways to engage their customers, with regular promotions that can react quickly to events, such as a surprise win in a national sporting event or a sudden change in VAT rules. This means that run lengths are coming down as brands look at shorter runs of different versions. At the same time, digital printing technology is improving with higher image quality at faster production speeds which is helping to raise the break-even point where digital becomes a feasible alternative. Gianluigi Rankin, worldwide product marketing manager for HP's web press media technologies, demonstrating the boxes produced on the T400 at Obaly Morava. Photo Nessan ClearyObaly Morava
Obaly Morava is a family business, headed up by CEO Martin Rehorik. It has around 250 employees and runs three continuous shifts. To start with, the company outsourced the corrugated production but in 1996 installed its first corrugating machine. Today the company is still the only independent Czech producer of corrugated board and packaging.
Rehorik says that he realized that he would have to take the company in a different direction to survive, which led to a new Bobst Master Line for production and converting of corrugated packaging with flexo printing and diecutting. This was followed more recently by a Bobst Expert line.
But this in itself was not enough as Rehorik outlines, "Three or four years ago our sales reps told me that we needed to improve the quality of our print to the level of offset. At the same time the European and worldwide prices were still falling and we were feeling the shortening of average orders."
He continues, "The only way was preprinting a roll to be added to the corrugated to create a preprinted corrugated board solution. When I compared the two possibilities of lamination or preprinting I realized how many unnecessary steps lamination would mean for me. It would need a 6- to 8-color offset press, with space and the operators plus the paper for lamination, which is very specific.
"Then there's the lamination, which needs a special type. You need operators and space, and you need quite an expensive PVA glue and still you are not ready to manufacture the packaging because lamination is a cold set operation and packaging needs the right humidity. So you need quite a lot of space and time for the material to equalize in humidity and eliminate any distortion."
Rehorik explains that he hates unnecessary steps and always prefers to take the shortest path to the target. "So I ruled out the typical way of producing high quality print with offset print and lamination. The only way was preprinting a roll to be added to the corrugated to create a preprinted corrugated board solution." So he started looking around at the various options.
The T400 Simplex
At the same time, HP was looking to branch into the packaging market with its inkjet web press, eventually creating a T400 Simplex configuration. This is based around a single T400 print engine and uses the same A51 thermal printheads with the same water-based CMYK inks. There are seven printheads per color bar, and two bars per color, plus 14 heads for the bonding agent. Gianluigi Rankin, worldwide product marketing manager for HP's web press media technologies, says, "We estimated that customers would be replacing one printhead in every shift but now it's actually one every two shifts."
The press has the same specifications as a standard T400, with a maximum print speed of 182 metres a minute. This equates to around 12,000 square metres an hour. The resolution is 600 x 600 dpi, which allows it to print text down to four points quite legibly.
But HP has had to make a couple of minor modifications. Thus the rewinders had to be modified to take the larger four-inch cores that are used in the corrugated industry. HP has also added web cleaners and there are some differences in the software to cope with the substrates and associated color profiles.