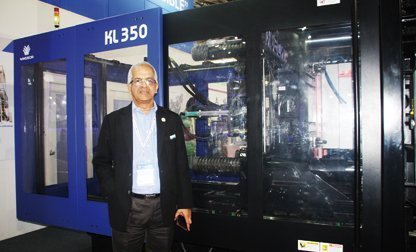 Being the first company to produce plastic processing machinery, Windsor Machines showcased its range of injection blow moulding and extrusion machineries integrated with Industry 4.0. Speaking to Packaging South Asia, TS Rajan, chief executive officer, Windsor Machines says, "We have been participating in Plastivision since the first exhibition. Plastivision is the second biggest exhibition happening in India. The Mumbai industry is a place of decision makers and geographically a favorable space for people from various industrial segments in the country.
At the trade show, we showcased live demonstration of Industry 4.0, where the data from the displayed machine was synchronised and shown to visitors. We generated good enquiries at the show and we are hopeful of clinching some orders too," he says.
Emphasizing the need for Industry 4.0, Rajan says, "Lack of skilled and trained operators leads to decreased efficiency and close to zero valuable feedback to the senior authority in order to enhance the productivity of quality products. Today, having skilled labour and retention of skilled labour is a huge challenge. That's where there is a need of integration and automation. Every other player has its own niche market. However, Windsor believes to be a step ahead of their competitors. We have a strategic alliance with the ancillary equipment manufacturer, so whenever our machines are commissioned we provide complete integrated solutions and ensure it becomes functional. As a value proposal to startups, we aid them with factory layout and update them with our in-house trials."
Although Rajan expected fewer footfalls at the exhibit due to demonetization, he was happy to see a huge turnout. The overall response for the exhibition, according to him, was rather positive. In 2016, Windsor crossed Rs. 280 crore and expects to grow to Rs. 350 crore by the next financial year.