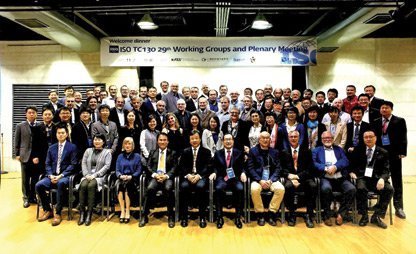 The meeting in Korea consisted of the WG Overview and then meeting by the respective working groups. WG1 – Terminology; WG2 – Workflows; WG3 – Metrology and Metrics; WG4 – Media and Consumables; WG11 – Energy Consumption Printed Material; WG12 – Post Print; WG13 – Testing Methods Certification and Compliance; WG15 – Energy Consumption Electronic Media; TF3 – Future plan of TC 130; JWG7 – ICC Joint Working Group.
On 8 November 2015, the 2015 Plenary was also held at the meeting. Overall the meeting was very fruitful. Our attendance was a little light but we had 70 plus attendees from 17 voting countries and two observing countries. Special thanks to our host from the Korean TC130 delegation. We stayed at Paju Book City which was a library on the scale of the world's largest library. It was interesting staying in a hotel with many coffee shops and no electronic media. Hundreds of people come to visit and read in Paju Book City – 16 hours a day, 7 days a week. Also, we were very excited about having our newest P (Participating) member country from India join this meeting.
WG1 is updating all the terminology working with all the other Working Groups to align new terms with update standards as well as working on keeping existing terms and definitions current in standards where applicable. When you consider we use the same words and or symbols around the world in printing but sometimes these have very different meaning (that is, die is for cutting, die is also for a plate.)
WG2 is very excited about having a liaison from CIP4 now participating. We have completed many standards in the last year. WG2 is completing work on CxF ISO 17972 Series. This series is for Color Exchange providing common schemas and tools for communication of measurement data Part 1; Scanner targets Part 2; Characterization data Part 3; and, Targets and Spot Color Exchange Part 4. Part 1 and Part 4 are complete. Parts 2 and 3 are out for vote. We are also working on ISO WD 20616 Print Quality Exchange – to communicate from printers to brands regarding measurement data ISO 20616. Both of these comprise PRX
(Print Report Exchange ) and PQX Print Quality exchange. Near completion is the ISO 19445 Metadata
for graphic arts defining requirement for images and document proofing, and ISO 18620 Tone Curve adjustments, providing a common schema for communication plate adjustment curves across vendors.
WG2 Task Force 2 and 3 are working on the Future of PDF format. Jason Lee of Canada shared application notes for new PDF formats. There is much work on developing PDF 2012, that will increase the usability of PDF formats for all users. This work is scheduled to be competed by end of year 2016 with alignment of ISO 32000.
WG3 is focussing on two new standards ISO TS 15311 metrics for reporting and qualifying print. Part 1 comprises test methods for measuring all print. Part 2 is for commercial print including digital. ISO WD 20654 is a standard for calculation of tone value for spot color. This has been sent out for a CD ballot. It is very important for our packaging industry to provide a common tone curve for spot and brand colors.
WG4 is working on revising the method for calculating tack of inks, there is a request to update the system and metrics used globally form the current US standard. The concern is that globally we will have to purchase new equipment and learn new metrics that render same results as the currently used system.
WG5 did not meet in Korea.
JWG7 is the incorporation of ICC specification into ISO standards, the Black Point Compensation standard is nearly complete, the new document is for ICC Max Profiles allowing Spectral data and spectral transforms.
WG11 defines environmental aspects of print. They are working on a standard with much controversy on de-inking of printed sheets.
WG12 is working on new standards for binding and post print. This should align binding and finishing.
WG13 comprises compliance and Test Methods for print, this work is developing requirements for Color Workflows and Packaging Supply Chain conformance. They are also developing a Part 1 that will align ISO 9000 certifications with actual Printing Standards rather than aligning to customer written SOPS.
WG15 includes environmental aspects of electronic print. This group is relatively new and developing documents similar to WG11 but pertaining to electronic print.
Packaging South Asia is the cooperating media partner for drupa 2016 which is scheduled to be held from 31 May to 10 June at Dusseldorf, Germany.