Optimizing operations through automation and digitization and the importance of collaboration and communication were the dominant themes of EskoWorld 2022, which made a successful return as a live event in Texas.
From 7 – 9 June, more than 450 packaging and label converters and industry experts convened at the Gaylord Texan Convention Center & Resort in Grapevine, near Dallas, for the eagerly awaited return of the premier technology-focused event for packaging professionals.
"As this was our first live event in three years, we secured a bumper line-up of more than 120 sessions, demonstrations and workshops, and truly inspiring and thought-provoking speakers," said Melissa Plemen, Esko senior director of Inside Sales and Marketing. "For two-and-half packed days, we looked at how the latest developments in automation, digitization, and connectivity through cloud-based solutions will help businesses overcome the challenges they face today and those on the horizon."
Jan De Roeck, Esko's director of Marketing, Industry Relations and Strategy, kicked off the event with a thought-provoking presentation that set the tone for the rest of the event. "Jan's opening speech detailed how the need to accelerate digital transformation was being exacerbated by the ever-changing challenges faced by businesses today," said Plemen. "He contextualized how businesses need to digitize, automate and connect in order to not only keep pace with the demands of their customers but also to thrive in the future."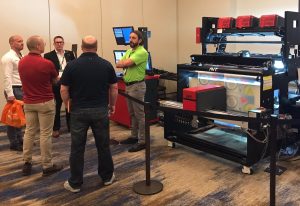 A keynote speech from Maimouna Diakhaby, associate partner at intelligence experts McKinsey, then examined the five key industry trends McKinsey identified in 2019 that have further evolved during the pandemic. "An expert in the global paper and packaging industry, Maimouna detailed how sustainability, eCommerce, and digitalization would be the key trends in the industry for the coming decade," said Plemen. "Following these two insightful presentations on day one, we enjoyed more than one hundred sessions dedicated to helping attendees stay ahead of the rapidly evolving trends in our industry."
A special interaction suite – featuring continuous live demonstrations of everything from 3D technology that helps packaging designers achieve maximum on-shelf standout through to 100% inline printing inspection for narrow web and labels – proved incredibly popular with visitors from around the world, while some of the dedicated sessions were so popular they ended up being standing room only.
The event's closing speaker was Randy Pierce, president and chief executive officer of
Future in Sight, a non-profit organization dedicated to transforming the lives of those who are blind, visually impaired, and their families. Randy began losing his sight in his early 20s and has been totally blind since 2000. "Randy and his guide dog Swirl had the entire convention enrapt as he delivered a wonderfully inspirational account of how collaboration, communication, and connection were the keys to success," said Plemen.
The 2022 event marked EskoWorld's return to a live setting, having not been able to welcome attendees in person since 2019, making it the most anticipated EskoWorld to date.
"With one of our most packed ever schedules, covering everything from software workshops, trend analysis, and panel discussions, EskoWorld 2022 offered new opportunities for shared learning, networking, and discovery," said Plemen. "We're thrilled that so many of our customers, colleagues, and partners joined us at our first in-person event in such a long time, and it was a pleasure to host some of the leading lights of the industry and customer presentations from global brands like Danone, Alcon, and Padagis.
"While it was great to catch up with friends and colleagues for the first time in three years, more importantly, we know the takeaways will be vital for manufacturers and converters looking to optimize operations in the post-pandemic market," she added. "The industry is still trending strongly towards eCommerce, with an increased focus on sustainability issues and food-safe packaging, and attendees can now use Esko solutions more effectively to digitize, automate, and connect processes to boost efficiency, reduce waste, and increase print quality."