At the IndiaCorr Expo, Esko displayed its entire range of software suit including specific corrugated ArtiosCAD software, image editing software and graphic editing software. "We are also displaying our most popular cutting table for packaging, Kongsberg V20, on which we are live cutting folding cartons on duplex boards, and corrugated cartons of 3- and 5-ply. We are also displaying samples designed with corrugated," says Karan Talwar, regional business manager, North and East India, of Esko.
ArtiosCAD
Esko's ArtiosCAD is widely used by the packaging industry. "The USP of ArtiosCAD is that it understands packaging – like what is the size of the box, what is the flute size of the box, what is the flute direction of the box, what is FEFCO standards and more. It has got packaging intelligence built into it," says Talwar. "As a packager not only we, but also the software should know what the final outlook should look like. ArtiosCAD understands these things quite well and ensures that whatever design you make today, comes up perfectly when you get into production." ArtiosCAD creates a variety of 3D models of common packaging products like cans, bottles, glasses and bags. These product models support parametric design, allowing users to resize a single model to create a wide variety of shapes and sizes.
In India, Esko has sold around 250 licenses for ArtiosCAD out of which 30 to 35 licences are specifically for the corrugated industry, according to Talwar. "If you are to graduate from a generic application to a dedicated application for packaging, then ArtiosCAD is the only solution. The most important part of ArtiosCAD is that you can virtually fold re-board in 3D, like you do in reality," Talwar says.
Kongsberg V20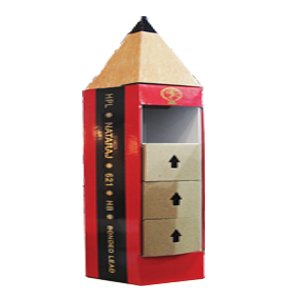 Kongsberg V cutting tables deliver reliability, precision and ease of use for companies in the packaging and sign and display markets looking to complement their offerings with productive digital finishing. Built on the robustness of the Esko Kongsberg family, the new V series offers standard configurations for the best possible finishing quality of a highly diverse range of packaging and sign and display applications. The Kongsberg V for packaging is specially configured for samplemaking, short-run production of mockups and other packaging-specific applications. It is outfitted with a FlexiHead, which offers highly accurate, powerful cutting and creasing of packaging material such as folding carton and
corrugated board. The FlexiHead is attached to a very precise servo axis controlling the tool depth when cutting, creasing and routing. Three configurable tool stations accommodate a full range of standard tool inserts.
Speaking about the industry and the exhibition, Talwar says, "What we feel is that the packaging industry as well as the corrugated industry is growing. We can see a lot of serious people coming here. The good thing about the exhibition is the packaging conference going on simultaneously with the exhibition – right people who are also attending the conference are coming to the exhibition hall. Fortunately, this exhibition is not very crowded. But the kind of people coming here is decent. I think the facilities around this exhibition centre must improve including commutation."