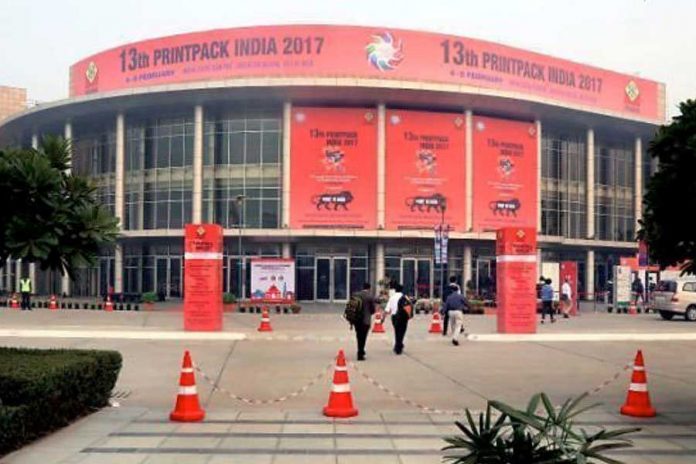 We are looking forward to Printpack India as it is now close upon us. Most of the exhibitors that we have talked to are finalizing their plans and working even in the holiday season. There is only a month to go before the event starts on 1 February 2019. The Noida metro has passed its safety test and is expected to be inaugurated in the beginning of January 2019. Our organization and websites continue previewing what will be on show till the exhibition starts. And then we will produce the Printpack India Show Daily on all six days of the event – together with eBulletins and social media throughout the show.
The organizers IPAMA have acknowledged the industry's overwhelming positive response to widely awaited biennial event, as the exhibition space has been completely sold out two months before the show, which is unusual for such a large exhibition in India. The forthcoming Printpack India will be 47% bigger than the previous show in 2017. According to the organizers, a net space of 24,500 square meters has already been booked by 505 participants. The major global manufacturers of printing, packaging and label equipment have been planning and fine-tuning their participation at the show in order to optimize their impact, meaningful traffic and footfall at their stands. Among the leading global print and converting manufacturers, Heidelberg, KBA, manroland web systems, Komori, RMGT, Bobst, HP, Konica Minolta, Canon and Xerox have stands at the show, which itself has become the most important print show brand in the subcontinent.
The outcome of the exhibition of course largely depends not only on the choice and depth of equipment on show but also on the visitors who are expected from all corners of India, South Asia, Middle East and from further afar. Visitor promotion in cooperation with sister associations like the Association of Label Printers & Suppliers, Screen Printers Association of India, Indian Paper Corrugated & Packaging Machinery Manufacturing Association, Federation of Corrugated Box Manufacturers, All India Federation of Master Printers and other Allied Associations to mobilize visitors and encourage delegations to visit Printpack India 2019 are underway. Visitor promotion meetings continue to be organized in various cities in the coming weeks with the support of local graphic arts industry associations and the institutions.
IPAMA has also inked MoUs with print associations in China, Egypt, Nigeria, Italy, Sri Lanka, Bangladesh, Nepal, and other neighboring countries for mobilizing visitors from overseas. In the last five months, IPAMA had participated in more than 75 Indian and foreign exhibitions and conferences for promotion of the event.
For the convenience of visitors, elaborate arrangements have been made for free on-line registration to Printpack India 2019. Visitors need to merely fill out a simple online form to register themselves, which should take about 2 or 3 minutes. After registering, the visitors need to take a printout of the registration slip to bring along with their ID proof for directly entering the exhibition halls. Onsite counters will also be available for onsite registration for those visitors who don't mind paying the nominal Rs. 100 entry fee and waiting in the queue.
Seminars and workshops are planned for 2 and 3 February 2019, at Printpack India at the Expo Centre in Noida in cooperation with Aptech and AIPIMA. The PRINT Business Outlook Conference organized by the Association of Print Technologies in cooperation with IPAMA will be a day of interactive discussions on the challenges, opportunities, new hot trends, and collaborations between Indian and other global markets. This must-attend event includes a full-day of education and networking so you can develop international partnerships.
Also Visit : Printpack India 2019 Show Daily | Printpack India 2019 Preview