In a daytime function on 24 February 2017, Parksons Packaging inaugurated its fifth monocarton plant in the Sri City industrial township located about 90 kilometres north of Chennai. Board and team members, family and friends bore witness to the auspicious launch of another purpose-designed and comprehensively fitted factory. With an initial capacity of printing and converting 500 tonnes of board to monocartons each month, the capacity is expected to double by the end of the calendar year with the installation of a second Heidelberg CX 102 press.
Bobst Group CEO Jean Pascal Bobst and Heidelberg board member Stephen Plaenz were chief guest and guest of honor respectively, at an inaugural function adorned by several luminaries from major consumer goods, food and pharma customers and various equipment and consumable suppliers. Jean Pascal Bobst cut the ribbon to the new shop floor as the new Heidelberg CX 102 7-color plus coater press and a full complement of Bobst die-cutters and folder gluers went into action.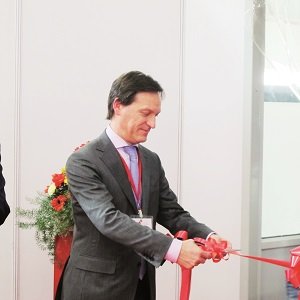 In the course of the Parksons Packaging event in Sri City and Chennai, one could sense the direction and momentum of the Indian carton printing and converting industry. The Sri City region itself contains several leading food processing and packaging plants, including one of the biggest Mondelez plants in Asia. It is clear that the packaging industry growth is driven mainly by the consumer products industry and that the pharmaceutical industry also has an important role to play, especially as the Indian pharmaceutical companies become bigger suppliers and exporters of complex formulations. It was interesting to hear at the evening panel discussion that the domestic penetration of various over-the-counter drugs is still as low as 3% leaving enormous headroom for growth.
Parksons Packaging managing director Siddharth Kejriwal said at the Sri City inaugural that the company is addressing three main verticals—FMCG, pharma and gable-top cartons—that are slowly gaining traction for milk supply in regions where there is a cold chain. He also revealed that while the Sri City plant was being inaugurated in end-February 2017, another greenfield project would start up within the next two months just outside Guwahati in Assam, Northeast India.
Sri City to be followed by sixth plant in Guwahati
The launch of the sixth plant in Guwahati will make Parksons the first carton manufacturer to have plants in the West, North, South and Eastern parts of the country. The company's first plant is located near Mumbai in Daman, where it continues to invest and modernize and it has another plant in Chakan near Pune, which also contains the company's packaging design center. Known as Design PARK, the design center has created several patented designs and innovations. Parksons already has two plants in Pantnagar in North India and with the recent inaugural of the Sri City plant in South India and starting up of the Guwahati plant, the company will cover the eastern part of the country as well.
As chairman Ramesh Kejriwal said at Sri City, "By the end of 2017 or at most by March 2018, Parksons Packaging will be running 20 highly configured 6- and 7-color presses." All of the presses have coaters and many are full UV presses capable of printing on non-porous substrates at high speeds including one press with an inline foiler for cold foil decorative applications. As a matter of interest to industry insiders while the presses in Sri City are Heidelberg CX 102 7-color plus coater full UV presses, the first press in the new Guwahati plant, which is already shipped, is a KBA Rapida 106 7-color plus coater full UV press.
Parksons has been buying highly configured presses from both Heidelberg and KBA in the last few years. With its penchant for new technology, automation and inline quality systems, the company clearly sees itself as one that can invest in new ideas and convince consumer product companies of these value-added features that can enhance the shelf impact of the highest quality cartons.
The company also has the most modern converting equipment from Bobst, including a diecutter with an inline automated blanking station. One of the two Bobst diecutters at Sri City—the Novacut 106 ER—can perform inline blank separation for double-cut and single-cut cartons at its full speed of 7,000 sheets an hour with new features that make automated blanking more cost-effective. At Sri City there is also a Meigang flute laminator for the production of litho-laminated micro-fluted cartons. Its Bobst folder gluers, coaters and laminators from Wen Chuyan and carton inspection from Autoprint and prepress from Esko, Kodak and Zund put the entire Parksons Packaging pan-India operation at a global level in terms of quality and highly optimized efficiencies using global best practices and certifications.
Targating rupees 1000 crore in 2020
The 20 press lines and accompanying ancillary and converting equipment, including nearly 40 diecutters and 30 folder gluers and enterprise-wide workflow to be achieved by the end of 2017, will give Parksons a theoretical capacity of 100,000 tons of board packaging. Nevertheless, a more realistic estimate of what can be achieved this year was shared by Siddharth, who seemed especially pleased about the high level of modern infrastructure the company has achieved at the Sri City plant. He said, "The expected utilization in the coming financial year is 75,000 tons as the new plants and machines come into production and optimization." He also said that while the company's turnover is already in the Rs. 700 crore region, it is maintaining its ambitious target of surpassing Rs. 1000 crore in 2020.