As the Indian eCommerce space expands in reach and size, major online platforms are fine tuning and innovating their marketing, branding and customer satisfaction strategies. Amazon India, which has been catching up with local rival Flipkart lately, has launched an effort to standardize packaging for purchases across its platform. Under the new initiative sellers can buy Amazon-branded packaging materials such as corrugated boxes, thermocol balls and air filled packets on the portal. Currently, orders that are fulfilled by Amazon and sent from the company's warehouse have Amazon-branded packaging. However, a large chunk of the vendors on the platform use their own packaging. Amazon has tied up with third-party packaging sellers like Swastik Packaging, Paradise Plastopak, Marudhar Packaging, Dynaflex to offer these materials to the sellers.
Packaging South Asia caught up with Gopal Pillai – director and GM, Seller Services, Amazon India to talk more about how this standardization drive will help Amazon, the vendors and the customers. Amazon is helping its vendors source packaging material in an effort to standardize packaging. What was the idea behind this initiative?
Sellers on Amazon.in have the easiest and most comprehensive set of offerings that enable and empower them. We work customer-backwards to understand their needs and enable Indian small and medium businesses (SMBs) to work towards achieving customer delight. The idea behind the launch of branded packaging for third-party sellers was to smoothen the delivery mechanism for sellers and enhance the shopping experience for buyers. A quality experience results in repeat business for sellers, enabling them to grow their businesses sustainably on Amazon.in.
Question: What are some of the challenges faced due to non-standardized packaging? What percentage of sellers on Amazon use their own packaging?
Gopal Pillai: Apart from increasing costs and wastage, improper packaging may result in spoilage of products. With standardized packaging sellers can do away with the hassle of looking for the right packaging materials and focus on sourcing and selling products. We currently have over 85,000 active sellers on Amazon.in and more than 85% of sellers use FBA or EasyShip. Orders that are fulfilled by Amazon have Amazon-branded packaging. Any and every seller on the platform who opts to fulfil the orders himself / herself can now choose to opt for the Amazon standardized packaging.
Question: What benefits are expected from standardization? Both for Amazon and the sellers? Have you done any pilot project regarding this?

GP: Standardized packaging will result in safe and neat deliveries resulting in a delightful shopping experience for customers. Standardized packaging also helps customers in brand identification, easy return or exchange and assures them that their order has arrived safely. This amplifies their shopping experience with the seller, boosting chances of a repeat purchase. This was being run as a pilot project for the last few months before we announced it officially.
Question: How is Amazon helping vendors source packaging material? Have you tied up with some suppliers, especially for corrugated boxes?

GP: We have introduced a diverse range of packaging material available which includes corrugated boxes, polybags, book folders, thermocol balls, air filled packets, suffocation warning seals, perforated breakaway caps, tapes to ensure safety of the product from external as well as internal damage. For example, polybags are easy to use, and once sealed cannot be opened without tearing hence making it tamper-resistant. Polybags also protect items from moisture. Corrugated boxes protect packages from any shock or in-transit damage. Tapes can be used to seal and pack corrugated boxes and book folders. Variable depth book folders facilitate secured packaging of items across sizes, hence multiple sized items can be shipped using the same folder.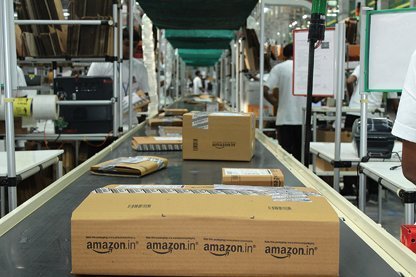 This packaging material follows high quality standards set by Amazon across the globe. We also guide SMBs on the right kind of packaging material for products through videos and blog posts that are visible on their dashboard called Seller Central.
The packaging is offered by third-party packaging sellers at competitive prices. For example, a pack of 250 Amazon.in branded corrugated box of dimensions 5 inches x 4.5 inches x 3.5 inches cost about Rs. 1,000 or a pack of 100 Amazon.in branded simple polybags of dimensions 14 inches x 12 inches cost Rs. 499. We are working with several third-party packaging sellers like Swastik Packaging, Paradise Plastopak, Marudhar Packaging, Dynaflex, and more to offer these to sellers.
Safe transportation of goods is the most important purpose of quality packaging. However, do you think tertiary packaging can also help in enhancing brand value? Packaging and branding are complimentary to each other because brand identification is possible only through packaging. Standardized packaging certainly helps customers identify and relate to a particular brand better.
Packaging Soth Asia is a cooperating media partner for drupa 2016 which was held from 31 May to 10 June at Dusseldorf, Germany