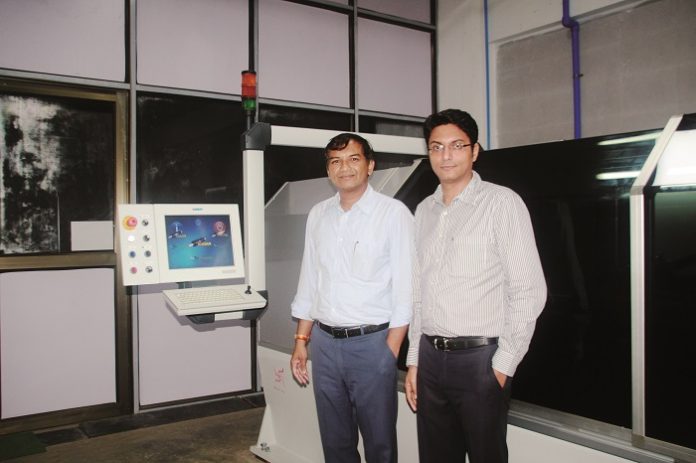 Established in 2010, Ahmedabad-based Image Gravures manufactures engraved cylinders and has recently installed a DLE (Direct Laser Engraving) machine from Italy-based DV Lasers. Anant Patel, partner, Image Gravures said, "Within a short span of five years, we have purchased five K-5 smart electromechanical engravers from Hell Systems."
With Direct Laser Engraving Image Gravures can meet the demands of security printing as well as other  applications. By using electromechanical and laser engraving, a cylinder can be used to print graphics as well as micro text print. In specialty applications, the company is equipped to manufacture cylinders for embossing such as steel, copper, cloth and paper, anilox rollers and ceramic anilox rollers. The company has also installed 3D scanners in order to record and reproduce existing surface profiles like ceramic, leather and other products.
In Gujarat Industrial Area, the company produces cylinders depending upon the job, develops around 2,500 hollow and shafted cylinders by an electromechanical process and 20 embossing rolls in a month at its 43,000 square feet manufacturing unit. Earlier, with the electromechanical engraving process, the company produced cylinders ranging from 400 mm to 1,200 mm in circumference and 450 mm to 1,400 mm in length. With an advanced laser engraving system, the maximum size it can produce is 3.75 m in length and up to 600 mm in diameter. The unique size offered by the DV lasers was one of the primary reasons to opt for it. From polishing to copper plating, each process in engraving is executed in-house. With the need to produce jobs at a faster pace, Image Gravures has developed a base shell for engraving the cylinders.
Having a prepress unit and meeting the demands of printers is a challenging job. The company has equipped the unit with a closed loop calibration system. "When it comes to color, it is complicated but we have expertise to resolve print-related issues and stretch a helping hand to print service providers," he says.
At drupa 2016, Patel represented Image Gravures and confirmed a good number of inquiries. Presently, Image Gravures exports engraved cylinders to almost 14 countries. In India, Western and Central regions are the major hubs comprising a large number of the company's clients."
Image Gravures will be installing another Direct Laser Engraver from German-based Hell Systems. In the near future, the company also plans to expand into the flexo segment, supplying engraved rubber sleeves for CI flexo presses. By the end of the Diwali season, it plans to produce ceramic engraved rollers. Moreover, the company is in talks with ink manufacturers and print service providers to reduce the consumption of ink per gsm.