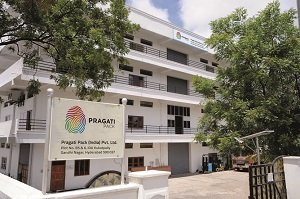 Hyderabad-based Pragati Pack has ordered a KBA Rapida 105 7-color plus UV press which will be installed before the end of the financial year 2015- 16. "The new KBA press has regular UV features – interdeck and end-of-press UV – with analog coater," says Narendra Paruchuri of Pragati. "The new press will provide us with the capability to print on the thickest board in the industry – up to 1.2 mm – which no other press can do. We will use this press mainly to meet the demands of the liquor, cosmetics and sweets industries which use higher gsm boards. The in-line UV capability of the press will give us the ability to produce dazzling high-gloss UV applications as well as quickly coating and sealing the job." The new press apart from printing on substrates up to 1.2 mm gsm, is also capable of fulfilling a lot of new printing techniques. The Sheet Guidance System of the press allows sophisticated air control for an optimum sheet transport as well as individual sheet guiding.
According to Paruchuri, the new KBA 105 would help the company in fulfilling sudden demands and urgent requirements from clients. "We always believe in keeping 20% of our capability in reserve for emergencies while 80% is being used for regular jobs. So, in case the market grows, we always have 20% of our capability as backup to not let go of opportunities." Paruchuri is quite opportunistic when it comes to tapping future markets and this becomes quite conspicuous when he says, "Any time when you order for a new machine of this kind, it takes a minimum of five to six months to get shipped and installed. So, if opportunities come knocking at your door, you cannot wait for five to six months and lose the deal. It is smart to be ready for the future. That is the reason why we bought this press. Our new KBA Rapida 105 will allow us to move into new markets."
Third MPS and HP Indigo
Pragati has another press, the MPS EB 370 8-color press, on its way from Netherlands to the Hyderabad plant, and will be installed by November 2015 – well before the KBA 105 press. The press will be the third MPS for Pragati which already has two MPS presses running as well as one Omet Variflex meeting the requirements of the label printing. "Pharma companies and other industries are growing at a good pace. This press is again to keep ourselves ready for the growing capacity – some of the companies we know are expanding, which is going to create extra demands for us," says Paruchuri.
For short-run label printing, Pragati employs its HP Indigo label printer which was installed last year. "The point is when there are 200 or 300 labels to be produced, or something which is very urgent which needs to be printed by evening and sent, HP Indigo is the best option. We don't do long run on the Indigo unless there is variable data, because then you have no choice but to print on it. Sometimes especially when there are 2,000 labels of 10 variations, it is easier to print on the HP than on a flexo press because HP turns out to be much more cheaper with out requiring plate change and thus saving machine hours as well. So it depends, and we are finding our feet on it. Right now, we are going with 40-50% capacity of the Indigo," says Paruchuri.
Cold foil demands yet to take off in India
Pragati has been using cold foil – although offline – for over four years now. According to Paruchuri, cold foil is probably too early for the Indian market and will take some more time to gain prominence. "If there is an order to print something on cold foil, we are ready – not since today but since the last four years. However, we have not made much business out of cold foil yet with just 10% of the capacity being used," says Paruchuri. "Whatever online cold foil can do, our offline foil can do it too. But the question is how many customer  do you have for cold foil? Not many. First, because it is more expensive than met pack; and second, it is a very different concept and a client needs to understand what design it can produce – unless he understands the concept, he will not show interest. And because it is expensive, the question is whether he is willing to pay? If he is not, then I cannot do it."
Getting future-ready – how?
According to Paruchuri, capability building is a constant process of improving systems, processes and whatever one has irrespective of clients' requirements. "We on our part should keep looking for newer avenues, technologies, systems and always have to make sure that new technologies and innovations are brought in and as the market grows – your capacity has to grow with the market. Unfortunately, in India the cost of real estate has gone up substantially. So we really cannot keep on expanding factory space. However, we can make sure that the old machine occupying 1,000 or 2,000 square feet is replaced with a new machine which in the same space can produce double output. So, these are the things that we need to keep on tracking and working on constantly. Only then things will prosper – otherwise not," says Paruchuri.