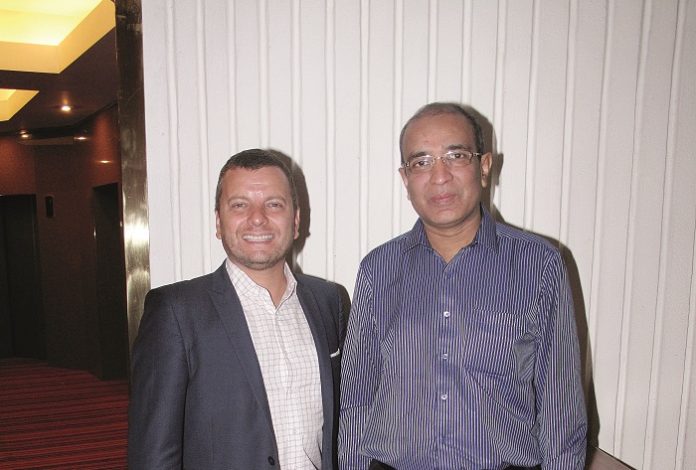 The look and feel of packaging are critical to consumers, so delivering high end differentia- ted packaging is important to every brand. A major trend of Indian printers starting to look at productivity and efficiency has emerged over the last few years and Kodak is a company that addresses these growing needs says Lois Lebegue, managing director of Kodak Asia Pacific.
Kodak's Flexcel NX is making a mark in high-impact flexo printing for labels, flexible packaging and corrugated boxes with high densities and real one-to-one imagereproduction says Lebegue. According to him 400 of these output systems are already installed around the world and the past year was a banner year for Indian installs. Lebegue explains several Kodak technologies can enhance the value of packaging, "The true flat-top dot offered by Flexcel NX will help elevate our reputation for consistency and quality in the marketplace. The requirement of adding value to a package is much more now than ever before. Packaging will need more and more security features. Printing can add a lot of value to packaging."
The Flexcel NX System allows prepress providers and printers to maintain a competitive edge by delivering highly impactful packaging while streamlining production costs not only for flexible films and labels but also for corrugation, explains Lebegue. "Through continued innovation and investment in technologies such as Kodak Squarespot Imaging Technology and Kodak Digicap NX Patterning, corrugated producerswillnowbe able to take advantage of these benefitswitha solution that enables expanded tonalrange, higherline screens, more efficient ink transfer and improved printquality onlower gradeboards.Whether customers are focussed on achieving high quality results in prepress and postpress or high quality, cost-effective postpress results on lower grade liners, the Flexcel NX System is an innovative solution to meet those needs," he adds.
Kodak India with its multiple technologies and products is working on several levels in India – helping the industry in terms of skill development is a key objective. It has started an annual training programme in which four candidates are to be trained in every process and technology associated with the company for an entire year. Kodak has already trained the first four candidates and the plan is to keep doing this every year with the thought of absorbing some of the trainees in the company and letting the industry benefit from the high level hands-on training of the rest.
Another key initiative is in recognition of the industry itself becoming more aware of the environment and asking for greener solutions. Kodak's Sonora process-free plates are ideal solutions for the industry says Bhalchandra Nikumb, managing director of Kodak India.
Lebegue adds, "The Sonora XP process-free plates allow printers to be competitive, save money and reduce environmental impact. The plates work with existing platesetters and do not need special inks, set-ups on press or fountain solutions. Sonora plates offer the cost and waste reduction benefits of process-free plates in addition to delivering quality, productivity, and print capabilities of mainstream processed plates. Theymeetthe demands of commercial sheetfed print production delivering strong print performance on commercial heatset and coldset web presses, offset packaging applications and short-run UV."
Worldwide, Kodak has already 3,000 customers who are using Sonora plates and around 15% ofthe company's total production now consists ofSonora plates. "In India, we have already around 40 customers who are usingSonora process-free plates. We believe that the industry is getting more ready than before and are starting to understand the benefits of the usage of these kind of plates," says Lebegue.