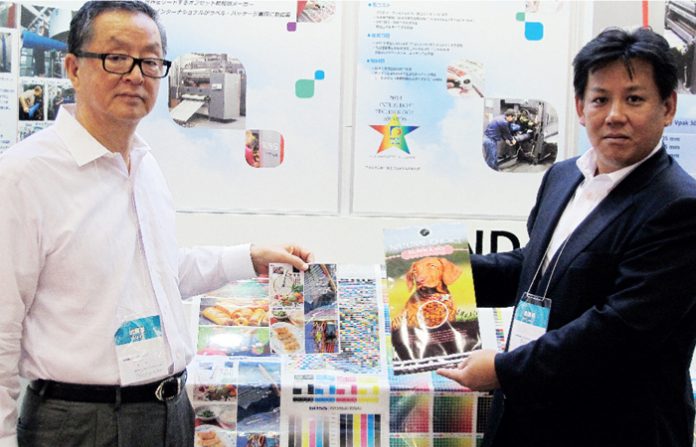 By the third day of the Graph Expo 2015 show in Chicago, many of the exhibitors were noting how quiet the floor seemed compared to previous years. Indeed, if you had been to this show a decade earlier you would have found one barely contained by three oversized convention halls of Chicago's McCormack Center.
The overall feeling at the show was relatively quiet. Some of the world's biggest companies like Siemens had stands so small it was easy to walk past them without noticing their presence. At their press conference, high-end press manufacturer KBA, perhaps speaking for many companies exhibiting at this show, referenced the upcoming drupa show as when they will be making their bigger news. On the other hand, Goss International's marketing director, Eric Bell, said that the days of waiting to put bigger news out at a trade show are long gone and that they unveil new products and installations as they happen, such as their sale at the show of another Magnum Compact press for newspaper production to Community Impact Newspaper of Austin, Texas.
And there were sales going on, belying the feeling of relative quiet. Walking the exhibit halls, by the third day of the show you could spot many machines in different stands sporting 'Sold' signs. While many leading companies exhibiting at the show were crowing about their US installations, Rengarajan Vaikuntam, reminded that these sales are still down. Vaikuntam, who founded used equipment re-seller Fuzer Consultants in 2004 and who comes to the Graph Expo show every year, said that new equipment sales in the consolidating North American print industry continue to be very slow and have not recovered since the economic down turn. His company, which usually finds sellers of used equipment when they have upgraded to newer technology, has a good feeling for the pulse of equipment sales, above and beyond the numbers.
Vaikuntam says, "Printpack India was at least five times the size of this show and you don't really see exhibits here that you can't see in India. It's probably not so much shows like Graph Expo that would matter for Indian printers as much as learning from the way US printing plants are set up and how workflow is organized. It's phenomenal in the US."
That may be true of the exhibit hall per se at Graph Expo but the bigger draw for the few visitors to the show from India may have been the Graph Expo seminars. If you consider that the rate of growth in the Indian commercial printing market is now slowing down, the way in which the printers remaining in the consolidated print industry of North America have been responding to the disruption posed to the industry by the internet, smartphone technology and the like, may be charting a course or an early warning system for Indian printers looking ahead.
Nandkishore Kajaria, president of Anderson Printing House of Greater Kolkata, was particul- arly taken up with the ten seminars he attended over several days on topics ranging from 'Offset and DigitalPrinting:A2015 Update,'' The Status and Future of the Print Industry' and 'Print Future Shock: Interactive, Integrated-Even Electric!' and more. Kajaria reports, "The speakers are world-class and they know what they are talking about. They tell you what is happening in the print industry worldwide and what is important to look out for – the next new things. I'm glad I came."