Uflex's packaging films division is now the largest Indian manufacturers of packaging films on a global scale. It has altogether five polyester, CPP and BOPP packaging film lines at its base in Noida and additional film manufacturing lines in Dubai, Egypt, Mexico, Poland and the United States. "We started our global expansion in 2005 by setting up footprints in Dubai, Egypt, Mexico and other countries." Apart from making Uflex a global supplier of packaging films and packaging materials much closer to its customers in over a hundred countries, the globalized manufacture of packaging films freed up the capacity at its plant in Noida for the fast growing Indian flexible packaging industry. "Establishing our global packaging film plants has given us leverage for a higher availability of films in India since what was earlier being exported is now being consumed in India," says Jagmohan Mongia, Uflex's joint president, Packaging Film Business – India
Moreover, Uflex's realization from the manufacturing of packaging films in India has increased greatly because it has been able to supply most of its Noida manufactured packaging films to the country and the region. In addition, it has been able to increase output both by speeding up and increasing the capabilities of its packaging film lines and because of the continuous improvements and light-weighting of its products. "Our capacity in India has tripled – doubled by vacation of exports and tripled by increasing the speed of the existing lines," explains Mongia.
The Indian packaging films market
Till 2009-10, the Indian market was largely dominated by polyester which found place in packaging products like pan masala and commodities like dal, atta, maida due to its tensile strength and high bursting factor. However, as far as the global market is concerned, the largest consumption of packaging films is of BOPP. Since 2009 brand owners and consumer product companies in India have also started showing a marked preference for BOPP packaging films.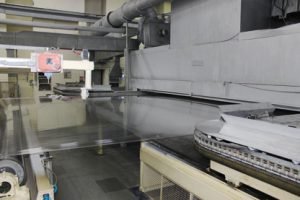 This was the time when companies like Britannia started looking more deeply at consumer buying behaviour. With increasing spending power and improved logistics, Indian consumers' taste started moving away from the 50 year-old mainstays such as Parle G biscuits to ITC biscuits and others. These consumer product companies initiated BOPP consumption in a country which had largely consumed polyester for packaging films. "In terms of polyester packaging film, the Indian market is still growing at 8 to 8.5% annually while BOPP is growing appreciably faster, at more than 15% annually," says Mongia.
As flexible packaging formats improve and move further upmarket, polyester continues to be used as a basic packaging films while BOPP tends to be used in high-end packaging. "If you look at the varieties of usage of packaging films and the packaging itself, BOPP plays a much larger role because of its sealability and other advantageous features. Packaging where strength and higher bursting factor is required, BOPP cannot be used by itself. However, BOPP has found many high-end application and also in larger WPP (woven polypropylene) bags for bulk packaging where it is used on the outside layer of the bags since it provides an excellent surface for printing," says Mongia. These bags now address the 20 kilogram and higher capacity bulk packaging segment, which earlier was dominated by polyester because of its higher density and tensile strength.
Future expansion
According to Mongia, fresh investment by Uflex for setting up new lines and infrastructure in Noida are already planned for 2017-18 onwards. "We are looking at 2017-18 for investment because we are already expanding silently in terms of de-bottlenecking our existing capacities. In the meantime, there are other companies which are coming up with new lines." Mongia says.
"As far as manufacturing packaging films in Noida are concerned, we last expanded in 1996-97. At that time, most of the capacities generated in India, besides the in-house use by the Uflex packaging division, were exported. Though we have not expanded in terms of installing a completely new line, we have been able through continuous engineering and fine-tuning, to greatly expand our capacity. In a manner, the company's availability of packaging films has increased by de-bottlenecking the existing capacities.
"Although our first three lines were initially designed for production at 350 metres a minute, today two of these lines are running at about 500 metres a minute while the third one is running at about 400 metres a minute – we have upgraded, re-engineered and tweaked the old lines over a period of time to increase their capacity."
All packaging films are RECYCLABLE
The Uflex Group as a manufacturer and converter of packaging films is keen to show its leadership on safety, health and environment issues that confront the packaging and consumer product industries. "The issue of collecting scrap and waste packaging films can be easily sorted out once it is understood that all packaging films are recyclable," says Mongia. "People are using different terms for packaging recylability which is creating confusion in the industry. It is very important for the industry to understand and move ahead with one word and that is 'recyclable.'
Awards for Uflex
Uflex, one of India's largest flexible packaging companies, has been conferred with the 'World's Greatest Brand, 2015 – Asia & GCC' award in the flexible packaging category. Ashok Chaturvedi, chairman and managing director of Uflex, was given the 'World's Greatest Leader, 2015 – Asia & GCC' award. (For more information read here). The awards were given at a star-studded event held at Jumeirah, Dubai. The award ceremony was part of the two-day Indo-UAE Business Summit 2015. Uflex has state-of-the-art plastic film manufacturing facilities in India, Dubai, Mexico, Poland, Egypt and Kentucky. This award holds significance for Uflex as Dubai is the first plant outside India where the organization ventured into in 2005. The manufacturing plant in Jebel Ali, Dubai, is held by Flex Middle East FZE, a 100% subsidiary of Uflex. Flex Middle East's polyester film lines have an installed capacity of producing 52,000 MT per annum to serve the quality-conscious customers of Middle East and Europe. Uflex was adjudged the best brand in the flexible packaging segment owing to its increasing brand equity, operational excellence, superior innovation quotient and the quicker time to market. Chaturvedi said, "The fact that we are getting this award in Dubai exactly 10 years after we set up the polyester film manufacturing facility here gives me twice the pleasure."
Packaging South Asia is the cooperating media partner for drupa 2016 which is scheduled to be held from 31 May to 10 June at Dusseldorf, Germany.