The Hong Kong Print and Packaging Fair was held for the eleventh time in end-april at the Asia World Expo near the airport while the bigger and more well-established Hong Kong Gifts and Premium Fair was held at the Convention and Exhibition Centre well within the city itself. While the Gift and Premium Fair attracted more than 50,000 visitors, the Print and Packaging Fair with its more than 400 exhibitors attracted more than 14,000 visitors including print and packaging buyers from various parts of Asia and the world.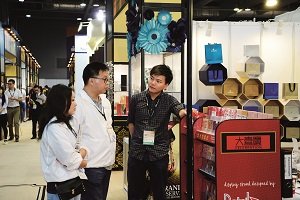 The HK Print and Packaging Fair is well organized and entirely set up to display and entice global buyers of many kinds of paper, flexible materials, printing and every kind of packaging produced by  vendors in Hong Kong and many others on the mainland in nearby Guongdong and Shenzen but some from other print centres such as Zhejiang, Jiangsu and Shanghai. There was an important group of nine vendors from Taiwan displaying print wares from books, fine art prints, paper toys, stationery and monocartons. There was a design vendor this year from Denmark, Mimente showing its paper vases made of recycled paper and plastic materials, keen to license its intellectual property to printers and novelty item vendors.
The fair as a whole can be said to be dominated by the extremely high quality of monocartons especially luxury cartons, good quality and cost-effective micro fluted corrugated cartons and also POP displays. There were a good number of paper and flexible material suppliers as well as quality purveyors of flexible, glass and metal packaging. In short, an excellent event for brand owners and consumer product companies looking for high-quality packaging and some innovative solutions. Print and especially packaging buyers came from everywhere including Singapore, Indonesia, Malaysia, Thailand, Philippines, the US, Australia and India. Some of these were in the print and packaging business themselves and were keen to outsource materials as well as finished packaging from the exhibiting vendors.
The HKTDC Print and Packaging Fair is extremely well organized with several networking events and sessions so that buyers and vendors can meet and there are some good knowledge events such as the seminars on luxury packaging and 3D Printing. What gives this fair the edge is the magnificent and dynamic aspects of perhaps the most buzzing city in the world. The Hong Kong printers who are quick to adopt the latest technologies and keen to develop innovative print products and packaging for the global brands make the city a shopper's paradise.
Packaging South Asia is the cooperating media partner for drupa 2016 which is scheduled to be held from 31 May to 10 June at Dusseldorf, Germany.