Microbes follow people everywhere — even into the highest-grade cleanrooms. Isolators can provide a remedy by separating people, machines and pharmaceuticals to ensure the highest purity standards for the aseptic manufacturing of biopharmaceuticals. The pharmaceutical manufacturer Boehringer Ingelheim's new facility concept fulfils exactly these requirements, and won the Facility of the Year Award (FOYA) in June 2014. Equipped with filling and isolator technology from Bosch Packaging Technology, the facility concept sets a new benchmark in aseptic manufacturing, as well as in flexible and transparent production of biopharmaceutical products in all important dosage forms. 
The International Society for Pharmaceutical Engineering (ISPE) presented the Facility of the Year Award in the equipment innovation category to Boehringer Ingelheim for their successful implementation of a flexible and transparent production facility for biopharmaceuticals in Biberach an der Riss, Germany. The facility is part of the Boehringer Ingelheim company network founded in 1885, which focuses on research, development, production and marketing of high-quality therapies for use in human and animal medicine. Today, Boehringer Ingelheim belongs to the world's top 20 leading pharmaceutical companies. In Biberach, it operates Europe's largest plant for the development and manufacturing of pharmaceuticals with biotechnologically produced active ingredients, both for its own business and for contract manufacturing.
The highest requirements for aseptic production
To increase its flexibility and capacity at the Biberach site, Boehringer Ingelheim decided to expand and modernize its production of biopharmaceutical drugs. After two years of concept development and design studies, 2008 marked the start of the 'Aseptic Area 5 and Combi Line,' project — the construction of two ultramodern filling lines with a common connection to two freeze dryers in an existing production building. "Our goal was to create a flexible production area for the manufacturing of all important biopharmaceutical dosage forms, which would meet today's and future requirements for aseptic processing while allowing transparent and flexible production," explains Friedrich Haefele, vice president, BP Fill & Finish Germany at Boehringer Ingelheim.
To do this, the company drew on an 80-person interdisciplinary Boehringer Ingelheim project team for implementation over a period of three years, together with international providers of pharmaceutical infrastructure and equipment — including project partner Bosch Packaging Technology. Bosch developed and installed two complete filling lines with the corresponding isolator technology, consisting of an FLC line as well as an MLD combi line for filling liquid and freezedried products into vials. The MLD combi line also processes single and doublechamber cartridges. In the latter, one chamber is for the freeze-dried active ingredient and another chamber is for the solvent.
Largest contract for single line
"Bosch provided the technology we needed for a flexible aseptic production in the form of five separate isolators — from a single source and at a competitive price. The combi line enables us to conveniently switch between different container types and optimally adjust production to meet our needs and those of our customers," explains Joachim Schweizer, project leader at Boehringer Ingelheim. "Thanks to their compact design, we also reduced cleanroom footprint while integrating the systems into our premises."
Additional components were provided by the Bosch subsidiaries Pharmatec and Moeller & Devicon. Pharmatec manufactured several sterile filtration modules to filter the product immediately before filling, as well as two mobile CIP (Cleaning in Place) systems. These are used to prepare the cleaning media for the filling systems of the filling machines. Moeller & Devicon automated the transport and removal of the cartridges with several handling units.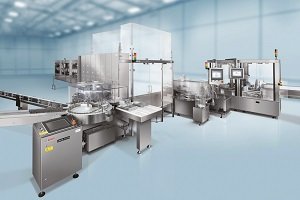 The first project phase began with the construction of the vial line in production building F113 in Biberach. Its centrepiece is the FLC 4080, which enables the filling and close of up to 400 containers a minute. Before being filled, the vials are washed in a Bosch RRN 3084 washing machine and then sterilized in a Bosch HQL 4360S tunnel. Four separate isolator segments ensure aseptic conditions during the filling and closing process and the loading of the freeze dryers. Glove ports for operating the system and separate HVAC and decontamination systems ensure an optimal protection of both staff and product. The vial line is completed by a Bosch VRK 6160B capping machine with a capping capacity of 600 containers a minute. The 61-metre long system is the largest single line order to date for Bosch Packaging Technology's pharmaceutical product division.
An innovation from Crailsheim
While the vial line was undergoing the qualification process, installation of the second project for the facility began with the combi line from the Bosch plant in Crailsheim, Germany. The MLD 3081 is also equipped with isolator technology and can, besides vials, fill and close up to 300 single and double-chamber cartridges a minute. The combi line further consists of two RRN 3083 washing machines — one for vials and one for cartridges — as well as an HQL 4680S sterilization tunnel. Depending on the product, a trayloading unit is used for cartridges and a VRK 3080 capping machine for vials. The combi line also features a connection to the freeze dryer. What is special about the system configuration is its flexible transport concept, which uses the same fully automatic loading and unloading system of the freeze dryer for double-chamber cartridges that is used for vial processing. "We can flexibly switch between different dosage forms, which always remain optimally protected through the use of isolators," Haefele explains.
Approval from international authorities was not long in coming. In the same year the second project phase was completed, Boehringer Ingelheim received approval from the European Medicines Agency (EMA) to manufacture vials with freeze-dried substances, followed by approval from the US Food and Drug Administration (FDA) in 2013. Additional authorizations for foreign markets, including Japan, have also been issued.
Transparency all along the line
The manufacturing lines that received the FOYA are organized in a U-shaped configuration, thus enabling fast and flexible response to production requirements at maximum operating times. To offer the greatest possible transparency, they are located in modern, glass-walled cleanrooms, making them visible to visitors and customers. Boehringer Ingelheim also ensures clarity in regard to batch documentation and the recording of all process data. Data from the new equipment is stored centrally in order to create a so-called electronic batch record (EBR). The processes can be documented in accordance with legal requirements, and can be electronically processed and monitored for conformance with approved master batch records. In conclusion, Haefele says, "The ISPE's Facility of the Year Award and the new facility concept highlight our leading position as a manufacturer of biopharmaceutical drugs under aseptic conditions — and Bosch Packaging Technology has made an important contribution to this success."