Bosch Packaging Technology will showcase its latest packaging system solutions for bars, biscuits and bakery at two global packaging trade shows in September. At PackExpo in Las Vegas, USA, Bosch will showcase a high-speed integrated system solution with features that take efficiency to the next level. At FachPack in Nuremberg, Germany, customers will experience a scalable mid-range system from Bosch, which is said to be ideal for fast-growing companies to expand their capacities.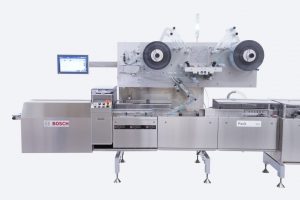 "We have decades of experience in engineering packaging systems. We carefully analyze the requirements of our customers to ensure that they get a system tailored to their needs," says Martin Tanner, director of product management at Bosch Packaging Technology. "No matter if manufacturers need an entry-level system, a flexible high-speed solution or anything in between, we are able to provide the ideal solution."
Efficient integrated system
At Pack Expo in Las Vegas, Bosch will showcase one version of its highly efficient seamless bar packaging systems. The said exhibit consists of a high performance, indirect distribution station, a cardboard inlay feeding unit, a high-speed Sigpack HRM flow wrapping machine and a flexible Sigpack TTM1 top load cartoner. "This system is one example of our seamless systems portfolio that provide manufacturers with highest levels of efficiency, productivity and flexibility," Tanner explains.
The system features an optional cardboard inlay module. The Sigpack KA forms flat, U-shaped or O-shaped cardboard inlays that are fed into the high-speed flow wrapper. The Sigpack HRM is equipped with an HPS high-performance splicer and is able to wrap up to 1,500 products in a minute. One of the highlights of the system is the Sigpack TTM1 top load cartoner. It claims to stand out for its high product and format flexibility. In this configuration, the machine either loads the flow-wrapped products into 24-ct display cartons or fills them directly into a work in process tray. In addition, the integrated bar system is equipped with the mobile device-friendly operations and maintenance assistants that are both part of the Industry 4.0 based digital shop floor solutions portfolio. These user-friendly, intuitive assistants claim to boost operators' capabilities and guide them through maintenance and operative tasks in a quick and easy manner.
New all-round system
At FachPack, Bosch will launch its new all-round packaging system, which is said to be suited for bars, biscuits and bakery products – but can also be adapted for other products. It features the new Pack Feeder 4 and the new Pack 403 horizontal flow wrapper with an output of up to 800 products in a minute. The chain feeding system claims to stand out for its easy cleanability with tool-less belt removal and gentle product handling. The Pack 403 claims to achieve consistent flow wrapping results because of its upgraded cross and fin-seal units. With decals and scales, the machine is said to be operator friendly and features a removable discharge belt that reliably rejects faulty packages.
"Our new system is a modular and scalable solution that is able to grow with the customers' needs," Tanner says. "Manufacturers can easily upgrade and complement the system with extra options such as a cartoning machine."
Profound competence and expert consulting
Bosch Packaging Technology also claims to offer a dedicated project consulting – beginning with early planning, the choice of technology, system layout up to service packages and beyond. One major competence area is sealing technology, which is key in the packaging process. "Which sealing technology achieves the best results always depends on the product and film characteristics," Tanner adds. "Based on many years of experience, we offer in-depth support at our sealing testing labs, where we conduct tests together with customers to identify the best option."
Heat-sealing technology will be shown as part of the packaging system at FachPack, while cold-sealing will be shown at Pack Expo. Both systems are available with a wide range of modern sealing technologies.
Global customer services network
Bosch Packaging Technology provides access to their comprehensive global network of customer services. At Pack Expo, customers can learn about Bosch's asset life continuation solutions, which include upgrades for obsolete control systems, the refurbishment of older machines and the relocation of equipment. Two machines will be on display for visitors to experience the solutions firsthand – a refurbished JSL hand sealing machine and a Stratus wrapper with a new control platform as well as a stand-alone OEE dashboard.