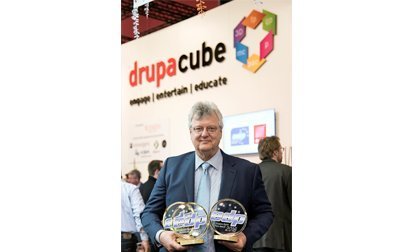 The Mimaki UJV55-320 is an affordable roll-fed wide format printer that delivers speeds of up to 110 square metres an hour and print resolutions of up to 1200 dpi, depending on the substrates. It uses UV-curable ink, cured with a low-energy LED light array. This results in sign and display graphics that exit the printer dry and are immediately ready for further processing, significantly reducing production cycle times. In addition, UV-curable inks emit no volatile organic compounds (VOCs), minimizing the environmental footprint.
The UJF-7151 plus industrial small format UV inkjet flatbed printer ensures high quality printing and top level productivity with ultra-accurate ink droplet placement. It has a maximum printable size of 710 x 510 mm (28 x 20 inches). This best-in-class digital on-demand industrial small format printing solution for the screen printing industry improves accuracy, consistency and reliability by modifying the mechanical structure of the print table. Fine lines, edges and small texts are crystal clear. It also enables double-layer printing and color printing on a white base layer.
The Mimaki TX300P-1800 is an innovative 1.8 metre roll-to-roll direct-to-textile inkjet printer designed to meet the market demand for smaller lot sizes, faster delivery times and the ability to quickly produce samples. Created specifically for direct-to-textile printing, the 8-color inkjet printer features a new printhead that ejects ink droplets at high speed to ensure accurate ink droplet placement with a high head gap. This makes the printer ideal for printing high quality images on all types of fabrics, including thicker and textured materials.
Packaging South Asia is the cooperating media partner for drupa 2016 which is scheduled to be held from 31 May to 10 June at Dusseldorf, Germany.