In January of this year, leading Indian label manufacturer Kwality Offset Printers installed the Xeikon 3030 Plus digital label press shown at Labelexpo India 2016 a couple of months earlier. The New Delhi offset and flexo printer supplies labels to FMCG companies, including liquor, food and healthcare. Among its clients are brands such as Pernod Ricard, Nestle, Radico Khaitan, GlaxoSmithKline, Dabur, Heinz, Wrigleys, Perfetti, Cargill and the DS Group. Run lengths for these customers are beginning to vary greatly which is what prompted the investment, explains owner Rajeev Chhatwal: "We are seeing a number of flexo jobs that are 1,000 meters, 2,000 meters and even as low as 500 meters in length. These take up a significant amount of time with conventional production technologies. By
moving these jobs to digital production, we are able to free up production on our flexo and litho presses for the longer runs for which they are better suited." Chhatwal appreciates there will be a learning curve for the company as it enters the digital production realm but is confident that the Xeikon label press will lead to the significant addition of high value customers. The Xeikon 3030 Plus Label Press has a variable web width of 200 mm up to 330 mm. It runs at a resolution of1200 dpi at a top speed of 15 meters a minute and handles substrates without specific pre-treatment. It emits no VOCs and has high light-fastness. The new press will be installed by Kwality Offset Printers at the end of the year.
Kwality Offset installs India's first AB Graphic Digicon 3 for label finishing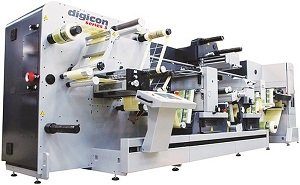 Kwality Offset Printers recently added India's first AB Graphic Digicon 3 finishing machine to complement the Xeikon 3030 plus digital label press. Sold by Vinsak, the Digicon 3 has maximum web width of 330 mm and minimum web width of 200 mm and runs at a speed of 150 meters per minute. The unit is made up of two flexo units, one die-cutting station, hot foiling, cold foiling, embossing, varnish, lamination, waste rewinder, unwinder and three UV systems.
"We want to explore the label market for luxury products such as wine or cosmetic labeling. To pursue that we had explored many options but we stuck to
Digicon 3 due to its advanced finishing capabilities," says Rajeev Chatwal, director at Kwality Offset Printers.