Esko has given its 3D packaging design software Studio 16 a makeover with the launch of Esko Studio 16, a part of what it calls Esko Software Platform 16. Esko Studio's tools allow 3D packaging with a virtual reality type of animated rendering on 2D screens. This kind of animated feedback allows the substitution of a variety of materials and decoration effects to be able to see them in virtual store simulations in various placements and lighting conditions. Designers can virtually hold the pack in their hands.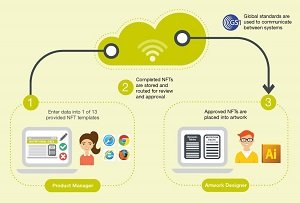 Since 2006, Studio has been installed by thousands of packaging professionals for trying out different ideas and quick virtual mockups. Prepress operators can check graphic positioning and reverse print. Presentations, marketing campaigns or eCommerce are done using the same artwork print production data, thus eliminating the need for separate packaging artwork creation in other software. Users can view the virtual packaging anytime, anywhere, on the web using HTML5 3D Studio Viewer. The mobile and desktop versions of the viewer can be downloaded free from Esko's website.
Esko Studio adds packaging 3D functionality to Esko's Adobe Illustrator packaging workflow. Chris Stowe, Esko's product manager for 3D solutions says, "It eliminates the need for physical mock-ups and reduces the approval process via instant online collaboration. Ultimately, this means the time from design to production is much faster and cost effective. Creating test versions, new promotions and product variations can be designed and visualized at the touch of a button."
Studio is available in two bundles and as a cloud software service. Studio Essentials is for creating cartons, bottles, trays and displays while Studio Advanced is for agencies or departments that need to handle every packaging shape imaginable, including difficult-to-create realistic flexible bags and shrink sleeves.
Store Visualizer 16: Virtual store product launches
Studio Store Visualizer lets brand owners view packaging designs on the shelf and present a complete product launch in 3D, including retail-ready packaging, displays and other branded items. Over 100 brands and packaging companies worldwide are already using Studio Store Visualizer, utilizing the hyper realistic virtual stores to make design, brand and store placement decisions with speed, very early in the process. "Not only can end users experience what the product looks like on the shelf, but they can investigate how it sits alongside the competition and even walk through the entire store taking in the whole visual impact," adds Stowe.
Store Visualizer 16 now integrates with planogram systems to create and populate virtual 3D stores in minutes rather than days so that brands and retailers can plan and physically populate shelves with the virtual product in virtual stores for store planning and category management. The software lets users build stores quickly—even using actual retail data if desired, delivering a hyper realistic review of any products in a store before they are even manufactured. It helps them to test and decide the most effective way to place products on a shelf for the greatest sales impact.
3D viewing
Store Visualizer 16, along with its 3D stereoscopic rendering, also works with various virtual reality goggles, letting people see and touch virtual stores like never before. Rift's advanced display technology combined with its precise, low-latency constellation tracking system enables the sensation of presence—the feeling as though you're actually there. The result is an extremely realistic way to view products on a store shelf. A simplified user interface on a touch screen makes it easy for users to navigate a highly realistic virtual store, and interact with the packaging—even allowing the user to pick up an item from the shelf and have a closer look at it.
Studio Store Visualizer is available in two versions—Visualizer Advanced, which lets designers see their new designs on the shelf next to the competition, and present a complete product launch in 3D, including retail-ready packaging, displays and other branded items; and Studio Store Visualizer Prime, which allows users to view and interact with packaging in a virtual retail environment—and also includes the ability to populate stores with planogram data. Studio Store Visualizer is co-developed with VTales and comes with a step-by-step shelf creation wizard.