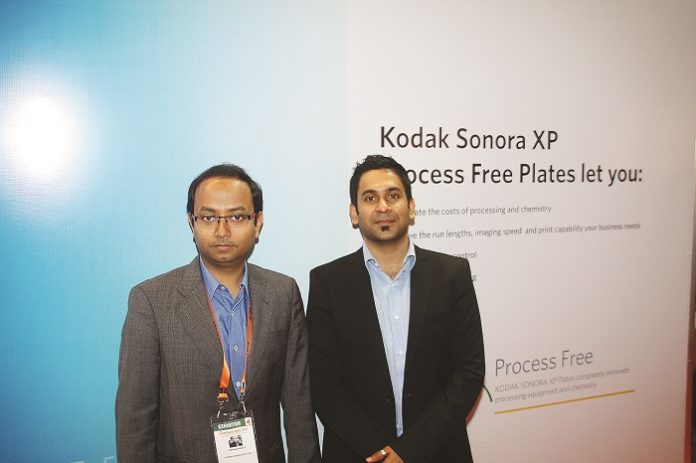 At Printpack 2015, Kodak India showcased its acclaimed Sonora XP process-free plates a new class of thermal plates that deliver reliability, quality and productivity of mainstream processed plates without any processing and chemistry. The Sonora XP process-free plates allow printers to be competitive, save money and reduce environmental impact. Sonora plates work with existing platesetters (including automation) and do not need special inks, set-ups on press or fountain solutions. Sonora plates offer the cost and waste reduction benefits of process-free plates in addition to delivering quality, productivity, and print capabilities of mainstream processed plates. They meet the demands of commercial sheetfed print production delivering strong print performance on commercial heatset and coldset web presses, offset packaging applications and short-run UV. Moreover, they are available in 0.40 mm gauge and VLF size formats, making them suitable for a wide range of applications.
The new extensions of the Kodak Flexcel NX System, empower customers in the post-print and prepress corrugated markets to drive significant print quality improvements while taking advantage of increased print stability and pressroom efficiencies. The new Kodak Flexcel NX Wide 5080 System and new range of Kodak Flexcel NX plates will extend to the corrugated sector apart from other Kodak flexographic solutions. Designed for operator ease-of-use, rapid throughput and robust performance, the Flexcel NX Wide 5080 System features the tried-and-trusted Kodak Squarespot Imaging Technology for precise, repeatable high-resolution imaging.
Arnab Maiti, national business manager of Kodak India told Packaging South Asia, "Kodak's Sonora plates are completely process-free unlike the competition. We are sure that the product will be particularly popular in the days to come. Kodak's Flexcel NX technology which incorporates the revolutionary flat-head drop with its elongated shoulders has been a complete game-changer. The industry has appreciated our efforts in this regard and it has been hugely popular."
Kodak India also showcased its Trendsetter CtP platesetter – an output device that delivers high image quality with good reliability and consistency along with the Kodak Flexcel NX system and plates for packaging.
Maiti further informs us that Kodak is in advanced talks with some of its Indian customers for its Prosper presses. "For the newly launched Kodak Prosper 6000 press we are in talks with some Indian customers. We are hopeful that we can convey some good news soon. Printpack has been a good experience to reach to our customers and we are sure Kodak India will continue on its healthy growth run," Maiti concludes.