Packplus 2015 held at Pragati Maidan in Delhi saw the participation of some major global and Indian manufacturers from the packaging and allied industries, presenting a comprehensive international and Indian range of products, including the latest in packaging systems and machinery, packaging materials, and confectionery machinery. After three attempts to create a new home for the event away from Pragati Maidan, the exhibition finally returned to its traditional venue.
In spite of exhibitors lining up an array of product launches and running machines, the overall visitor foot fall remained modest during the 4-day event. However, the show was successful in terms of attracting serious visitors to exhibitors' stands. There was subtle disappointment also seen among a few exhibitors who anticipated brand owners and decision makers from bigger companies. Sunil Agarwal, marketing manager of markem-imaje, says, "The event was good and we got some serious visitors at our stand. However, as far as visitors are concerned, what I could see was that top customers and brand owners like HUL, ITC were missing at the show, although many new customers showed up at the event this time." Some of the busy stands at the event were Domino Printech India, markem-imaje India, Ishida India, VS International, Welbound Worldwide, Pelican, Maxcess India, Uflex, Hilda Automation, BST eltromat and others.
According to the Packplus organizers, this year's edition was 30% larger than the previous year. "The exhibitors signing up during the ongoing event itself with increased areas is an indication that we are heading towards a big growth in the next edition," says Neetu Arora.
There were visitors from different corners of India. "I have come here to get a feel of the new innovations taking place in the packaging industry and I have seen that a lot of innovation is taking place in flexible packaging, which is now easily available at a better price. Also, I have seen many new products which I was not aware of," says Sai Kumar, executive analytics – quality control, of Mars International India, who came from Telangana only to visit Packplus. "Surely, an exhibition like this can be a great learning platform," says Venkat. Another visitor, YK Agrawal of Anupam Plastics Industries, Mathura, says, "An exhibition like this is a platform and great source of information which you can experience at a single place. I am almost a regular visitor to Packplus exhibitions." Packaging South Asia also came across students from IIT Roorkee who visited the exhibition to get a first-hand experience of new products and innovations in the packaging industry.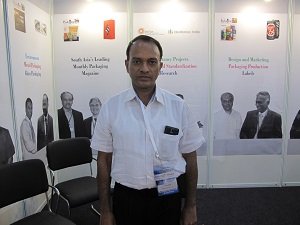 The International Packaging Conclave conducted in an adjacent hall at the venue was in the meantime, exploring new terrain as it focussed on the phenomenal growth of organized retail and eCommerce and its is impact on packaging. It looked at the issues that affect packaging through the entire value chain in interactive sessions and deliberated on new materials, tools and systems that can help connect the dots in the entire process. The conclave featured over 15 thought leaders and experts in the field and 100 delegates from all over the country. "This has been a tremendous experience for me to interact with a knowledgeable panel and a responsive audience," says Venky Karuppanan of Teezle, who flew in from New York to be a part of the panel on Adaptive Supply Chains and Last Mile Connectivity. The next edition of the Packplus will be held from 27 to 30 July 2016 at Pragati Maidan.
Arshad displays corona treater and induction cap sealing
"We are displaying a corona treaterforflexible packaging and induction cap sealing systems at Packplus 2015," says Shrenik Shah, vice president – sales atArshad Electronics. "Corona treaters increase the surface energy of films, foils, and paper to improve wettability and adhesion of inks, coatings and adhesives."
Established in 1971, Mumbai-based Arshad Electronics has over 3,000 installations around the world. "Our main focus is to deliver a high quality product at a competitive price with timely service. To ensure customer satisfaction, we have established an after-sales service backup in major cities in India as well as abroad."
Speaking about the market challenges, Shah says, "The challenge we face today is from the Chinese manufacturers. Chinese machines come at a lower price and generally without a guarantee for quality. Yet people are buying these machines just because of the low price. We try to convince customers to trust Indian manufacturers for quality for which they of course have to shell out some what more money than the Chinese machines.
"The show as a whole is good and people are coming. After Packplus, we are going to participate at P-Mec from 1 to 3 December 2015 at the Bombay Convention & Exhibition Centre in Mumbai," he says.
Ecobliss displays high visible blister packaging solutions
At Packplus 2015, Ecobliss India displayed various high visible blister packaging solutions with a variety of options which include dispenser packs, front and rear view packs, free standing packs, realiseable packs, theft secure packs, multi panel packs. "All these kinds of packs cater to various industry segments like electronics, food, office and stationery, automotive, sports and leisure, cosmetics and health care, home and garden, toys and hobby," says Chakravarthi AVPS, managing director, Ecobliss India. In addition, on display were dose packs, wallet packs, carded blister packs, vial packs, and a range of physician sample packs in the pharmaceutical sector.
According to Chakravarthi, Packplus 2015 was a success for them with some serious customers visiting their stand. "There is ample scope for development in the packaging sector. It's good to see various converters, material suppliers, machine manufacturers display their products at Packplus 2015,which has definitely helped visitors from the industry to make purchase decisions. It helped new product launchers with suggestive inputs fortheir products," says Chakravarthi
Chakravarthi is quite optimistic about the make-in-India campaign. He says, "As far as industry is concerned, the prime minister's make-in-India movement has a lot of synergy with the packaging industry as well. Be it an auto motive, electronic, food or pharma industry or simply a mobile manufacturing company, global standard packaging is required to sustain the competition," says Chakravarthi.
E+L displays customized control and automation products
"At Packplus 2015, we are displaying a prototype of our customized control and automation products that can be used in various converting machines like rotogravure, coating lamination machines, slitter-rewinders," says Paras Choksi, senior manager at Erhardt + Leimer. "The machine is just for display as ours is a customized job. Depending on the machine configuration, we customize our products."
Established in 1978, Ahmedabad-based Erhardt + Leimer India is a joint venture between Pramol Traders Holdings and Erhardt + Leimer Germany. The company manufactures and markets sophisticated web guiding systems, web inspection systems and web tension manufacturing systems for textile, paper, film, foil, tyre and corrugated industries and electrical control panels. "We buy ready-made components from reputed companies and integrate to provide customized solutions to our customers," says Choksi.
Speaking about the Packplus 2015 show, Choksi says, "We are mainly targeting the converting segments of the industry. Today is the second day but the visitor response is not very good. Let's see what happens in the next two days, we are still hopeful."
About the Indian packaging industry, Choksi says, "The Indian packaging industry is growing at 12 to 15% every year – there is a huge potential in the market. In India, the main challenge is competition. The market is quite competitive – to stay alive, one has to take care of the price, quality and after-sales service of what is being offered to customers. Offering products and service at competitive rates without hampering the quality is a big challenge and we do it quite well."
Choksi says, "In the last six months, we have done good business and our sales figures have matched our forecast. Our aim is to exceed our target by the end of this year. If we achieve our target, it will be about 20% growth over last year's business."
Gandhi Automations displays loading bay equipment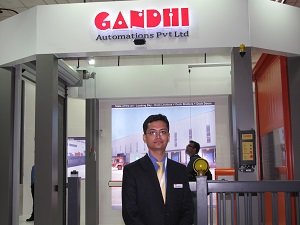 Gandhi Automations, which specializes in designing, manufacturing and installing customized entrance automation systems and loading bay equipment,was present at the Packplus 2015 event. Headquartered in Mumbai, the company sells its products in about 15 countries spanning Far East, Asia, Middle East, Europe, Africa and America.
At Packplus 2015, Gandhi Automations displayed its products like fire rated rolling shutters, high-speed industrial sliding doors, sliding gates and boom barriers. "The fire rated shutters are tested and certified to American Standards (UL/FM) and are capable of standing fire up to four hours. In the event of a fire, these shutters roll down automatically to protect containers from fire," says Abhijit Deshmane of Gandhi Automations. "Industrial sliding doors are constructed of 100% CFC free polyurethane high density insulated steel sliding doors of 80 mm, 120 mm or 150 mm thickness with protection against corrosion or corrugated PEB cladding sheet," adds Deshmane. The sliding door requires minimum headroom and is suitable for temperature controlled areas.
"Although we are participating at Packplus for the first time, we have been participating heavily at exhibitions in North India as our major targets are based here," says Deshmane. The main target customers of Gandhi Automations are pharma, automation, warehouses, power, oil industries. "For us the most profitable segment is the warehouse and today more and more warehouses are coming up in North India," says Deshmane.
Speaking about the market, Deshmane says, "The Indian market is not a challenge for us any more. We already have more than 70% market share in India. Right now 7 to 8% of our revenue is through export and by 2020, we are targeting to increase it to 50%," says Deshmane. "The export volume right now is 11 to 12%."
Kody displays D917 slitter-rewinder
"We have been participating at Packplus for a long time now and the show has always been fruitfulforus," says Jashvant Panchal of Kody Equipment. "This time we are displaying our D917 slitter-rewinder. The model is equipped with hydraulically operated arms which allow lifting of the parentroll with different diameters. A linear motion guide and threaded spindle allow the robotic arms to run on it to lift the parentroll having different maximum and minimum width."
D197 is equipped with two differential shafts consisting mainly of centre shaft, inflatable shaft, inflatable tubers and balltype expandable elements. "The differential shaft ensures better quality. The direction of the shafts can be changed by an operating panel," says Panchal.
"TheD197 is equipped with aneasily replaceable and adjustable cutter. The cutter section has two types of cutting and trimming arrangements depending on the web material," says Panchal. The D197 slits and winds at a speed of 400 metre a minute on a working width of 1100 mm.
markem-imaje launches coders
"Packplus is an important event for us and we are displaying our whole gamut of coding and marking solution at the show," says Sunil Agarwal, marketing manager at markem-imaje India. Of the various products displayed by the company at the event are inkjet printer, thermal printer, laser printer and thermal transfer over printer(TTO). "We have launched two coders – 9410 and 9450 – at the event," says Agarwal.
"The new coders are designed to improve efficiency of the production process keeping up with the line speed and secure each product with the right code," says Agarwal. "markem is a very well- known company for coding and marking and our effort is always to reduce the maintenance cost and breakdown time of our customers. In light of that, these new coders will deliver productivity at low maintenance cost as well as low running cost."
Speaking about the event, Agarwal says, "The event has been good and we got some serious visitors at our stand. Hopefully, we can close a couple of orders in days to come. However, as far as visitors are concerned, what I can see is that top customers and brand owners like HUL, IT Care missing at the show, although there are a lot of new customers showing up at the event this time." The main market for markem is food, pharma, beverage, electrical industries, although it targets almost every industry that requires marking and coding equipment.
According to Agarwal, the main challenges faced by marking and coding equipment manufacturers are that people are yet to understand the importance and implication of coding, and so are not very interested in investing on such equipment. "But now things are gradually changing forthe better," says Agarwal.
After Packplus, markem-imaje will participate at Personal Care India Expo which will be held at Pragati Maidan, Delhi from 19 to 21 August 2015. The Personal Care India Expo is organized by UBM India which is a global leader in the trade exhibitions business and the largest live media company in the country. The company will also participate at the International FoodTec, again at Pragati Maidan, from 14 to 16 September 2015.
Maxcess displays digital line sensor and slitting machine
Maxcess India, which helps the web handling industry maximize productivity with convenient access to innovative products and services world wide, was present at the Packplus 2015 event held at Pragati Maidan in Delhi. At the event, the company displayed its latest SE-46C digital line sensor; slitting machine; and sensors which can accommodate edge guiding, line or pattern guiding, centre guiding (fixed or moving) in different environments and material. "We have recently launched a low-cost, compact and easy to install and use video-assisted moving web monitoring inspection system – Fife VEO 600," says Nilesh Mehta, director at Maxcess India.
"The SE-46C digital line sensor, launched recently, is capable of detecting lines, edges of lines and graphic patterns, such as barcodes. It can also be used in low contrast conditions orwith different patterns located close to each other,where traditional line sensors don't work," says Mehta. "The SE-46C can also edge guide transparent films."
"Our market is highly price-sensitive and the challenge we face here is that customers are driven by low cost equipment rather than quality equipment," says Mehta. "Most of the time, price wins over quality. This led us to import the raw material from our China facility instead of Germany thus bringing down the logistics and manpower costs, thereby bringing down the price of the products by 35 to 40% without having to compromise on quality."
Pelican displays Sololam Plus and Soloslit
Gujarat-based Pelican manufactures rotogravure and flexographic presses, slitter rewinders and lamination machines. The company has a base of over 400 installations around the world. At Packplus 2015, the company displayed its solvent-less laminator, Sololam Plus; and servo-driven slitter rewinder, Soloslit.
Sololam Plus is designed for short and medium runs on solvent-less applications over plastic films. "The entire machine operation is controlled and supervised by a high-performance motion controller with its intelligent software," says Vishwesh Trivedi, marketing executive at Pelican. "The machine is targeted towards customers who want enhanced performance as well as easy operating features. The machine can handle a wide range of laminating jobs."
Soloslit is a compact slitter-rewinder which occupies minimal floor space. "The machine has minimum wastage level and minimum dependency on labour due to increased automation and an easy operating system," says Trivedi. "Also, the compact design of the machine ensures shorter web length within the machine."
Speaking about the market, Trivedi says, "In India there are two types of customers – ones who go for cheap machines and the others who believe in quality machines. Because we produce quality machines, we don'tfeel threatened by the Chinese companies coming to India. They have their own segment to cater to and we have our own segment to take care of. Fortunately, I can see that more and more Indian customers are becoming quality concious, although at a slow pace."
"At Packplus 2015, our main objective is to increase our brand visibility, and meet some serious customers," says Trivedi. "Till now we are receiving good response at the show and are expecting to see some more action happening in the remaining two days."
SP Ultraflex promotes its slitter-rewinder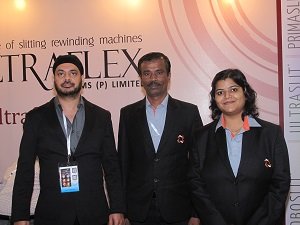 "Packplus being an out-station show for us, we decided not display our machines this time; however, we are looking forward to meet as many visitors as we can and promote our slitter- rewinders at the show. At Plastindia 2015 in Gandhi Nagar, where we displayed our Roboslit Duel Turret, we had a very good show and got a very good response from our visitors. The Roboslit clearly stole the limelight, running four times daily at 600 metres a minute throughout the duration of the show," says Vijaya Gupta, business development manager, SP Ultraflex. "We got many orders for Roboslit after Plastindia – now we are looking forward to achieve a similar response after the Packplus event."
Speaking about the Packplus experience, Gupta says, "The show is good so far but we came with much higher expectations. Although our stand footfall has been mediocre, we have managed to came across some serious queries." "2015 has been a very eventful year for us till nowand this is our 30th anniversary," says Biku Kohli, director at SP Ultraflex. In recent months, we introduced a platform-separated duplex rewind machine into the Ultraslit series characterized by modular unwinds. "Unlike the widely patronized overhead path Ultraslit OHP, the Ultraslit FSU has the main machine separated from the unwind section by means of a platform, offering better options for web inspection and splicing where hygiene is not a prime concern," says Kohli. "Recently we have come up with an indigenous trim management system capable of adequately supporting the speeds of our slitter rewinders."
With the new additions, SP Ultraflex now offers seven differentiated versions of slitter-rewinders for the flexible packaging and converting industry, with speeds ranging from 500 metres to 700 metres a minute. "We are probably the only Indian manufacturerto produce seven kinds of slitter-rewinders," says Gupta.
"With the Rupee-Euro equation getting better, many Indian companies are now buying European machines, who otherwise would have bought from Indian manufacturers," says Kohli. "I have even come to know that European manufacturers are cutting prices to add to the benefit of the Rupee-Euro equation – so Europe has become a challenge for Indian manufacturers."
Videojet displays inkjet printers and TTO
At Packplus 2015, Videojet displayed marking and coding machines used for printing on plastic pouches and monocartons. "We are showcasing Videojet 1510 small character inkjet printer, TTO 6210 and Unicorn II which is a large character inkjet printer," says Pawan Dhapola of Videojet Technologies India.
"The Videojet 6210 is a cost-effective thermal transfer over printer(TTO) for users ready to migrate to a digital solution from a non-digital solution such as hot stamp or roller coders," says Dhapola. The 6210 is targeted for the snack food, bakery, confectionery, frozen and refrigerated foods, baggaged fresh vegetables and dried food markets. "The printer delivers maximum reliability and efficiency for marking variable, high resolution images on flexible packaging and labels," he says.
The Unicorn II is a compact inkjet printerthat is capable of large character printing of one or two lines. "Whatever be your needs, the Unicorn II printer can be programmed quickly and easily. Product names, identification numbers, automatic production counts are available at the touch of a button," says Dhapola.
Speaking about the Indian market, Dhapola says, "The main challenge that we face in India is that of price. India is a very price-sensitive market. And although the price of our products are higher compared to our competitors, we have a good market share in India. Quality is what we focus on and that is the key to our increasing market share."
"The coding and marking market has now opened up more after the Indian government made it mandatory to use coding and marking on every packaging. This has a great impact on the trend where people are starting to shift towards automatic coding from the manual process," says Dhapola.