Michelman has recently partnered with CMS Industrial Technologies (CMS), to produce coating equipment that will work well with its array of water-based coatings. CMS's coating equipment includes rod coaters, press rod coaters, blade coaters, spray coaters, and slide-angle testers. CMS will also perform engineering, part replacement, and servicing of the coating application equipment for Michelman's customers.
Explains Pete Petrie, Michelman, director of sales for the Americas Region, "Michelman has sold functional water-based coatings into the web-fed corrugated space for over 50 years. We have partnered with CMS to support this business to design, build, sell, and service our application and testing equipment. Partnering with an industry leader like CMS allows us to match our innovative technology with market-leading application equipment."
Adds Kevin Norberg, president and chief executive officer of CMS, "We believe our partnership with Michelman will provide growth opportunities for both companies. Furthermore, our companies are a great fit because we work with our customers to support sustainability like Michelman. For example, we help with the re-pulping and recycling of coated papers and paperboard applications, which Michelman's coatings promote."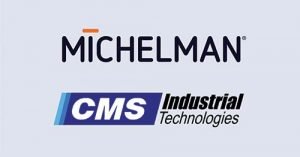 Both organizations have a collaborative and customer intimate approach and look forward to initiating coating opportunities by successfully producing and marketing coating equipment that will better serve the corrugate industry worldwide.