Bengaluru-based flexible packaging printer and converter Color Flex has recently installed a brand-new Pelican SoloMark rotogravure press. Established more than a decade ago, Color Flex has established itself among the leading suppliers of flexible packaging.
"It's twelve years since we laid the foundation of our flexible packaging division, Color Flex. In this time, our technocrats have thrived and are keen to update and upgrade the organization with better technology and modern infrastructure. Hand in hand with the organization's growth we have invested in the expansion of the infrastructure," says Vicky Jain, group director of Color Flex.
The new Pelican SoloMark can print with excellent quality at a speed of printing 250 meters a minute with a web width of 1300 mm. The press is driven by a mechanical line shaft and servo motor system. It has a short web path and an integrated register control system for quality reproduction on a wide range of films and laminates. The press is capable of reverse and surface printing on substrates such as BOPET, BOPP, paper, PLA, LDPE/LLDPE, and PVC.
Extensive print, converting and pouch-making capacity
Apart from the Pelican SoloMark, the organization has two 8-color gravure presses and a solvent-based adhesive laminator manufactured by Canara Flex. It also runs a solventless adhesive laminator from Expert, a slitting machine from Kody, and a multi-layer co-extruder from Rajoo. The converting department also has three shrink sleeve machines imported from Taiwan and twenty pre-form pouch-making machines from Galaxy Packtech, XL Plastics. Color Flex also has an imported shaped pouch making machine.
Unscathed during the lockdown
Color Flex, like many flexible packaging suppliers, was relatively unaffected by the Covid-19 pandemic and the ensuing government lockdown from late March. "As we cater to clients such as KMF-Nandini, Tamil Nadu Salt Corporation, and Sriveda Sattva, who are essential commodity producers, our business was not greatly affected. And we were working at full capacity during the lockdown," says Jain.
After the first stage of easing the lockdown in end-May, the flexible packaging business has seen substantial improvement. The consumption of packaged items has increased as people become more careful about hygiene and the need for hands-free trade and retail.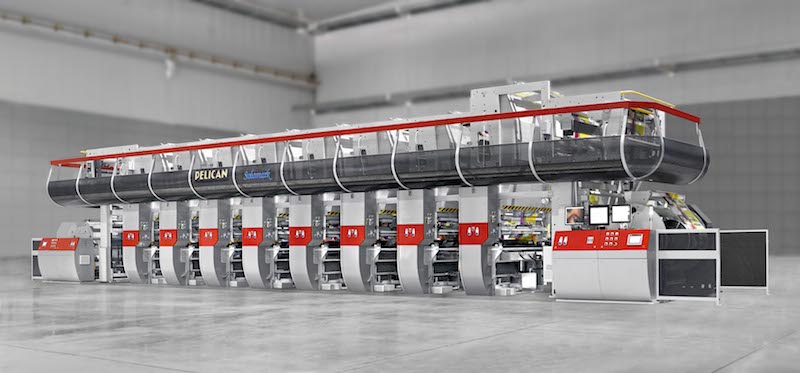 "There has been a dramatic improvement in business after the relaxation of the lockdown, which is one of the reasons for expanding our print capacity with the new Pelican gravure printing line. We needed it to fulfill customers' requirements faster with less lead times. We expect the flexible packaging industry's growth to be on an uptrend, and it is likely to be higher this fiscal year than the previous year," Jain adds.
More investments planned
With the expectation of robust growth in volumes in the near future, Color Flex is now planning to add additional capacity. Jain affirms, "Yes, we have planned for further investment in infrastructure. The addition of a solventless adhesive laminator, three more pre-form pouch making machines, and a spout pouch extension, which we will import are already in the list."