Mettler-Toledo, known for its end-of-line product inspection systems, has a deep commitment to the Indian market, having been active in the country for over 20 years and with more than 1,000 employees. Mettler-Toledo operates four entities in the country – laboratory instruments, industrial weighing equipment, process analytics equipment, and product inspection solutions. Editor Naresh Khanna recently had an opportunity to meet with and interview Siddharth Kachroo, the head of sales for product inspection systems, at Mettler-Toledo India, who is based in the company's Delhi office.
Packaging South Asia (PSA) – What are the types of Mettler-Toledo installations that the company has executed in the food industry in India in the past two or three years?
Siddharth Kachroo – Mettler-Toledo is a technology partner for many food companies globally, working closely with them to set up their food safety parameters in terms of foreign body contamination detection. In India, infant food continues to be one of the most sensitive segments when it comes to foreign body detection and weight check. In terms of our key products, we provide market-leading technologies across the product inspection field such as x-ray (XR), metal detection (MD), checkweighing (CW), and vision inspection, as well as sophisticated data and workflow management software.
Mettler-Toledo has installed XR, MD, and CW inspection systems for many food manufacturers in India, including new upgraded lines of major infant food. We have successfully installed inline metal detectors for multinational snacks manufacturers, big bag applications for major flavor industries, and checkweighers for one of the biggest spirit manufacturers for a completeness check of their transport packaging.
PSA – What are the advanced technologies deployed in some of these complex and challenging applications?
Siddharth Kachroo – India's food processing industry is one of the largest in the world, with a focus on poultry and meat processing, fisheries, and dairy. Food consumption habits in most households in India have been changed by the growth of online ordering by consumers, and food processing industries are focusing on meeting the demands of consumers for small packs that meet their on-the-go lifestyles. Implementing automation and digitalization has, therefore, been critical for manufacturers looking for a sustainable business model.
We provide checkweighers such as the C35 solution to help manufacturers achieve high-precision weighing accuracy at fast throughputs. This helps them to avoid costly product giveaway and meet local weighing regulations. In addition, we have designed this specifically to be easily cleaned in harsh environments, therefore, avoiding unnecessary downtime.
Our range of metal detection systems helps customers identify ferrous and non-ferrous metal contaminants, including stainless steel in a range of applications. We have designed metal detection solutions that achieve repeatable and reliable inspection results for products with may exhibit a high 'product effect'. This is when the characteristics of a product disturb the magnetic field of the metal detection system, thereby producing an incorrect result. Metal detection solutions such as the Profile Advantage metal detection system are designed to overcome this issue, therefore reducing false reject rates and avoiding unnecessary costly waste.
The Profile Advantage Metal Detector delivers up to 50% improved sensitivity to detect smaller metal contaminants when inspecting products that are hot, chilled, cooling, or packaged in metalized film. This helps protect consumers against substandard, unsafe products.
X-ray inspection systems help manufacturers to identify substandard products and packs; they inspect for a large range of contaminants whilst simultaneously completing product and pack quality checks for example fill levels, mass components, and damaged packs. This helps achieve repeatable quality assurance results for packaged product lines of different formats, packaging types, and sizes. For example, our X37 Series has helped customers meet their inspection sensitivity requirements at high line speeds in packaging formats such as plastic containers, cans, or doypacks. In addition, we have a range of x-ray inspection solutions that inspect products earlier in the production line before other valuable ingredients, or packaging have been added, e.g. in slurries or pastes.
With the increasing demand for digitalization, most Mettler-Toledo Product Inspection technologies are Industry 4.0-ready and can be integrated with any manufacturing execution system (MES). ProdX, our data management software, documents all product inspection activities in real-time and can recall this when needed for audits, product recalls, or management purposes. Software such as this is vital to help manufacturers achieve digital food safety maturity.
PSA – What are the trends in food and packaging in India and how is MT looking to address these?
Siddharth Kachroo – Automation, digitization, and the Industrial Internet of Things (IIoT) are some of the focus topics within the food industry going forward. More and more customers are looking for data acquisition and connectivity to have real-time information and manage their equipment better. Consistent growth is demanding more production, which is leading to an increase in faster packaging, which in turn requires high-speed stable, and reproducible product inspection systems. Implementing automation and digitalization will, therefore, be critical for manufacturers looking for a sustainable business model.
PSA – Could you share some of your insights about the desirable inspection systems needed for the food industry in India?
Siddharth Kachroo – Food safety is gaining significance among food manufacturers in India. We see new and additional resources being deployed by food processors to comply with local and/or global food safety norms. With the increase in outsourcing, all eCommerce players are setting up in-house food safety departments for their own labels. To safeguard and enhance their brand image, and to ensure the availability of safe food to consumers, companies are formulating their own food safety guidelines.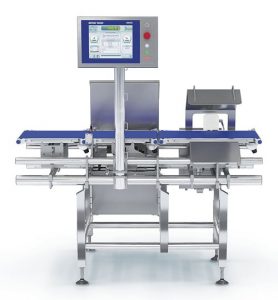 Food producers are looking for manufacturing equipment, which can provide them with reliability and repeatability, and help them achieve digitalization. As a relatively new technology, x-ray inspection systems are gaining importance for those applications, which require detection of a wide range of contaminants, plus for those needing packaging and product integrity checks to be simultaneously completed.
As space is becoming a premium for food manufacturers, we have launched a new product inspection combination system for harsh washdown environments. The CM33 washdown and CM35 washdown systems combine checkweighing and metal detection in one space-saving solution and are aimed at manufacturers of packaged food products, including dairy and meat products, who require a quick-cleaning, advanced contaminant detection, and precision weighing solutions.
Since we are in the business of food safety, we are sensitive to the need for prompt customer support. We have two state-of-the-art competence centers in Mumbai for customer training, product testing, and in-house enhancement of our sales and service teams. We have a network of well-trained service engineers who are located near most of the industrial clusters. The engineers are backed by an in-house technical support team. All customer service requests are managed centrally through a modern call management system. We invest and put significant effort into training our customers so that they can deploy our equipment optimally.
PSA – What are some of the regulations and compliances that are needed, desirable, or mandated by the Indian government?
Siddharth Kachroo – The Government of India has invested heavily in the Food Safety and Standards Authority of India (FSSAI) initiatives and is focused on continuously improving food safety compliance in the country. We are happy with the progress the FSSAI is making in further improving compliance. The FSSAI actively engages with manufacturers and seeks their input. As an emerging country, India is witnessing a growth in domestic demand as well as exports of packaged food products. This means that the food safety landscape will change. We believe that it is a journey that needs to be taken by the FSSAI together with food and beverage manufacturers and technology partners like us.
PSA – How will technology absorption happen? Will it be track and trace, or web-based solutions? 
Siddharth Kachroo – With an increasing demand for digitalization, Mettler-Toledo has been investing significantly in Industry 4.0. A lot of our equipment is Industry 4.0-ready and can be integrated with MES systems. Earlier this year, we released a new major software update (Version 2.4) of ProdX, our data management software for our product inspection technologies. With enhanced security features, digital track and trace, automatic performance testing, and real-time logging of test and compliance data, ProdX delivers digital track and trace and real-time food safety compliance.