Feedback from Amritsar
Amritsar, the historical commercial centre of Punjab has traditionally been a manufacturer of heavy metal printing machinery from the days of type foundaries and letterpress machines. The Amritsar equipment manufacturers have also traditionally played a significant role in the development of IPAMA, the equipment and consumable manufacturers association. Apart from the traditional cutting, wire stitching, hand-fed die-cutting, and corrugating machines, the Amritsar manufacturers now make the full range of corrugating equipment. In fact what we saw at Printpack09 was that some of the manufacturers have become aware of the Chinese corrugated lines being imported, and are attempting to provide a more extensive list of features in their upgraded lines.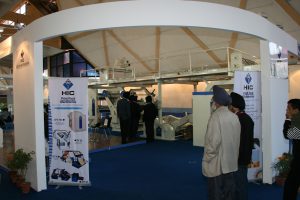 On our visit to the East Mohan Nagar area of Amritsar we discussed the IPAMA organised Printpack09 exhibition. Anil Garg of Acme Sales surprised us with his unusual approach to machine sales in these tough times. While other corrugating equipment manufacturers are facing a paucity of orders, Garg has relied on customers to approach him directly or through customer references. He finds the economic downturn somewhat helpful because it is easier to procure outsourced parts and components. The waiting period of 5 to 6 months for parts has been reduced to only one month for the corrugation and die-cutting machines that comprise 60% of his total sales. Moreover, Garg added that 2008-09 has been a successful year for Acme Sales.
KS Khurana of Five Star Printing Machinery Company and a key IPAMA member was all praise for Printpack 09. Printpack was like a life jacket for Khurana — before the event there was a shortage of orders but the company was able to achieve its internal targets with help from orders received at Printpack. Speaking of government support to machinery manufacturers in India, Khurana pointed out that schemes such as MSME and SSI are so complicated that small manufacturers are not able to understand them.
Manufacturers are not even aware that if they want to go to other countries to see and buy enabling manufacturing machinery, the government bears 70 to 80% of the expenses.
Mandeep Singh of Sadana Brothers did not seem very happy with the imbalance between the corrugators and printing machine manufacturers at Printpack. He said the show was more inclined towards printing. He feels that the reported economic downturn has not affected his sales so far. Sadana trades in used automatic 3-, 5-, 7-, and 9-ply corrugated box equipment imported from Korea, Japan and Europe. On the other hand, Surinder Singh of Indian Machinery Company was quite satisfied with Printpack09 and feels that there is no need for him to participate in any other exhibition in the new financial year.
Die-cutters at Printpack09
We spoke with Jitendra Patil of XL Maxima, based in Gujarat who was also at the Printpack 2009. Their new Maxima EXB 35 autoplaten diecutter was demonstrated and received an overwhelmingly positive response. Patil was overwhelmed with the response he received at the exhibition and said they got a number of serious enquiries at the show. Two Maxima diecutters were installed just after the show at Baroda and Bangalore.
Kama which made a big splash at drupa with their new ProCut 53, brought and demonstrated the ProCut 105 die-cutter with hot foil stamping and embossing at Printpack09 at Pragati Maidan in Delhi. The German manufactured Kama die-cutters are available in three sizes — the ProCut 53, ProCut 74 and the ProCut 105. Kama claims all the diecutters have a short set up time and the changeover from hot foil to cutting is in 15 minutes. The machines are capable of cutting, creasing, perforating and kiss cutting. They can even cut and crease plastic with the Hot-cut system. All the diecutters come with touch screen panels are quite compact and therefore do not require much space.
At Printpack09 we had an opportunity to speak with Marcus Tralau and asked why he took the trouble to bring the ProCut 105 to demonstrate in Delhi. What came across from Tralau was that he did not expect the Indian market to take off without actually showing the machine here. Even then he seemed in no hurry but seemed to be looking at the long-term strength of the market and to some extent was motivated by the interest shown by Indian printers at drupa last year. We believe that the Kama die-cutter on show has been sold to an Indian customer by the distributor SRK Technologies. SRK has also been able to sell two Steinemann solvent free laminators since Printpack.
We have already several times about the new Auotprint die-cutter, which was also one our hot-picks for the show. The Repetto 65 mid-size autoplaten shown running had some innovative engineering features and was agressively priced at the show. Two machines were sold at the show.
Bobst showed the autoplaten Novacut 106E die-cutter at Printpack09 together with the Visionfold 80A2 folder-gluer. The Novacut at the show was sold to Kumar Printers in Manesar. Another Novacut was sold to Yamir Packaging, Ahmedabad at Printpack 09.
There were two Chinese built autoplaten die-cutters at Printpack. One was shown by the Redlands group that operates from the middle-east and from Kerala in India and has an Indian owner. The other machine was the Chinese UP Group's Yuyin MY1020A autoplaten die-cutter.
As far as folder-gluers at Printpack09 apart from the Bobst Visionfold 80A2, there were machines from Indian manufacturers such as Cartonal, Vijay Graphics, and Acme Machinery.