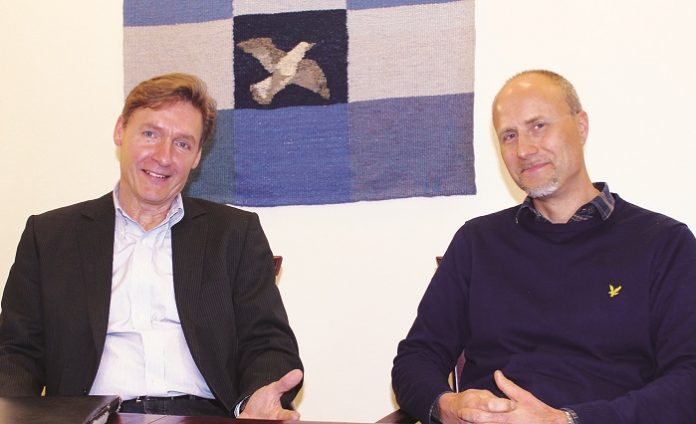 Esa Koski, vice president – sales and marketing at Swedish manufacturer EMBA Machinery, spoke about the company's latest development.
Q: What led to the development of this feature?

EK: As always, our development work is customer driven. It is very common when you analyse production in a mid-size machine that a considerable amount of sheets converted are actually smaller than 520 mm in the running direction. That will always raise a question among customers —which is more suitable, a mid-size machine or a smaller one. At EMBA, with the Ultima platform, we have various possibilities to bring solutions to our customers. Therefore, the combination of Ultima feeder with TwinFeed and the Magna VSC Slotter gave us the ideal possibility to develop the DualBox concept. The result is a serious alternative for a company to consider an investment in 245 QS Ultima. They can convert with the same efficiency as with smaller machine sheets up to 520 mm. In fact, you have two machines in one!
Q: How long did it take to bring this new idea to reality?

EK: The project, from idea to solution and delivery of the first machine, has been achieved within one year. The first machines with the DualBox feature were delivered towards the end of 2016. I am very pleased with the outcome, since there is a demand among customers for efficient manufacturing solutions with an attractive investment profile.
Q: Can this new feature be retrofitted to existing 245 QS Ultima casemakers already in the field?

EK: Yes, it is possible to replace the existing slotting unit with an extended Magna VSC Slotter.
Q: What sort of improvements can a box plant expect for running DualBox on an Ultima?
EK: It is now possible to produce two outs with most of the market by either cutting the sheet in a diecutter or using a separate slitter unit after the machine to cut the bundle in two halves. The disadvantage is that there will inevitably be tolerance variations between the boxes. With a 245 QS Ultima specified with the DualBox option, you are then feeding two identical sheets in the machine and converting them. There will be no tolerance variations between the boxes and you have a production output of up to 33,000 boxes per hour. That is a production output far above what you can achieve in a smaller casemaker.
The DualBox solution also allows utilization of the corrugator to its maximum. A 2.5 m corrugator can run 5 outs (500 mm), compared with the old concept where 20% of the width was lost on the corrugator.
With the EMBA 245 QS Ultima, you are able to convert a wide range of sheet sizes in a very productive way. From a capital expenditure point of view, you have two machines in one.