The Fachpack trade fair, one of the first live meetings took place in the German trade fair landscape at the end of September after the enforced break in 2020 and early 2021. It became clear that the demand for recyclability – regardless of the material – is continuously creating new material solutions. Paper-based packaging materials are increasingly being 'upgraded' for a wide range of applications. Film manufacturers present new mono-material solutions for optimized recyclability of flexible packaging. And – chemical recycling is being placed in many places and presented as a future topic by some players in pilot projects.
Paper-based materials are indispensable
For Mondi, a neutral statement is important when it comes to the question of paper or plastic. The value chain and the product to be packaged are so individual for each customer that no generally valid statement can be made as to which packaging material should be preferred. In particular, the environmental impacts of both packaging materials must be considered as comprehensively as possible. This is only possible if a specific application is defined and a complete lifecycle analysis (LCA) of the alternatives paper or plastic is carried out. Currently, such a study is being conducted for kraft paper in the area of pallet protection. Instead of a film wrapping, a paper wrapping could also be used. The results of the LCA for Mondi's project with the Italian machine manufacturer ACMI are to be published in November.
Constantia Flexibles also presented a broad range of products at the trade fair. Its comprehensive mono-material PE range with the EcoLam line, the newly presented EcoVer material line as well as the products from the EcoPaperPlus line make it clear that the one right packaging is not achievable. EcoVer is a mono-PP solution, available in different barrier levels, thermal resistance included. The packaging solution features an enhanced outer layer combined with a sealing layer that starts to seal at low temperatures to allow a wide sealing window. The material in mono-PP structure is recyclable in the mixed polyolefin stream.
Enhanced recycling options with monomaterials
In addition to four new BOPE-monomaterial-solutions, Jindal Films Europe set a focus on solutions to support a switch from difficult-to-recycle laminates containing, for example, PET, alufoil, or paper to mono-material mechanically recyclable PP-, PE- or PO- (polyolefin') based laminates for flexible packaging. One example for these applications is the improved heat resistant OPP film to replace PET films to address
the needs of retort sterilization applications. The new developmental Bicor MR100 for the outer web in retort sterilization applications should help to minimize the shrinkage and visual distortion during heat sealing and autoclave operations when using PP-based retort laminates.
Südpack, Ochsenhausen, Germany, too, presented its recyclable mono-materials with its Pure-Line product family. The Pure-Line offers solutions made of PP, PE, and PET, which are classified as recyclable in many countries. It is possible to optimally design the material structures to meet the requirements of a broad variety of applications. The spectrum ranges from thermoforming films to lidding films and high-barrier films for the production of doypacks. Another key focus was on packaging print – thanks to the newly developed SPQ technology (Sustainable Print Quality), significantly reducing the consumption of ink, solvents, production waste and energy while simultaneously improving print quality is underway.
SPQ – a milestone in flexo printing
Within the scope of a joint project with Goldstein Käsereien Bayerwald, Südpack successfully reduced ink and solvent waste by more than 60% in the implementation of several printed images by applying SPQ technology. It was also possible to further optimize the print quality. "This is an important step towards a much more sustainable future," remarked Josef Wagner, senior manager of Sales and Marketing for the cheese specialist located in Cham in eastern Bavaria.
Südpack's SPQ technology uses a set color palette. In the pre-press stage – much like with offset or digital printing – all designs are automatically and reliably set up using a standardized color palette. "The implementation of consistent process stability is the indispensable basis for optimizing efficiency, sustainability and quality. It was also the greatest challenge posed by this development project," summarized Carolin Grimbacher."
Machines for film and paper
One option to deal with the choice between paper and film packaging was found at Syntegon. The company presented an integrated system consisting of a vertical SVE 3220 DZ form, fill and seal machine and an Elematic 2001 WAH case packer that produces stand-up pouches for pasta from recyclable paper and places them in shipping cases. Besides using mono-materials for all common bag styles, the SVE 3220 DZ processes paper to package products in pillow, block-bottom or doy bags with a stand-up height of up to 311 mm. This makes it suitable for packaging confectionery, as well as baked goods, cookies, and powdered products.
The transformation from plastic packaging to paper-based packaging is also a task that has been started among users in the Indian market, they said. A number of enquiries have already been received about paper packaging, which is being tested primarily on the horizontal form, fill and seal machines at the Syntegon production site in Verna in Goa.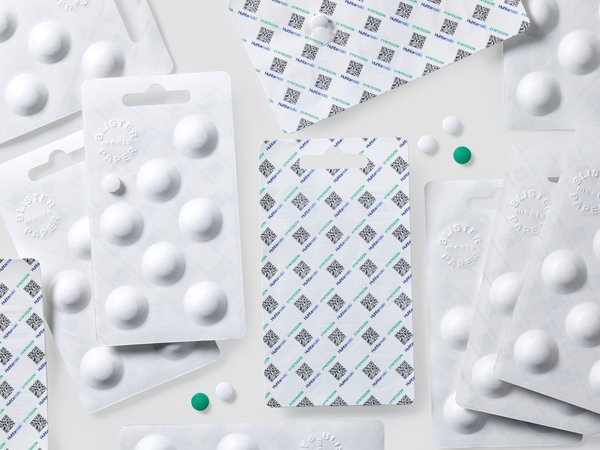 Another focus in the machinery sector is on forming paper-based containers. Syntegon is pursuing this in a cooperation with BillerudKorsnäs – "FibreForm is the natural alternative where plastic has been the norm. Allowing for up to ten times deeper embossing than regular paper, resulting in 3D effects that make an impact," explains Simon Johansson, Project manager at BillerudKorsnäs, Sweden. The new packaging system is ideal for individual portion packs and products that would usually be packed in blisters. In addition to cosmetics or samples, Shaped Paper Pods can be used to package dry, chunky or viscous food thanks to a thin barrier layer. Be it spreads, margarine or biscuits in paper trays – the new TPU paper forming machine offers manufacturers a range of filling and sealing systems for sustainable packaging at an output of up to 15,000 Shaped Paper Pods per hour.
The machine manufacturer Koch Pac-Systeme, Pfalzgrafenweiler, Germany, has established itself on the market as an expert for blister packaging. There, too, paper is the topic of the day. With a formed cardboard packaging – in the trade fair example for razors – the company was able to show that even demanding geometries with convex and concave elements, steep wall angles and small radii, previously typical in the blister foil spectrum, can be realized in a one-step 3D forming process even with flat paper blanks.
Kiefel, Freilassing, Germany, is also opening its range to paper forming. Being a specialist for plastic thermoforming and joining technology, the company opened up the additional business area of fiber thermoforming internationally. "We are pleased to be able to present the manufacturing process on a demonstration system. In addition, we are providing an insight into our research and development processes as well as our machine solutions," says Uwe Heer, Area Sales manager Packaging.
Kiefel offers two complementary system – the Natureprep KFP for high quality stock preparation of natural fiber pulp and the Natureformer KFT series, on which various fiber products, e.g. bowls, cups, secondary packaging for electronics, coffee capsules or flower pots can be manufactured. The raw material for fiber products is pulp or paper dissolved in water. This is shaped, pressed, dried and converted into dimensionally stable packaging that can be recycled in the paper cycle or even composted. This means they offer an alternative to plastic packaging, depending on the application.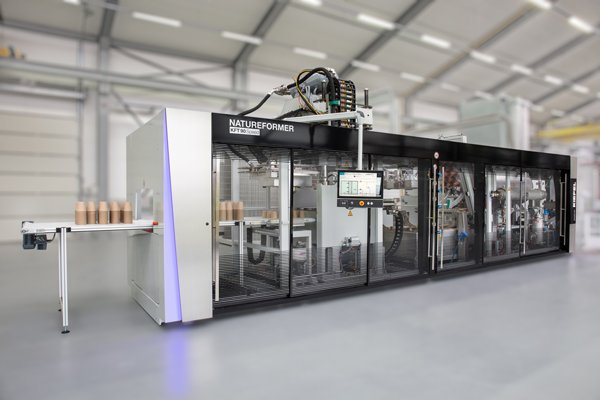 Chemical recycling in sight?
Sustainability is the big keyword that could be understood not only as the motto of the fair but also as a trend within the industry. With the keywords mentioned, it was possible to draw a line between the use of paper-based solutions that serve valuable recycling cycles and mono-material films that are increasingly being brought onto the market precisely for this purpose.
Another strategy for obtaining new raw material from plastic residues was positioned rather casually by various players. Südpack, for example, presented a pilot project on chemical recycling in a joint venture with Carboliq, Remscheid, Germany, which uses cracking to produce polymers from residual plastics that should have the same properties as virgin material.
Especially for plastic fractions whose degree of contamination is too high for mechanical recycling, chemical recycling as an option can save the valuable plastic from food use from thermal recycling – i.e. incineration. Chemical recycling was also visible as a keyword in the trade fair presence of some other exhibitors – it remains open in which time horizon and which options will actually be opened up with it.