On 15 July at 4:30 pm India time, Kohli is showing its Thea 9One8-3.0 again in virtual demonstrations with water-based inks at 500 meters a minute and toluene-free inks at 600 meters a minute. An added highlight this time will be the use of Kohli's NYX auto pre-register solution to more quickly and precisely perform the job makeready on press. Those interested in this exciting development and to experience a really interactive demonstration can register here.
As our readers have already noted, Mumbai's Kohli Industries organized a virtual demonstration of its 10-color Thea 9one8-3.0 gravure press on 16 June. Participants from across the globe attended the event. Kaku Kohli, the CEO of Kohli Industries, said this was the 7th live Interactive open house organized by the company in the last year.
Unlike most of the global industry's virtual events, the Kohli events from the company's factory near Mumbai are massively interactive. The CEO immediately responds to participants' questions, and the live camera shows them the answer on the running machine. An added feature of the virtual shows is Kaku Kohli's domain knowledge reflected in his comments on ink weight and other details. And because of his well-wishers around the world who tune in, each virtual demo becomes a kind of celebration.
As he generally introduces his machines, Kohli again said that the 10-color Thea 9one8-3.0 gravure press is designed with the machine operators in mind. All the operational parts and assemblies are positioned at a convenient height for quick and easy accessibility. "The press has a unique catwalk alongside the machine and across the machine so that operators can walk inside each drying area for quick and safe web threading, easy cleaning, and maintenance of rollers and nozzles," he said.
Digital monitoring and management – K-Online K-Live
The Thea 9one8 3.0 boasts of smart recipe management, where it can memorize the print cylinder position for length inside registration, web tension, the temperature of the drying hoods, and web speed. These are the four critical parameters that any traditional gravure press needs to be noted and replicated for a repeat run. Kohli added that the Thea 9one8 3.0 even memorizes the impression nip pressure, doctor blade pressure, lay-on roll pressure, the ambient temperature, and the cold-water temperature for the chilling.
With the K-Online tool, energy consumption, compressed air pressure, the static charge on the web, print repeat of the web under production, and earthing leakage resistance are monitored in real-time. K-Online offers online access to energy management, recipe management, machine time management, production management, historical trends for temperatures, web tension, and web speed.
The K-Live feature provides live production data anytime, anyplace, and on any smart device. K-Smart feature offers QR codes for easy traceability of each rewind throughout the different processes.
Environmentally friendly press
Kohli said that the press is highly environmentally friendly as it is compatible with water-based inks – customers can even apply in-line LED-UV and EB curable inks. The Thea 9one8 3.0 is ready for expanded color gamut printing, he added.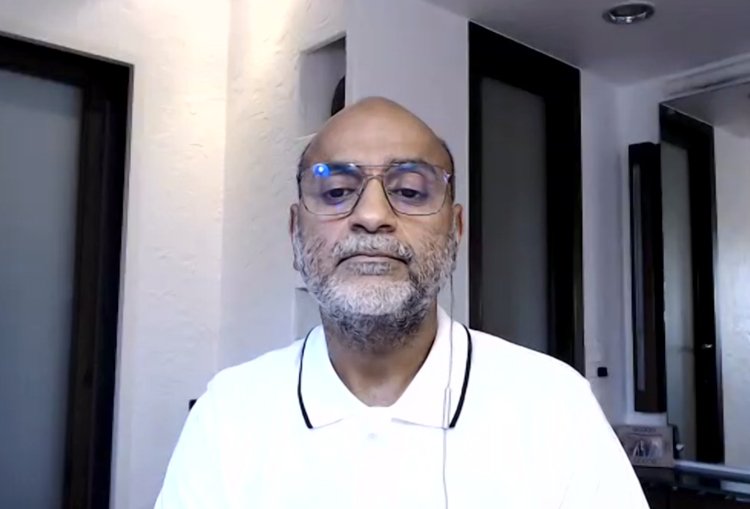 In its curing systems or dyers, the press uses LEL sensors so that customers can safely recirculate air as an average throughout the complete press, reducing energy consumption by a minimum of 30%.
Kohli said that the press offers 'the concept of ease' as the customer can enjoy easy job changeovers, ease of registration, ease of production, ease of information, and ease of maintenance. It also offers smart safety features as it is equipped with CE conformity following strict European safety standards. It has static monitoring at multiple positions along the machine length with pre-settable alarms, active static discharge bars alongside the machine with explosion-proof bars on each printing station. The press also has a CO2 fighting system with nozzles and temperature sensors at each printing station.
Live demos of water-based and toluene-free gravure
Kohli Industries ran the press and notched up a printing speed of 500 meters a minute with water-based inks from Indian supplier Scuba inks. He says that by not using solvents, there is a considerable cost saving. Cylinders for water-based inks have to be specially engraved. Shilp Gravures of Ahmedabad provided these.
Kohli successfully ran the 10-color Thea 9one8-3.0 gravure press with toluene-free solvent-based inks at 650 meters a minute. Hi-Tech Inks of Mumbai provided toluene-free inks. Both demonstrations – of water-based gravure at 500 meters a minute and toluene-free gravure printing at 650 meters a minute point to environmentally friendly packaging and sustainable systems. This is a high achievement coming from an Indian manufacturer of gravure presses, putting it in the league of leading suppliers globally.
The availability of this press, the cylinders, and inks, from local manufacturers, point to an enormous reservoir of capability and know-how. There is no longer any excuse (if there ever was) for brand owners not to produce flexible packaging that is healthier, easier to recycle, and more sustainable. There was, according to Kohli, good interest in such a press, and he says, "Now that we have demonstrated it, sales will come."
Kohli concluded the demonstration by thanking all the partners: Shilp Gravures, Siemens, Hi-Tech Inks, Scuba Inks, BST eltromat, E+L, SAAPL, Rossini, Enulec, Gama International, Festo, SMC, and AxisValence.