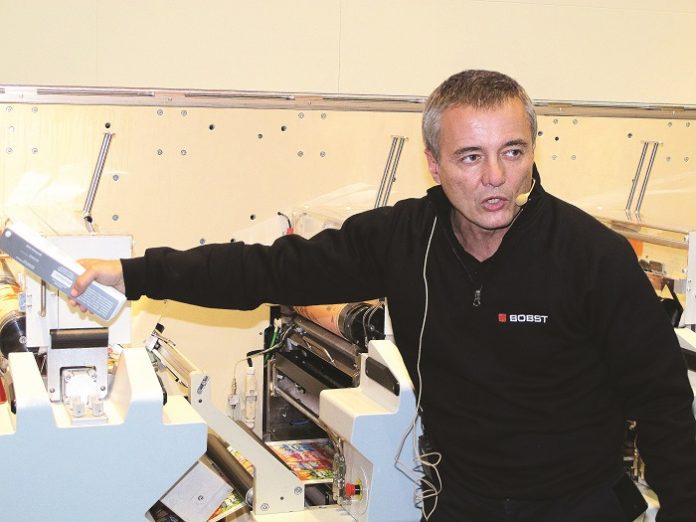 The main Labelexpo event in Brussels has been a busy and bustling one again, with slightly growing numbers of exhibitors, visitors and trade journalists, and more than 200 product launches. Known as an exhibition full of running presses, both narrow- and mid-web, it is less and less limited to label converting and more and more interesting for anything else than simple label production. Flexible packaging, shrink sleeves, folding carton, industrial printing and special applications from in-mould labels to integrated packaging solutions are increasingly putting their stamp on the developments staged at Labelexpo. The organizers themselves labelled this year's show 'the packaging show.'
The other trend visible at Labelexpo is the continuous shift in print technologies. Flexo is more and more supplemented or replaced by digital and combinations with screen, gravure and offset, and highly versatile and automated rotary offset presses are increasingly being favoured for specific narrow-web applications as well. While in flexible packaging gravure is slowly being replaced by high-quality flexo, developments in gravure have made the latter more flexible with regard to short-run and narrow to mid-web jobs, enabling specific as well as a range of multiple hybrid applications. The number of digital presses at the show increased by 16% to a total of 52 this year, not leaving out any of the global flexo press manufacturers. Accordingly, there have been many new developments in ancillary technologies such as UV LED and hybrid curing units and in prepress and finishing equipment.
Bobst
Perhaps the most significant announcement priorto the show was Bobst's entry into the narrow and mid-web segment, completing its otherwise comprehensive range by the takeover of Nuova Gidue, now Bobst Firenze (Bobst Florence). At Labelexpo, it launched a new UV flexo platform with 7-color extended gamut technology dedicated to flexible packaging, showcasing the Revo M4 at 43 cm-width with automatic changeover of print cylinders and the Revo M6 with a web width of 67 cm based on a print sleeve configuration with a semi-rotary diecutting station.
The first two M6 presses were sold on the second day of the show, both to Indian companies. For its plant in Manesar, for which the company also bought an 8-color Omet X6, Kap Cones ordered a Revo M6 in a 10-color configuration. Jupiter Laminators from Sonepat ordered a one metre-wide customized version of the M6 with nine printing stations, hot foil stamping and a turret rewinder and unwinder. This will be the first flexo press for Jupiter, a company primarily printing tobacco and beverage packs and labels on five gravure presses. With the M6 purchase, it will be able to print on paper, polyester, BoPet and BOPP. Bobst used its Labelexpo presence to announce a new mid-web CI flexo press available with web widths of 450 and 900 mm and speeds of up to 350 metres a minute, to be shown at drupa next year.
Omet
Omet launched its new iFlexPSlabel press. This is a nentry-level 370mmwideUV flexo press. It has a short 1.3metreweb path to reduce make ready waste, but can be configured with a longer path for use with water-based inks. It is a shaft-driven press, with a directly driven impression cylinder and uses one gear per print unit on the plate cylinder to reduce gear backlash. It uses a system of laser pointers to locate each unit for registration and to show the mounting position for each plate. Each unit also has a camera to show run registration through an iVision monitor.
Omet the 670 to 850 mm wide VaryFlex V2 Offset aimed at the shrink sleeve and flexible packaging market. The company also showcased its 430 mm wide XFlex X6 Offset and X6 Digital, both with flexo and other units for hybrid applications. The X6 flexo presses were sold at Labelexpo to Any Graphics in Noida and Kap Cones in Manesar. Both companies are in the Delhi National Capital Region.
Offset and hybrid presses
Offset and waterless offset systems were presented by Codimag, Goss, KBAMePrint, Labelmen, Miyakoshi, Rotatek and most of the larger manufacturers of flexo and hybrid presses, including Gallus, MPS, Nilpeter and Omet. Goss emphasized a tie-upwithAlwanfor colormanagement, quality control and fixed 7-color extended gamut on its Sunday Vpak presses. Miyakoshi launched a new semi-rotary UV waterless offset press, the MWL, with speeds of up to 200 or 300 impressions a minute, available inwebwidths of 350 and 420mm .Miyakoshi also presented anew version of its proven MLP press, with speeds of up to 300 impressions a minute and optional units for screen and hot foil stamping. Codimag showcased its Viva 340 andViva 420 withAniflo technology, combining waterless offset with optional units forflexo coating, screen, letterpress and hot foil stamping.
KBA
KBA-MePrint launched Inprint, a UV flexo printing unit for installation in continuous or intermittent blister and packaging machines, for printing on aluminum, PVC, PE, PP, OPP, vinyl or paperin web widths of 230 and 330 mm and speeds of up to 20 metres a minute or higher. It also introduced a new waterless offset printing unit for tube printing. KBA showcased its semi-rotary waterless offset press, the Varius LX-TX, which can be equipped with flexo, inkjet and screen printing units.
Mark Andy
Mark Andy presented for the first time in Europe its recently developed Digital Series. The UV inkjet press on its stand with a web width of 336 mm performed at speeds of up to 76 metres a minute at a resolution of 600 x 600 dpi in a 6-color plus opaque white configuration including flexo units and in-line lamination, diecutting, cold foiling and rotary screen. Its digital front end was powered by Esko software. Mark Andy also showcased its new P4 Performance series press designed to accept tooling from other manufacturer's press lines previously installed by customers. TheP4 flexo platform is available in web widths of 250, 330 and 430 mm and speeds of up to 230 metres a minute.
Nilpeter
Nilpeter launched a new digital platform, the Panorama. Its first product, the DP-3 UV inkjet press, prints with web widths of 350 mm and speeds of up to 50 metres a minute. Nilpeter also staged demonstrations on its proven UV flexo press FA-4 with a web width of 420 mm and speeds of up to 175 metres a minute. The company also presented a collaboration with AVT, which developed the D2D Register system for Nilpeter's range of flexo presses, enabling fully automatic makeready and register control.
MPS
MPS introduced its new hybrid press, the EF Symjet integrating its own flexo technology with Domino's N610i inkjet integration module based on 6-color plus opaque white. MPS also showcased its proven EB label press and new developments on its EF Neo presses. Domino on its stand demonstrated the K600i digital printmodule, integrated into a Graphi Meccweb inspection and finishing line, printing black variable data and an adhesive coating used for cold foiling.
Epson
Epson launched a new 10-color wide-format aqueous inkjet platform, including the 24-inch SureColor SC-P7000V and the 44-inch SureColor SC-P9000V printer, which can be connected to the Epson ILS30 SpectroProofer for consistent and repeatable color accuracy. Epson also had its range of SurePress aqueous inkjet presses on show, next to its Color Works desktop printers and the new high speed LabelWorks LW-Z900FK, a sturdy handheld label printer.
Konica Minolta presented its compactbizhubC71cfpressusingdry-toner electrophotographic imaging at 1,200 x 1,200 dpi at speeds of up to 13.5 metres a minute, available with a web width of 330 mm. Screen had a new model of its Truepress Jet series on show, the L350UV inkjet press for web widths of up to 350 mm and speeds of up to 50 metres a minute. Fujifilm launched a new wide-format LED UV inkjet printer, the Acuity LED 1600 II printing at 33 square metres an hour. Nipson and DropJet showcased a range of jointly developed compact UV inkjet presses for web widths between 150 and 450 mm and speeds of up to 76metres a minute. Mimaki, Primera, Inkjet Solutions provided some interesting digital systems as well.
Ancillary equipment and consumables
Systems for CtP, corona treatment, postpress enhancements, diecutting, roll handling and quality inspection could be found at the stands of the global players as well as those of
a panoply of smaller but not less serious suppliers particularly from Asia and Eastern Europe including Russia. It would be impossible to provide a comprehensive list of names here.
Prati
Prati showcased new developments including its Digifast One finishing solution, the Saturn Omnia for multiuse finishing including IML, the Saturn Bidi finishing and inspection system, the automatic knife set-up device Fastcut,theVega+ BKL diecutter and turret rewinder, and the Jupiter WF slitter inspection rewinder.
Mark Andy's Rotoflex had a large stand with its range of inspection, slitting,rewinding and cutting equipment, such as theVSI andVLI slitter-rewinders,theNikka inspectionsystem
and the URC/RMS control and report management system. Otherinspection systems were shown by AVT and BST Eltromat, whereas finishing systems could be found at the stands
of Cartes, GM, Hans Gronhi, MGI, Spartanics and many others.Meechshowcasedits recently launchedHyperion924IPS ionizing bar and a range of new power supply and web cleaning systems. Sharing a stand with Bograma an Herzog+, MBO exhibited a new unwinder and inspection system, the UW500 forrolls ofup to 1,524mmindiameter and 520 mminwidth. GEW introduced ArcLED, a hybrid UV curing system, with exchangeable modules for LED and mercury arc curing.
The major software providers were present at Labelexpo, inluding Cerm, Dalim, EFI, Esko, Label Traxx, Shuttleworth and Tharstern, as well as all the leading flexo CtP,plate andanilox rollermanufacturers.Also interms ofinks andsubstrates,both the global brands and many of their Asian and Indian counterparts didn't miss out on the show.
SPG Prints
Next to its CtP and rotary screen technologies, SPG Prints showcased its DSI modular UV inkjet press forlabels and packaging, available in widths between 135 and 530 mm. FFEI in a collaboration with Edale showcased the latest version of its Graphium press, a hybrid platform based on UV inkjet (six to twelve colors) with a number of in-line converting options for widths of up to 432 mm and speeds of up to 45 metres a minute. EFI showed its latest model of Jetrion 4950LX LED for widths of 330 mm and speeds of 50 metres a minute and the option of in-line laser diecutting, varnishing and lamination. Dantex launched the PicoColor II UV inkjet press for widths of up to 140 mm and speeds of 35 metres a minute. Durst came to the show withits successfulTau330 industrialUVinkjetpress andanewbudget-pricedentrylevel version branded Tau 330 E for web widths of 200 or 300 mm and of up to 48 metres a minute. Another Xaar-enabled press was shown by Inx.
Indian companies
Out of the little over 600 exhibitors at Labelexpo, about 100 represented companies based in Asia, including 45 from China, 25 from Japan including some of the global brands, 16 from India, seven from Taiwan, six from Korea,two from Vietnam, and one based in Singapore.Among the visitors, close to 600 made itfrom India, including a large official delegationof 200 captains ofthe industry,the largest as compared to the delegations fromJapan,China,IranandSouthAfrica, eachcomprising around 100 professionals.
The Indianbrands onshowincludedAlliance fromFaridabadwithflexo and offset presses as well as inspection and roll handling systems; Convertech with doctor blades, anilox rolls and ink control systems; Creed – a leading distributor in India and the Middle East of equipment from global suppliers including Lombardy and Iwasaki and its own equipment underthe Vinsak brand; Diehard known forits dies and foiling systems;Hydenfrom Mumbai with finishing and inspectionequipment; Kumar from Greater Noida with converting equipment and substrates; Mona, Monotech, Multitec Aids with its now established narrow web flexo presses, and Precise Graphic India with various converting equipment; IEEC with corona treatment systems; and Garware, Globus, Holostik, Max Specialty Films and SMI showcasing their variety of substrates now supplied to many global markets.
In a collaborationwiththe LabelManufacturersAssociation ofIndia, FINAT (the European federation oflabel manufacturers),TLMI(theUSTagandLabelManufacturers Institute) and industrial sponsors, Labelexpo organizers launchedthe Label Academy, a global training and certification programme for the label and package printing industry. It consists of a series
of self-study modules at their website, label-academy.com, combining free articles and paid textbooks. The courses and resource materials are kept up-to-date and relevantforthe industry by continually consulting otherindustry experts. The next Labelexpo Europe in Brussels will be held from 26 to 29 September, 2017.
Tresu's wide web Flexo Innovator presses
We have known Tresu only as an OEM supplier of chamber doctor blades to narrow web label press manufacturers and more recently as the supplier of the highly automated and quick change in-line iCoat 30000 module for water and UV coating on the HP Indigo 30000 packaging press. Tresu Solutions is actually as well-known for supplying complete state-of-the-art flexo machines as it is for unique modules for very special niche demands. It is also known as one of the key suppliers to Tetra Pak of specially designed water-based flexo
presses.
At Labelexpo Tresu seemed to emerge from its shellto talk a bit more aboutits range of equipment and capabilities suchas itswideweb Flexo Innovator presses that are built in 900, 1,100 and 1,300 mm widths for paper, paperboard, unsupported film, laminates and aluminiumproducts including various in-line finishing and converting applications.Amongst its solutions Tresu provides an integrated printing module for putting together a complete line thatincludes converting, filling of pouches and tabs that are widely used for washing machine capsules, dish washing tabs and water soluble detergent pouches.
IGT at Labelexpo Brussels
Formulating special color flexo inks for various substrates
At Labelexpo IGT was showing several of its testing systems including the latest version of its F1 ink printability tester for flexo printing. In collaboration with x-rite it demonstrated the ink formulation process for special colors. The F1's test print of the first attempt at making a special color on a film substrate was measured by the x-rite connected to a computer which then calculates the reformulation for achieving the right color at the right density. Both the target and the required shifts are visually reflected on the computer's monitor. The F1 which uses an anilox or ink transfer is able to emulate the likely behaviour of the ink on a flexo press on the substrates that are to be used. We actually witnessed a demonstration together with senior executives of Flint Inks in the Middle East whohave similartesting equipment including the x-rite spectrophotometer in their facility there. The overall process is quite easy and there is no question thatthis is a scientific and practical method forformulating special color flexo and gravure inks for a variety of paper and flexible substrates.