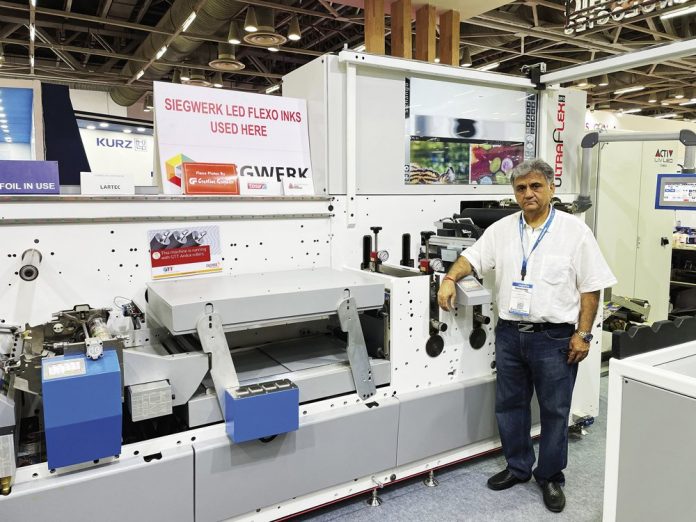 New Delhi-based UV Graphics, in postpress solutions for the printing and graphic arts industries, participated at PrintPack India for the second time. The company's stand was even bigger than the last Printpack where it won the IppGroup award for the best stand. The stand this year, again stood out for its comfortable spaciousness, bright signage, lighting, ambiance, and hospitality.
"PrintPack India is returning after a three-year gap, and the market has finally opened up to fulfill the industry's needs, so exhibitors anticipate a strong turnout. This year's event will bring together printers and converters from India and beyond. Because of the pandemic, this expo is expected to attract mainly serious buyers and investors. We also anticipate serious visitors and investors during this event," said Abhay Datta, director of UV Graphics even before the event. The exhibition's strong turnout including serious buyers from across the country and overseas proved Dutta's forecast to be correct. UV Graphics said it sold seven label presses, three slitter rewinders, and four in-mold label machines at the show. 
At its stand, UV Graphics demonstrated the Ultraflex UFO-450 10-color dual servo LED UV combo film and label press with 42 servo drivers. The company also highlighted its range of products, including converting, hot foil stamping, and rotogravure units, as well as its slitter rewinders, plate mounting systems, cylinder storage, in-mold label punching, UV curing systems, screen printing, and other technology and finishing options. 
Upcoming packaging trends and expansion
"If you ask me about the future of the label industry, I would simply answer that it is booming," said Dutta at the show. "Customers are seeking high-quality labels for a variety of uses. Print and print-related gear are also in high demand, with a double-digit increase expected in the coming years."
"Everybody is moving toward labels, and companies are discouraging the use of cartons, so when the product comes without the carton, definitely the carton will be replaced by labels. So, the label market will undoubtedly grow," said Datta.
"UV Graphics is set to move forward for positive growth. It is expanding the plant and constructing a new facility of about 2,00,000 square feet in Noida adjacent to our old facility, which will start in January 2023. It is also looking forward to the Labelexpo India in Greater Noida in November 2022," Dutta concluded.