Acme Rolltech, the pioneering Indian pioneer manufacturer of ceramic anilox rolls and sleeves, showed its rolls and sleeves, cleaning paste solutions, cleaning brushes, and the samples of the newly launched High-density white (AHDW) and Acme Tactile (ATAC) anilox solutions at its Stand C34 in Hall 5.

Sandeep Sharma, director of Acme Rolltech, explaining the difference between the samples of ATAC and AHDW, said, "ATAC is for narrow web flexo printing, and AHDW is for the narrow web label industry where they need high opacity white for cosmetics, FMCG, liquor industry labels generally using filmic labelstocks. We are trying to replace the use of a screen printing station with our anilox which saves material and cost and improves the throughput and print efficiency."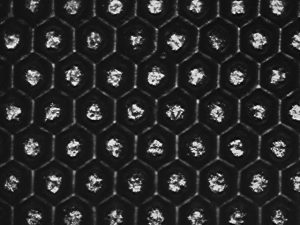 Sharma and his team also provide training sessions to customers for the complete handling of anilox rolls. They are consultants for their customers who understand their day to day production and cost concerns and provide roll auditing services. Acme Rolltech are refurbishing a substantial number of old anilox rolls which helps the industry's cost efficiency and sustainability. The company is re-coating and re-engraving the rolls so that there is a saving in materials and so that production of labels can improve its carbon footprint.

Sharma also took the trouble to show us the structure and pattern of the AH 60 hexagon and AH 80 elongated hexagon anilox cells, which improve their ink release capabilities and make it easier to clean and maintain the anilox rolls.