Print China has always attracted a large number of Indian printers. At this year's show, many of the Indian attendees showed serious interest in the multiple technologies on display. RMGT displayed two sheetfed offset presses at the show, the first being an RMGT 10 series 105 cm format Tandem perfector and the second, an RMGT 9 series 92 cm convertible perfector.
The RMGT 10 series is a B1 size press suitable especially for cartons with performance enhancing features and cutting-edge technology. The Tandem perfector is RMGT's patented technology allowing single pass both-side printing without the need of reversing the paper. The reverse-side printing units are connected to conventional straight printing units by a translink unit that conveys sheets from reverse-side printing units to front-side printing units, providing both printing speed and quality. The Tandem perfector can print 105 cm sheets at 16,000 sheets an hour.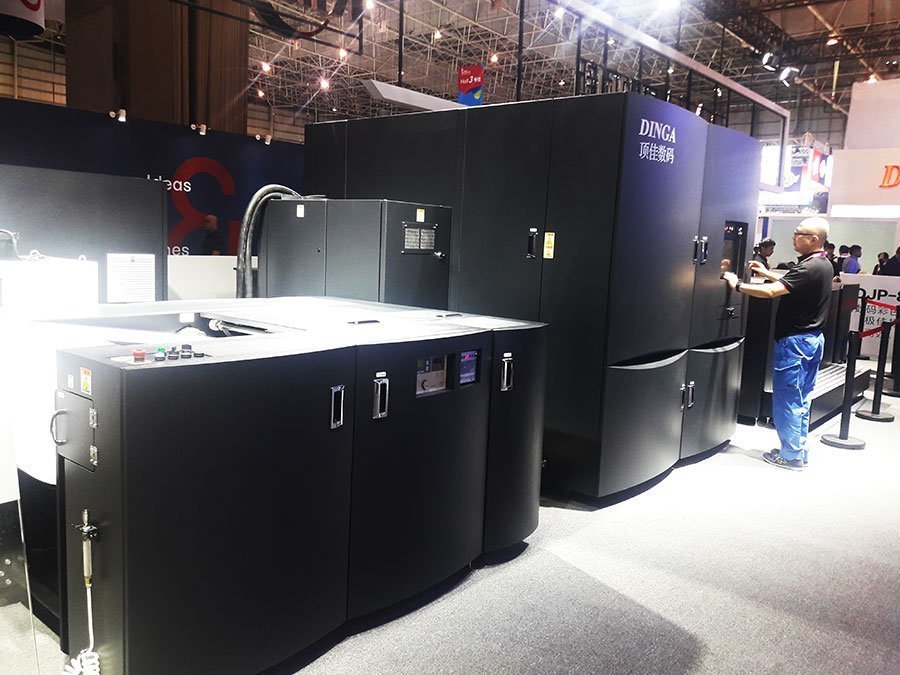 The RMGT 9 series is an A1 size press suitable for both commercial as well as packaging jobs. It can be equipped with a convertible perfector, which is a three-drum arrangement that ensures ensures smooth sheet reversing, sheet transfer and high printing quality during perfecting even at its top speed of 13000 sheets an hour.
Miyakoshi, on the other hand, displayed a high performance 20-inch full color duplex inkjet printing press ‒ the MJP20E. This is a web-fed digital press aimed at the commercial market with a print resolution of 600 x 1200 dpi using Kyocera inkjet heads. The Miyakoshi MJP20E digital press uses water-based inks and is capable of printing at speeds up to 127 meters a minute with high image quality. Its stable structure, space-saving design along with the variety of inline processing and finishing options to choose from makes it a highly sophisticated short-run commercial printing press.
Both RMGT and Miyakoshi, which are represented by Provin Technos in India, received an excellent response during the show which helped them close multiple orders for the China market. Provin Technos met with success at the show with the closing of three orders – two for sheetfed offset presses in the B2 size and another for an A1 size sheetfed press.
RMGT 9 series 8-color perfector comes to Multivista in Chennai
Provin has recently installed an RMGT 9 series, 8-color convertible perfector press at Multivista Global in Chennai. This press is equipped with performance enhancing features such as program inking with AI function, automatic nip checking, maintenance mode, automatic blanket cleaning device and other features and options. Multivista is of course one of the leading Indian book printers and book printing exporters.