It has been a little over a year since Mumbai-headquartered TCPL Packaging inaugurated its flexible packaging unit on 14 September 2016 at Silvassa. The plant houses state-of-the-art machinery in printing, finishing and converting divisions such as a Bobst Rotomec RS4003 MP 9-color gravure press with a novel UV coater, two Nordmeccanica SuperCombi 3000 laminators and a Goebel slitter rewinder as well as an Ultraflex slitter rewinder. The last 12 months have seen some significant progress in the flexible packaging space by the company that has hitherto been known as a leading monocarton manufacturer.
"The one-year journey has been very eventful. We are new to flexible packaging but we are continuously learning as we move ahead. We are trying to do many new things, which is unusual for a unit of this size," says Saket Kanoria, managing director of TCPL.
The flexible packaging plant has received ISO9000, ISO14000 and ISO15000 rating over the past one year and will soon receive BRC rating as well. The unit is in very good shape and the GMP standards are remarkably high. Many customers have visited the unit during this period, which is an achievement in itself, says Kanoria. "We have received excellent feedback from all our customers who have visited the plant." The plant has also been audited by TCPL's customers and trials and tests for a host of customers were conducted; some have got converted into commercial orders while others are in the negotiation stage.
The Silvassa unit has a total installed capacity of 400 tons per month and is currently operating at 50% of its capacity. Over the last one year, TCPL has focused and emphasized on special jobs with value additions such as soft touch coatings and haptics for food or other FMCG products.
"For these special jobs, we extended our cartons background to our flexible packaging division in collaboration with ink and machine manufacturers. We are very pleased with the results and I am happy that despite being a young unit, we have been trusted with this type of jobs; and we have pulled it off very well," highlights Kanoria.
TCPL has been working with three SKUs for these jobs, which involve matte coating and spot UV and gives very realistic effects. These three SKUs are from the food and chewing tobacco industry and the project is in the production stage with commercial launch expected to happen around Diwali.
"In these jobs, cracking the first order is important. Once the products are in the market, we will have the confidence to approach other customers as well," says Kanoria, adding that the plan is to extend these special jobs to customers in other industries as well, apart from food and chewing tobacco.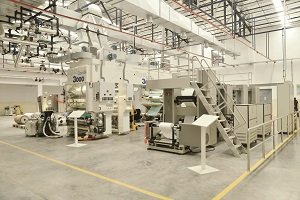 In addition to these special jobs, TCPL's flexible packaging unit has also diversified into shrink sleeves in the last one year and has installed a Freschi sleeving machine. TCPL offers these sleeves in both cut and reel form.
During the past year, TCPL has also installed the packaging design and pre-press software, Esko WebCentre. The WebCentre is a powerful and user-friendly web-based platform that manages packaging preproduction specification, approval and project life cycle. With the WebCentre, TCPL aims to reduce errors and accelerate the approval process.
Talking about further investments in the flexible packaging unit, Kanoria says there are no further plans for the current financial year but in the next fiscal the capacity of the unit will most likely be doubled. The Silvassa unit can easily accommodate two more gravure lines and many laminators and other finishing equipment.