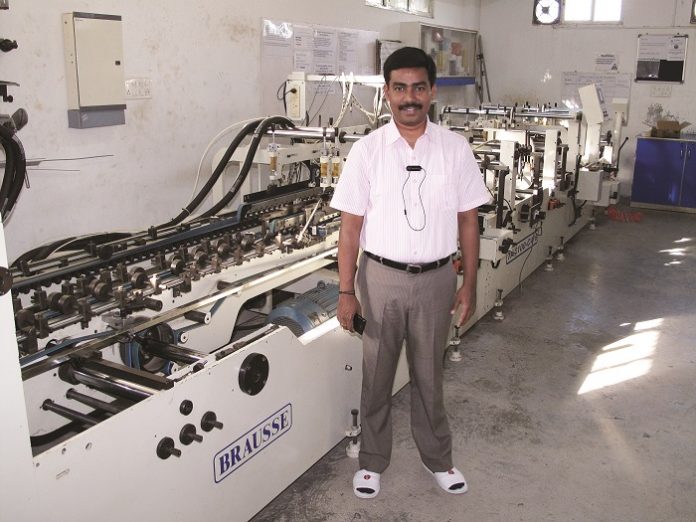 Chennai-based Suba Solutions brings a range of finishing equipment for various applications including packaging, book and commercial printing to the Indian market. The decade-old company is led by a four-member management team that works out of its new 6,000 square feet office in the suburbs of Chennai where it has also set up a demo-cum-training centre. The demo centre currently consists of a manual diecutter and a Brausse Eterna folder-gluer. For more than a year these two machines have been operated by Suba for prospective customers to get a hands-on experience with the machines as well as for backup for some of its local clients.
C Naresh, director of Suba Solutions says that although Suba initially aimed at providing postpress solutions, since 2008 it has been focusing mainly in the packaging domain.After 2012, its business was divided into two fundamental divisions – corrugation and monocarton (autoplaten diecutter and folder-gluer) segments. In the corrugation division, which Naresh looks after, Suba presently offers automatic single facers, flexo folder-gluer and flexo printer slotter diecutters, flute laminators, automatic and semi-automatic diecutters, large format programmable cutting machines and automatic folder-gluers from various Taiwanese and Chinese companies such as Champion Machinery, Shanghai Eterna, Lian Tiee Machinery and Techgene Machinery amongst others.
Customer satisfaction, goodwill and trust are some of the qualities that Suba solutions has earned from its clients in the past decade with an installation base of over 400 machines across India. In any packaging plant, it is essential that the equipment has minimal downtime during the operational hours. With a service team of 25 dedicated and experienced engineers, Naresh says that proper service and maintenance for his clients is only a call away.
The current financial year has been a difficult one for most capital equipment suppliers. Naresh says that althoughthe year started wellforSubaSolutions, due to severe fluctuations in the USdollar exchange rate machine sales have suffered. However, like many others he is optimistic about the 2014-15 financial year, and is looking forthe market situations to improve.
"The Indian corrugation industry has changed a lot in the past ten years," says Naresh. The general volume has increased a lot compared to those times. The priority on quality comes from the fact that more and more of the corrugators are moving towards fully automatic plants as opposed to semi-automatic ones. This is because manpower is getting more expensive by the day. The industry is much more aware of the benefits of proper space utilization and waste control. The industry is keen to adopt more modern methods of production so that general efficiency increases.
The packaging industry is doing well with the label and flexible segments being the star performers. However, Suba has no plans to start any new verticals in the near future as its hands are full. Naresh tells us, "Our priorities are very clear. Our customers trust us because we deal with only a few brands and have persisted with them throughout. It is very crucial for us that we build on this trust and keep our focus in the corrugation and monocarton segments forthe future."