In October Joanne Hunter was in Tokyo at Japan Pack 2015 where she discovered how successful marriages between machinery and packaging are bringing forth innovations and raising the bar for product quality expectations that are already higher in Japan than anywhere else in the world.
Hotshot machines for liquid filling
Taisei Lamick's Dangan range
Japan Pack visitors had first sight of latest fast-speed vertical forum fill seal (v/f/f/s) liquid and paste packaging machines by Taisei Lamick aimed at the hospitality and catering markets. In English Dangan means 'bullet' and a single machine in the Dangan range can out-perform the typical 10 or 12 multiple-line setup used in the USA and Europe, according to Masaharu Yamaguchi, managing director of Dangan, overseas business.
He said the compact Generation Dangan G runs at up to 30 metres a minute and 500 pouches a minute, and the output is twice that figure in the first-ever Dangan twin-pack version. The Dangan G2 model produces double packs that can be filled simultaneously with, for example, shampoo and conditioner or mustard and ketchup. Initially Taisei Lamick intends to sell the G2 into Japan before expanding into the rest of the world. The double
pack of 4-side sealed units has a total width of 100 to 300 mm with each individual unit of 50 to 150 mm. Yamaguchi says Dangan machines are more than fast, they also produce a better final product because the system continuously fills without stopping the liquid flow between each seal, and this results in a full pouch with 'almost no air' and more liquid inside compared to similar competitor pouches.
The new-type Dangan G auto filler succeeded the Dangan III in 2011 and Yamaguchi estimates Japanese sales have reached the 1,000 mark with 40 machines operating in the Americas but none yet in Europe. The 2015 incarnation has a new cylinder for horizontal sealing that gives more reliable heat sealing and improves the stability and positional accuracy of film feeding. A motorized switch-based system makes settings for pouch guides and roll positions easier to adjust and there are measures to prevent leakage from the seal seams.
Taisei Lamick also develops laminated films for liquid packaging and one of them has led to a new pack style with a perforated 'hold and tear' feature. The Ampule Cut pouch allows the user to hold it steady during opening and then to pour out the contents without getting messy fingers. The film can be 2- or 4-layer potentially using polyester, nylon, alufoil and polyethylene. The pouch, acclaimed for its universal design has been adopted by Hong Kong McDonalds for condiment sauces produced by a Korean supplier, says Yamaguchi.
Japan's seventh largest company in the flexible packaging sector, Taisei Lamick's domestic sales volumes stand at around US$ 200 million (Rs 1,700 crore) and sales in North America are US$ 8 million (Rs 54 crore). The company also has an American manufacturing base in Illinois that was established in April 2011.
New linear feed system and ultrasonic sealing systems
Flow-wrap machine firsts for Omori
Two 'world firsts' in horizontal form fill seal machine systems were presented by flow-wrap specialist Omori Machinery Company. Omori showed for the first time a new linear transfer infeed system technology for horizontal flow-wrapping products of different lengths, offered to the market as a low maintenance alternative to multi-belt feeder operations.
The EP-7000X BXH introduces a lug conveyor controlled by software that makes it possible to adjust lugs digitally to group items together at a set distance apart so as to allow for different product types on the same belt. It is capable of speeds up to 250 rpm (revolutions per minute) states Omori. The easy digital set up and adjustment has advantages over a multi-belt feeder, which requires manual adjustment to the right pitch and needs mechanical maintenance of the sensor, said Jun Takizawa, Omori international sales, assistant manager.
Also making its international debut at Japan Pack, the ultrasonic sealing system S-5000X BX uses a contact-less rotary system for ensuring that the packaging film retains a pristine appearance. This is because the rotary action moves at the same speed as the film for an achievable output of up to 200 packs a minute. The Omori ultrasonic machine gives a sealing width of 3 mm compared with the 12 mm typical of heat-seal technology, and can potentially reduce film utilization said Takizawa.
The company also displayed the pharma horizontal form fill seal S-7680 BXE flow-wrapper for blister sheets and carton, with long dwell end seal and running speed up to 300 rpm, believed to be the 'fastest ever' of its kind. Omori demonstrated a detection system for checking that two or more wrapped products are properly positioned inside of their single outer packaging, while on the fly and especially after a stoppage. Slippage can occur when two items separately wrapped in film are collated inside a further film pack. This solution is designed to work with metallized film by using low radiation, 'soft x-ray' technology. A photo-sensor system is suitable for use with transparent film explained Takizawa. The product mis-position detection equipment developed by Sci Energy was shown integrated
into the Omori S-5000X.
High level line inspection for food manufacturers' peace of mind
Ishida Vision Technology infrared detection and camera tech
A line surveillance system by Ishida is designed as an aid to food manufacturers wanting to avoid the expensive consequences of so-called food terrorism, equipment malfunction and human error.
In spring 2015 Ishida launched near infrared (NRI) technology for detecting a poor seal, for example due to product in the sealing area. During Japan Pack it was seen demonstrated as part of a complete food packaging line being watched over by a camera inspection and recording system developed by Ishida for the food industry with a subsidiary of Hitachi. Hitachi has a similar system dedicated to other sectors marketed under the name Hitz.
Ishida Vision Inspection Technology (IVIS) watches over the line checking every measure in place to detect contaminants and ensure eject deviant products are functioning properly. Cameras also capture human activity in the operating area, and the scene is recorded. X-ray detection and labelling machinery communicate with the recorder and the readable serial numbers enable any contamination to be traced to a particular product. On the market for two years, some 50 systems are supporting the Japanese food manufacturing sector's pursuit of total food safety and zero packaging imperfections says Kenji Nishizawa, assistant manager of overseas operations at Ishida.
A year ago the Ishida Group paid around US$ 20 million for a 70% share in Nissin Electric and presented a line-up of the latest Nissin products. These included the NX3 hybrid inspection system that rolls a metal detector and X-ray capability into a single machine with a top running speed of 60 metres a minute. Contaminants can be detected down to 5 x 5 mm and as thin as 2.0 mm, and ball bearings as small as 0.5 mm diameter.
But markets beyond Japan and its Asian neighbours will have to wait to buy Nissin products because Nissin is not yet active in the USA and Europe, where Ishida has a presence in addition to Asia and Japan. The 10-year plan is to sell Nissin products in Europe and America but there are 'potential issues' to fix, says Nishizawa. "The Nissin's portfolio competes against machines which are represented by some our distributors. The management decision as to when we start will be made very carefully," he adds.
Another Asia region 'exclusive' is a new Nissan pipe line metal detector. The speed of the ND-840 search head depends on the nature of the product, which can be a viscous liquid such as chocolate, minced meat, a free-flowing powder or grain, or individually packed sweets.
Likewise, the market is localized for a metal contaminant detection system dedicated to aluminium foil packaging incorporating a strong magnet. In operation, Nissin ALPAS-F renders mild steel (Fe) magnetic inside the pack and can pick out a contaminant of approximately 0.5 mm in size, says Ishida.
Japanese blisterpack specialist set for Indian pharma market
CKD appoints Parle Global Technologies for India distribution
Japanese specialist in the manufacture of portion blisterpacks CKD having mainly served its local Japanese market is now actively preparing to sell into India. CKD has appointed Indian pharma machine manufacturer Parle Global Technologies to promote and distribute the company's packaging manufacturing expertise across India for pharmaceutical applications.
Overseas sales subsection chief at CKD Kennosuke (Ken) Yoshida told Packaging South Asia he had spent this year establishing connections with many pharma companies in the country.
His next visit to India, due immediately after Japan Pack, was to make final plans for CKD to exhibit at P-Mec India from 1 to 3 December 2015 in Mumbai.
Fanuc demonstrates CR-35iA
Friendly green robot seeks work on factory floor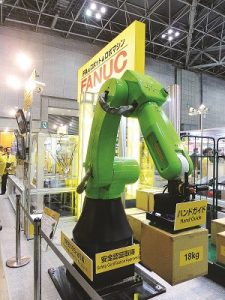 A green 'friendly' robot designed by Fanuc to be safe for human contact was at Japan Pack, on the lookout for its first user in the packaging sector. Introduced as an 'entirely new class of robot,' the CR-35iA is designed to boost the use of collaborative robots and it entered the car making industry six months ago, Kasuo Hariki, vice general manager of overseas sales division for Fanuc robots, told Packaging South Asia.
What stands out, apart from the striking green color, is the knobbly leather-like texture of its surface – more elephant hide than cold metal. The soft-touch robot 'skin' gives just a little when finger pressure is lightly exerted.
In the event of a collision it comes to a stop without hurting anyone, ably demonstrated for Packaging South Asia by Fanuc representative Shusuke Watanabe. Equipped with the Fanuc FS-15iA force sensor and hand-guide providing intelligent safety functions, the green robot is Safety Certification Approved to work in close proximity with humans on the factory floor says Fanuc.
Until now robots have been relegated to fenced-off areas for safety reasons said Hariki. He hinted that this was the first of a 'friendly' breed of robots that can be let loose in the factory environment.
As for the future of robotics in food processing and packaging, Fanuc revealed it is working on stretching the capability of robots to handle soft, spongy products such as raw food ingredients and also building in the required sensitivity to handle different shapes and sizes of products – eggs, for example. Asked how long the market has to wait for the next, even smarter generation of robots, Hariki guessed around five years.