As one of India's largest flexible packaging solutions suppliers, Mumbai-headquartered Huhtamaki PPL (HPPL) has 17 manufacturing plants spread across the country. One of these plants is located at Khopoli, a couple of hours away from Mumbai. This plant is HPPL's biggest one in terms of physical size and is situated on a plot of 89,350 square metres with a built-up area of 31,052 square meters.
It is accredited with BRC (GFSI) – 'AA' Grade, ISO 9001:2015, ISO 14001:2015, OHSAS – 18001 and is SEDEX 4 Pillar compliant and Halal certified.
HPPL's Khopoli plant has one of the highest number of printing lines among all its plants. It houses seven Cerutti rotogravure presses with cold seal and coating. The facility of printing on both sides of the paper is also available. These presses are equipped with 100% web inspection with color monitoring and defect detection systems. These presses also have static eliminator, ink cooling and auto viscosity control. The ink and solvent dispensing system to avoid manual handling of solvents is available. Some of the presses feature the electronic static assist for greater printability with high resolution.
The Khopoli plant also has 10 lamination machines from Nordmecanicca. These laminators are solvent less, solvent based as well as water based. The facility is capable of producing eco-friendly laminate. There is energy efficient hot air recycling solution available to save energy on printing and lamination machines and solar pipes to make use of natural day light in extrusion lamination departments.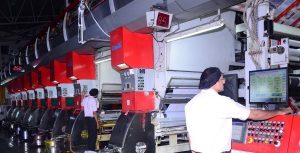 The plant has three extrusion laminators from Deakwang and Fonkee. Deakwang Tandem lamination line has coextrusion and gravimetric/auto gauge; the Deakwang Mono extrusion lamination line also has gravimetric/auto gauge and the Fongkee extrusion lamination line has manual control.
The three blown film lines that the plant uses are from W&H (two) and Keifel (one). These lines boast of PLC-based process, recipe control and online inspection and have widths up to 2800 mm and thickness from 25 to 200 micron. They can handle specialty polymers as well. One of the lines has a surface defect detection system to produce polyethylene for critical applications.
There are seven pouching machines from brands such as Dabhah, Totani, Waterline and Mamta and 13 slitting machines from Bi MAC, SP Ultraflex and KAMPF. The plant also houses hot melt coater and laminator and two embossing machines.
The plant has a converting capacity of 36,000 metric tons per year and about 30-40% of the production is exported. The Khopoli plant caters to flexible packaging requirements for customers in segments such as food and beverages, personal care and household, pet food, pharma and tube laminates, among others. In terms of product range, the plant manufactures stand-up pouches with or without zipper, stand-up pouches with punched handle, three side seal pouches with or without zipper, center-sealed pouches, bags with rope handle, profiled pouches, four edge seal pouches, spouted pouches and registered side and bottom gusset pouches.
The Khopoli plant supplies to some of the biggest Indian and global brands. It is the exclusive supplier of printed laminate for thermoforming application meant for packaging Kinder Joy, a brand owned by Ferrero SpA.
There is one-shop-stop solutions provider for packaging with full state-of-the-art R & D facility and sufficient soft skills to move towards sustainability which is in the pipeline.
Social responsibility, gender diversity and skill development
Not only does HPPL acquire some of the best printing and converting technology, it also pays a lot of attention to the development of the human capital it employs. The workforce that it hires for its plants are mostly the people from nearby areas and villages. Same is the case with the Khopoli plant.
"We train them on technical knowledge, coach them, educate them and make them ready to work effectively. It is our way of taking care of people and the society. We contribute to their lifestyle improvement and way of living," says a company spokesperson.
Locals are encouraged to learn the required skills for the flexible packaging industry over a period of time. The local talent is recruited under NEEM scheme (National Employability Enhancement Mission Scheme under All India Council for Technical Education) empowering them with skills that are necessary for the packaging industry. There is a 36-month training period.
There is a lot of stress on gender equality and equal opportunity. According to the spokesperson, getting more women to work brings in a sense of empathy, different work approach and outlook. "We have always believed in and promoted women across functions; training them to enhance their skill sets that are required for doing a job successfully and empowering them," the spokesperson adds.
Last year, the company focused on getting more and more local women from villages close to the Khopoli plant premises in its quality assurance and production department.
HPPL is also involved in a number of corporate social responsibility (CSR) initiatives near the Khopoli plant, such as distribution of school uniforms and bags to the students of primary schools near the plant, scholarships to students of 10th and 12th standard in schools, providing furniture and computers to girl's high schools in areas close to the plant and launching cleanliness drive, among others.