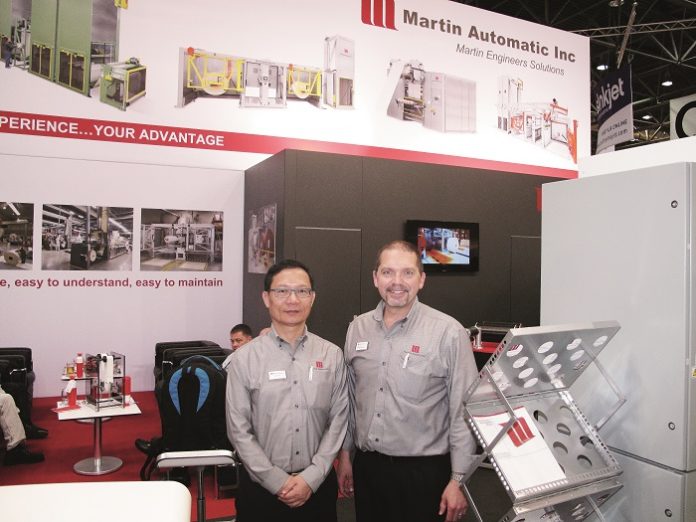 Martin Automatic provides automated splicing with precise tension control for roll-to-roll processing. In operation for over 47 years, and with over 8,000 installations in more than 50 countries, Martin Automatic is best known for its extensive line of automatic splicing unwinds, automatic transfer rewinds and tension control systems. Although, the company was initially attending only to the newspaper segment in India, since the late 1990s, it has turned its focus towards other segments which include packaging as well. With the packaging industry flourishing in India, Martin Automatic believes that it is well placed to provide its tailor-made solutions to the discerning customers.
At drupa 2016, Martin Automatic showed the entire depth and breadth of its solutions ranging from Martin's experience in splicers, rewinders and tension control systems and handling web-substrates delivered as roll stock which spans a broad range of converting and deposition processes. These include processes related to printing in gravure, offset,
flexographic and inkjet, spray, dye extruded and solid polymer application technologies. It also provides innovative solutions for a variety of industries and applications, including those associated with the manufacturing of printed electronics, thin film photovoltaics, and energy harvesting and storage.
"Our newest splicers, rewinders and tension control systems are examples of how Martin Automatic continues to develop and enhance products that give converters and printers the greatest versatility and value for their investment. As a global industry leader in roll-change and web-handling automation, we are known for designing simplicity, reliability and the most appropriate advanced technology into our equipment. Automation is the need of the hour," said Gavin Rittmeyer, vice president of sales and marketing. He said, "We are present with our solutions for web sizes from 25 mm wide to up to 4 metre wide in all webfed markets from speeds of 9 metres a minute to 900 metres a minute."
Martin Automatic has several installations all over the country with one addition in drupa 2016 says Rittmeyer. Although, details of this customer was not divulged, he said it is a well-known label printer who is one of its valued customers in India. It is also preparing to install a 1.4 metre wide aseptic packaging machine in Sanand, Gujarat quite soon. Webtech Labels ,Pragati Packaging are other notable clients which have invested in Martin automation systems in India.
Overall, India is a very important market for Martin Automatic. "We are very excited about the Indian market. We are enthusiastic about the entire packaging market and we have got quite a few prospective customers who are interested in working with us. As a company, we shall of course be back in India at the Label expo show in October. We are looking forward to be more active in the Indian market and hope to meet the unique demands of this market. We have high hopes from this market," Rittmeyer concludes.