Step by step, Constantia Flexibles has been expanding its stake in the Parikh Packaging company in Ahmedabad since 2013, starting with a 60% stake. In November 2019, the company opened an entirely new plant with high ecological standards in Ahmedabad to produce monopolymer films for the Indian packaging market. It is now known that Constantia has acquired all the company's shares. Alexander Baumgartner, CEO of Constantia Flexibles Holding in Vienna, explains in detail to Susanne Bluml.
Susanne Bluml – In November 2019, you opened the new factory in Ahmedabad together with the Parikh brothers. What developments have led to this cooperation being terminated and Constantia acquiring 100% of Parikh Packaging?
Alexander Baumgartner – We had already achieved 100% ownership of the company since the beginning of 2019 – more than a year ago. After both brothers had sold their shares, we agreed that they would remain in the company to accompany the transfer to management outside the family. We were in an open dialogue at the time – Pavan Parikh explained relatively early on that he might not stay with the company and might want to pursue other interests.
The other brother, Pranav Parikh, wanted to stay and support us. The question for him was, of course, what contribution can I make and where am I valuable in an organization? We offered him a leadership role in the Group, at Constantia India. He thought about it seriously, and with a lot of goodwill, and after six months, he said that my heart is ticking elsewhere. We then agreed, and he agreed to hand it over in a well-prepared procedure.
SB – What is the situation at Creative – your second participation in India?
Alexander Baumgartner – Two things about it, we first bought Parikh and then Creative Polypack – in both companies, the family stayed with the company for a long time. At Creative, where the Maheswari family was our partner – it was clear from the beginning that father and son would leave at a specific date, and that is now. So there is also a departure of the founding family. I think it's a bit unfortunate that this coincides now – but it gives us the opportunity to merge Creative and Parikh organizationally as 'One Constantia India.'
In addition, we will introduce a Constantia Advisory Board – which was delayed by Covid. This advisory board will include one family member each from the Parikh family and the Maheswari family. Both families will remain involved in the strategic decisions of the company in an advisory role.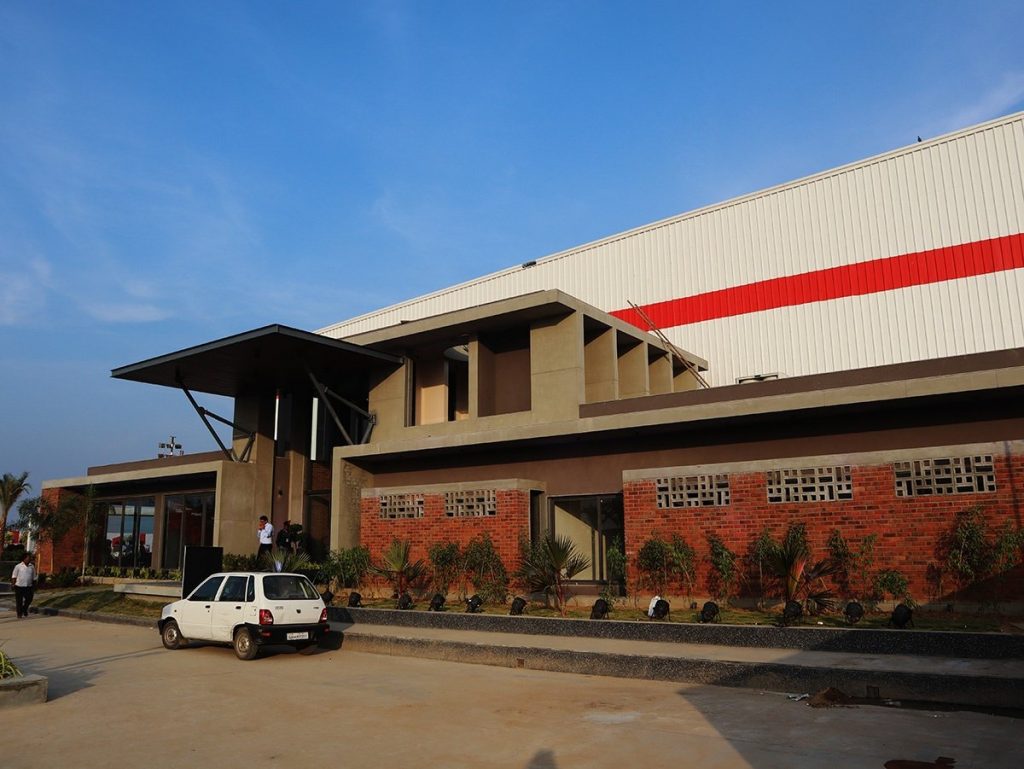 SB – What role will this advisory board play?
Alexander Baumgartner – We aim to meet at least twice a year, ideally four times. The Advisory Board will include myself, our Head of Consumer Business, representatives of the Parikh and Maheswari families, and the head of local non-family management, Tony Sirohi. What is our goal? We non-Indians don't understand everything about the Indian mentality, and further, it is important to me that not only the DNA but also the Indian spirit is preserved. We should not do everything in India in the same way as we do in Austria or France. We want to keep the Indian touch, and that will be done with this advisory board.
SB – How do you now position the management in India?
Alexander Baumgartner – We have the great opportunity to form 'One Constantia India' under the leadership of Tony Sirohi. He has been with the company for almost two years. With his background as a long-standing Huhtamaki manager, he has done a great job so far in generating and bringing together the synergies of Parikh and Creative. He will be the head of Constantia India and will lead the company operationally.
Tony Sirohi is Indian and lives in Hyderabad. He has been a well-known name in the plastics business for many years due to his international career, most recently with Huhtamaki as Head of Marketing and subsequently as Head of the Vietnam business.
SB – When you took over Creative Polypack in early 2018, did you already have this scenario in mind?
Alexander Baumgartner – What we had in mind when we took over Creative was the departure of the Maheswari family in June 2020, which was already set as a likely scenario at that time. With the father, who recently turned 70, you had to expect him to do something different. As for the son, Giriraj Maheswari, we would have imagined that he would stay with the company a little longer. We offered him a role just like Pavan Parikh, but he finally decided against it.
Both Pavan Parikh and Giriraj Maheswari will pursue paths into other business areas. We will undoubtedly benefit from their perspective on the advisory board – in other words, from people who both know the packaging world and contribute experience from these other fields.
SB – In 2018, you had predicted that sales would rise to 200 million euros by 2022. Where do you stand now?
Alexander Baumgartner – Till the end of January, I would have said we were on the right track. Covid has now given us a few slumps, but I am sticking to this target. The achievement of the target depends very much on how quickly the country gets out of the Covid situation. Will demand in the country collapse significantly? Or almost collapse but not completely? These are factors that are beyond our control.
If the development of demand had remained at the level before Covid, this target would have been realistically achievable. Today it could mean that we might need an extra year. We have massive losses of purchasing power in India, where a great many people are currently receiving no income, and, for example, migrant workers are not receiving social support. There is a great deal of suffering and problems economically and socially, which have an impact on the further development of our business. So far, we have had to contend with slight, albeit small, losses in sales compared with the previous year. We were unfamiliar with this situation in India, where we generally generate between 10 and 20% sales growth per year. So let's look at how the second half of the year is developing in India. The omens are again quite good, as our customers are signaling to us. However, I am still a bit doubtful.
SB – A look at the factory in Ahmedabad. What capacity utilization have you achieved there? Are you on schedule or a step back compared to November?
Alexander Baumgartner – We are well behind schedule, three months, maybe even four or five. We had to shut down the factory for about ten days due to a shortage of raw materials or the absence of migrant workers. Now production is running normally again. However, since March, there have been no tests at the customers' premises.
At the Ahmedabad plant, we are producing a product with a specification that was not previously available on the market. So it is not merely copying an existing specification, but of bringing something to market with a new specification. That means there must be shelf tests, transport tests, and much more.
In the last three months, 80% of the customers have stopped testing because of other priorities and because their production, if it was running at all, was running at full capacity with products necessary for the company. So we definitely have a delay of several months. For the past two or three weeks, interest has been increasing significantly again. The question arises as to how the lost time can be made up. I am very confident that we will be where we wanted to be by the end of the summer.
SB – In an earlier interview, you said that many elements of film packaging are dispensable. Does the latest investment in the Bobst K5 mean that you do need these decorative features after all, or are the barrier properties of EcoLam not sufficient after all?
Alexander Baumgartner – The barrier properties are confirmed. I can definitely say that. But there are specifications on the market that I could not achieve with the existing systems. These required an additional investment, and this is based purely on the feedback from the market. The question had to be answered as to which technical requirements existed that we would either have to buy-in externally or make ourselves.
The most important thing is that we still maintain the defined barrier properties today. The Bobst machine offers additional capabilities that we have not been able to offer competitively until now.
SB – And these additional requirements could not be met by the Creative sites?
Alexander Baumgartner – We considered that. But, we're talking about a country that, until a few months ago, was growing at a rate of 15 to 20% each year. We have experienced a reality that as soon as we bring a new production capacity on stream, you can assume that it will be fully utilized within a few months. No sooner have you digested the previous investment than management comes along and says I need another investment. The world is turning so incredibly fast there, and growth is there.
What do I gain if I transport a semi-finished product across India? And then process it on a plant that may have free capacity at the moment, but will be running at full capacity again in a few months. Therefore, we think that the production steps that belong together should take place under one roof, cost-effectively, and at optimum speed.
SB – The earlier announced environmental protection laws in India are now – as we hear – not being applied. Does this also affect the production strategy in Ahmedabad?
Alexander Baumgartner – Not for the moment. My personal opinion is that through Covid, the world has experienced a shift from the environmental debate to hygiene and health, which have now become the most important issue. But there will come a time – which is not so far away – when the population has grown accustomed to social distancing, wearing masks and washing their hands regularly, so that the issue of sustainability comes back.
I am convinced that it will not only come back, but it will come back violently because, at this stage, people have seen photos of the canals in Venice or photos of wild animals that have come closer to inhabited areas. We have all seen a blue sky as we last saw it in our youth because no planes were flying. The weather during the lockdown was so beautiful and free from environmental influences. That has shaped us. I am sure that the environmental discussion will come back very quickly and vehemently and with it the arguments. We see this with our customers, who have interrupted these discussions from other priorities.
SB – The EcoLam product range is located in the high price sector. Is this factory in Ahmedabad particularly aimed at export?
Alexander Baumgartner – India is a vast market. India also has a market where you can position an environmentally friendly product in the premium sector. The environment will also play a role in products such as soap packaging or shampoo sachets for daily hair washing. We are also competitively positioned for these products, even though our films may cost a little more than a comparable product per square meter.
Indirectly you suggest that the main market is probably more in western countries. We will start up an identical production line of the Ahmedabad line in Poland in August, to serve the European market. Are we now starting to transport products from the line in Ahmedabad to Europe for testing purposes? Yes, but this is only intended for a particular phase.
We have planned the Ahmedabad plant for the Indian market. Will the plant à la longue (in the long term) also have a certain export quota? Yes, but it will not be relevant because we want to produce in Europe for Europe, in India for India, and perhaps one day in the USA for the American market.
SB –What signals are you receiving from politicians regarding the implementation of the stricter environment laws?
Alexander Baumgartner – We are in contact with politicians both in India and in Europe. But politicians today have other concerns. They understand what I am saying, but the voters who voted for them are currently moving in a different direction. I fully understand that. How can the Covid issue be managed? How can the people get support when they are sick so that they can get well again? That includes getting the economy, which has been severely affected by this disease, back on its feet.