Speaking to Packaging South Asia, Rajendra Joshi, owner of Rajendra Arts, explains the process of plate making in letterpress, "Depending upon the design, a negative film of the respective design is produced. A coated zinc plate is exposed through the negative film with the aid of a lamp. The part that gets exposed to light becomes acid-proof and the other part becomes reactive to acid. After applying the acid the finished block is mounted on the wood and used as a plate for printing. In 1996, offset printing started to pick up in the market but we focussed on some other trends and initiated services in conventional nylon plates that followed a similar process like letterpress. We found the going difficult in the initial year but were able to get a good number of clients in Pune, Aurangabad, Jalna, Solapur and Kolapur regions of Maharashtra."
"Till 2014 we followed the conventional process but in December 2015 we set up a new plant for digital flexo plate making to meet the demands of label printers in different regions. Our new unit consists of Xeikon Thermoflex CtP and an in-line washer from Kemao, a firm based in China. For printing, we use Dupont Cyrel plates of 42 x 60 inches that provide high quality printing across various segments of packaging.
These plates have been designed to print on various substrates and inks for applications in tags, labels and flexible packaging. Moreover, these plates have an outstanding run length of around 1 million impressions with excellent tonal range," adds Joshi.
Comparing the conventional and digital flexo plates, Joshi says, "The digital plate making process has eliminated the need for exposing a film, reduced the process time and enhanced print quality. In the conventional process the increasing cost of films and availability of spare parts remains a challenge which in turn affects print production."
StudioRip xf and Pack Z
Rajendra Arts has also opted for StudioRip XF and Pack Z. StudioRip XF is a workflow software for CtPs, proofers and image setters for imposition, trapping and ink duct control modules. Pack Z is the professional editor specially designed for labels and packaging. It is built around the Portable Document Format (PDF) Standard file format to fulfil the needs of packaging graphic design. Pack Z has intelligent algorithms to join single characters into text blocks or detect table structures in packaging. Text blocks are resizeable and text can be copied within the PDF document preserving the style. The edit path tool allows adding and modifying paths such as a clipping path.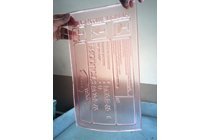 Pack Z has the ability to create bar codes such as EAN8 and 13, data matrix and few others. For quality assurance, it tracks all editing made to a PDF document and visualizes them in Edit History palette. The densitometer tool allows accurate measurements to find out the total ink coverage and can deal with CMYK, spot colors, RGB and LAB color spaces. Pack Z automatically detects the areas where trapping can be applied and highlights them. All traps are stored in a database and are marked on a separate layer, which provides easy handling, repeatability and user friendliness. A tool in Pack Z can create registration marks that automatically transform and update when changes are made to design since it is driven by the PDF document
content and its characteristics. The complete package of equipment and software was supplied by Malhotra Graphics.
Presently, the company does not have any plans for further investment. "We have just invested in the new set up and would like to recover this investment first and then think of investing in something new," concludes Joshi.
Packaging South Asia is the cooperating media partner for drupa 2016 which is scheduled to be held from 31 May to 10 June at Dusseldorf, Germany.