Changing lifestyles and growing urbanization are fueling the growth of the Indian packaging industry. Polymer material based packages and bottles have marked their universal presence with rising consumer demands. Adopting advanced packaging solutions and technologies is the only way to keep pace with global competition and provide sophisticated products. Individualization has caught the eye of consumers, giving rise to customized products. To cope with these requirements, manufacturers are trying to make manufacturing and packaging lines more efficient and agile. Industrial Internet of Things (IoT) applications are also making current packaging lines smarter.
Leveraging transport technology
With individualization, it becomes eminent for manufacturers to satisfy the individual tastes of consumers. Manufacturing in batches was a norm in manufacturing a couple of years ago. However, it was soon realized that such manufacturing leads to huge investments in distribution centers and inventory costs. Today, most manufacturing setups are keen on achieving batch size one production runs. Consumers are willing to pay a premium for personalized products. However, customization demand is only possible with the highly automated mass production; otherwise the unit costs are too high and the production is not profitable. Changing the current manufacturing setups for achieving individualization could lead to huge costs and might not be feasible.
B&R's SuperTrak, an intelligent next-generation industrial transport technology, is the answer to market demands for achieving mass customization cost effectively. The reliable, industrial-grade material transport solution for flexible production lines. Dependable, precise and remarkably low maintenance – the SuperTrak melds seamlessly with robotics and CNC systems to create integrated production lines.
Flexible batch-size-one manufacturing operations need machinery, which can adapt automatically without operator intervention. Flexible packaging lines help machine builders to reduce cycle times for the new product introduction and even allow batch size 1 in a continuous production. A bottle filling line must be able to detect errors in filling and should be able to stop bottles being filled at the faulty station without stopping the line. The machine and line must be able to account for such errors. SuperTrak is an ideal way to implement a motion control solution with this level of responsiveness. Unlike conventional belts with rigid timing, an intelligent transport system conveys each product individually – with variable target positions, speeds and clearances. State-of-the-art linear motor technology and independent shuttles used in SuperTrak provide highly responsive transport for efficient production at any batch size.
Software the differentiator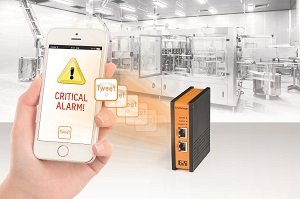 Software has become the differentiator for automation solutions. In the highly competitive packaging industry, shorter time to market is of prime importance to machine builders. B&Rs Automation Studio, the single tool for software development for all hardware, is the perfect fit for machine builders to reduce the time to market. It helps machine builders to deliver an unprecedented array of cutting-edge features to support every stage and aspect of product development, simulation, diagnostics and maintenance. In addition, it keeps the quality up, engineering costs down and allows shorter time to market even in the face of ever-increasing product complexity. The simulation environment supported by Automation Studio, enables the machine builders to develop machines even without the availability of hardware. Automation Studio is able to simulate everything right down to motion components. Its integration with Maple sim and Mathworks enables machine builders to even simulate mechanics. This has helped them to reduce costs and time due to rework and design errors. Like other B&R products, SuperTrak too is programmed in the Automation Studio. With POWERLINK, openSAFETY and OPC UA, B&R offers its customers the perfect tools to meet the high demands of Industry 4.0.
Connected machines reduces unplanned downtime

Unplanned downtime is a serious threat to manufacturing. It results in a lost productivity and excess maintenance costs. Predictive maintenance is the answer to minimizing the risks of unplanned downtime. B&R's APROL process control system satisfies the requirements of flexible and modular process manufacturing plants without neglecting the high demands on availability and data consistency. APROL factory automation solutions provide energy and condition monitoring along with process data acquisition in a single system. This system is completely scalable and utilizes open platform. Its promises 24/7 monitoring so, machines and devices can be used to the maximum duration of their lifecycle and then be replaced when actually required. In APROL, parameters such as overall equipment effectiveness (OEE) can be viewed at any time and even compared between production lines, shifts or workdays.
24/7 shopfloor connectivity

On the other hand, Industrial IoT analytics and optimization promises to be most productive, requires connectivity and continuous access to the machinery. However, to have the connectivity to the shop floor, the IT department from the factory acts as a major hurdle. This is due to the fact of varied KPIs of different departments. IT department focuses on confidentiality and integrity whereas availability of machine and lines is a secondary concern. However, the maintenance and production department need machine and lines to be available for production and integrity and confidentiality are of secondary importance.
With the Secure Remote Maintenance (SRM) solution, B&R perfectly balances the needs of IT and production. Diagnosis and maintenance of machinery and equipment is now easier than ever. The solution utilizes the latest IT and security standards and allows for significant savings with low investment costs. SRM enables operators to have seamless secure connectivity right down to sensors and variables. Machine builders or service technicians can access machines from anywhere in the world without interfering with the IT network of the factory. The IT configures and provides access rights and only authorized personnel can access the network. This offers a perfect mix of accessibility, security and data integrity. This solution helps minimizing downtime and maximizing OEE of machine and factory.
Smart manufacturing with B&R

To remain competitive in era of Industrial IoT, digital transformation is the need of the hour. B&R offers complete hardware and software solutions, comprehensive service and expertise in automation and digitalization of machinery and equipment. With dedicated technology and global open source communication standards such as OPC UA, POWERLINK and openSAFETY as well as the powerful Automation Studio software development environment, B&R is the right partner for implementing Industrial IoT solutions in both new and legacy equipment. With solutions for machine to factory automation, B&R serves as a perfect partner to packaging industry for sustainability, flexibility, higher productivity and profitability.
(The writer is head of marketing at B&R Industrial Automation and can be contacted @ ninad.deshpande@br-automation.com)