As Amsterdam-based IGT Testing Systems' area manager Sander Lenten explained to us at IGAS in Tokyo, the company is always developing printability test methods for paper and other substrates and ink. Continuously looking at ways to scientifically characterize the behaviour of how ink works on various substrates, it takes this analysis to createmeasuring and testing principal and tools. Thus what it is selling to ink and paper manufacturers, to printers and research institutions are not just test instruments but to some extent the knowledge of how inks and substrates behave in relation to each other. The objective is to enable simple and now, less operator dependent technical evaluations of the likelihood of correct or optimal transfer of a particular ink to a particular substrate.
As Sander Lenten said at the IGT stand at Tokyo's Big Sight, "The idea is to visualize what is happening and if you can do this on a laboratory equipment it is much better than on a printing press." The implications of coming to rational technical conclusions are huge for improving quality by using compatible inputs with reasonably safe expectations. The cost saving is in achieving excellence without waiting for a change or last minute doctoring of a particular input on press.
IGT which has been developing graphic testing methods for the past 75 years, presented several new testing devices at IGAS and will also present its new F1 at Labelexpo in Brussels at the end of September 2015. The new developments of the testing instruments are based on the use of servo motors for all the shaft-driven discs with calibration and the use of optics and CCD in conjunction with built-in computers to capture visual images of various phenomenon that can in turn be digitally compared to desired results or standards and also shared with computers that are nearline. Innovations such as the use of digital touch pads and calibrated discs has also made the operation of the machines more user-friendly while giving instant feedback that can be digitally enlarged for inspection. All-in-all, the new generation of IGT test instruments have become less dependent on operator expertise and more reliable because of the precision that is possible with digitally calibrated and controlled servo motors and cameras.
AMSTERDAM-Series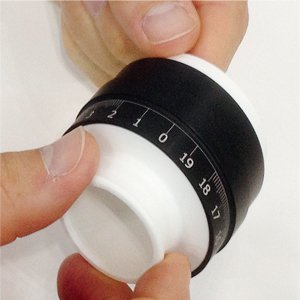 At IGAS 2015, IGT Testing Systems showed some of its latest developments including the testing of emulsification properties of paste ink by using the TackOscope-3LC. A spray dampening is used to test and measure the emulsification on a roller covered with ink.
With the new AMSTERDAM-Series printability testers IGT offers a range of fully automated testers including on-line analysis using a camera-based system. There is a large range of test methods to choose from to test the quality of various substrates including paper, film and cardboard. The conditions of the testing methods are pre-programmed to minimize the risk of inaccurate settings although it is of course also possible to set user defined test conditions, or add test methods according to country or company standards. Offset, gravure, flexo, intaglio and letterpress inks can be easily and economically proofed on this tester.
New F1 and Simply Gravure testers at Labelexpo Brussels
Lenten explained that IGT will show the new model F1 printability tester for flexography at Labelexpo Europe 2015 in Brussels. The device which we first saw at Labelexpo Brussels two years ago, has been fully renewed, with a complete PC inside for control and storage of data and settings for each test. A number of pre-programmed test methods are installed and there is possibility to add customized or completely new test methods by the customer. "This together with the new very user-friendly touch screen application makes the latest version of the IGT F1 an easy to use printability tester keeping the high quality standard, which is expected from us," says Lenten. IGT will also display at Brussels the new IGT Simply Gravure, an easy to operate, single button operated, printability tester for gravure inks. This is a low cost unit with an integrated printing device for the production of color prints with gravure inks.