On 9 June 2022, Bobst announced its latest portfolio of products and services to help converters and brand owners to navigate through a new packaging environment. "While it was impossible to predict world events of recent years, like the pandemic, global conflicts, and subsequent consequences for our industry such as shortages of materials and manpower, we did correctly identify the overall packaging industry trends," said Jean-Pascal Bobst, CEO, Bobst Group. "While these trends have undoubtedly been accelerated, Bobst has implemented a strategy and built a portfolio of solutions and services that enables converters and brand owners to thrive even in this new packaging world."
At the event at the Bobst plant in Mex in Switzerland, the company spoke about the progress that it has made in the last several years in flexible packaging along with its partners. As part of the CEFLEX (Circular Economy for Flexible Packaging) initiative, it discussed the recent introduction of a new high barrier flexible packaging solution designed for recyclability – a metallized, high barrier, mono-material, flexo printed new recycled polypropylene (rPP) pouch. It is the first surface printed pouch with barrier, produced using rPP household collected recycled material on the market.
The company said it is also working on a home compostable packaging solution in partnership with Tipa – a specialist developer of sustainable packaging – and a fully paper based, high barrier, recycle ready solution, called FibreCycle. The latter is part of oneBarrier – a family of new alternative and sustainable solutions that Bobst is developing with its partners.
Finally, it said that as a part of the company's commitment to the cross-industry consortium R-Cycle and its mission to ensure the traceability of single-use plastics through Digital Product Passports (DPP), Bobst has completed a pilot at its Competence Center in Manchester for high barrier, where a demo machine is R-Cycle ready. This project will now be extended to other product lines (coating, laminating, ci-flexo and gravure printing).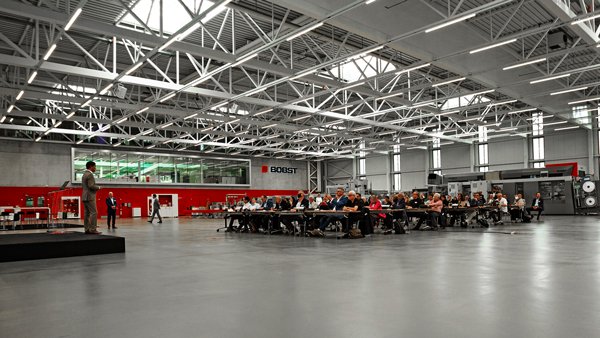 Bobst as a company believes it is in a strong position to help converters and brand owners to transform the way packaging is produced. "While there is no question that the challenges we face in today's packaging environment are greater and more varied than ever, at Bobst we know we have the portfolio, services and partnerships in place to help converters and brand owners navigate successfully through them," said Jean-Pascal Bobst. "We have chosen the right strategy back in 2020 and now converters and brand owners can really benefit from that. Together, we can embrace a better future with confidence."