Uflex will show its best in class technology and equipment for print and cross media solutions at drupa 2016. At the event, the company will launch its extrusion lamination machine. According to Uflex, the main features of this state-of-the-art lamination machine are – unique design of drying hood to achieve optimum temperature; separate drive for impression roller; motorized three axis movement of carriage for air gap setting; chamber type doctor blade for anchor coating; T Die with internal duckling and lip opening up to 1 mm; unique design of lamination drum to maintain even temperature across the width; sleeve type coating nip as an optional; facility of coating on very thin polyfilm
Also on display would be the electronic line shaft (ELS) based rotogravure printing machine. Some advantages of the machine compared to conventional mechanical transmissions are – better operator access around the press; reduction in noise level; less mechanical parts to be serviced and faster print register response. The press is built with ELS technology having all printing, unwind, rewind, in-feed and out-feed equipped with servo motors and drives. By perfectly integrating new generation of electronics and ergonomically designed mechanical components, the press is made to deliver unmatched speed of 350 to 400 MPM. ELS models are equipped with flying splice turret unwind, rewind, sleeve type impression roller and trolley facilities and also has an option of doing reverse register coating at the last printing unit.
Uflex will also showcase a range of embossing cylinders for leather, paper and vinyl applications; very high and very low depth coating rollers from 0.5 gsm to 50 gsm applications like soap wrapper, overcoat, lacquer coating and ink saving in printing and special purpose customized coatings. Other highlights will be hybrid cylinder, an innovation from the Electro Mechanical Line capable of producing high definition images.
Other significant exhibits at drupa 2016 from Uflex would be brand protection and anti-counterfeiting solutions where the company will display different types of holograms – analog 2D/3D conventional, dot matrix (up to 24,000 DPI); non-diffractive Litho (up to 1,20,000 DPI) and E-Beam; unigrams; latentograms; wide web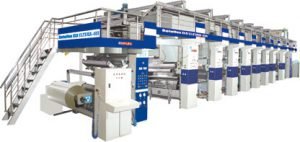 holographic films – soft embossing films, hard embossing films, UV embossing films, high refractive index films, windows/demetallized and lens films. Uflex will also showcase the thermal holography films and demonstrate its applications in the print lamination area. Also on display will be holographic pouches, holographic strips, holographic scratch, holographic wads, holographic shrink sleeves; labelling solutions using foils, Fresnel lens and holographic effects.