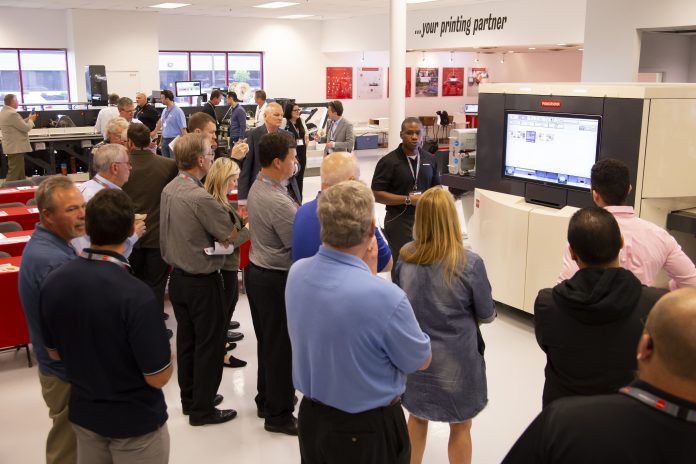 On 13 June 2019, the Nilpeter USA Technology Center hosted the first co-sponsored Open House by Nilpeter and Screen Americas. More than 80 guests and partners were welcomed by Ken Ingram, president of Screen Americas, and Lenny Degirolmo, managing director of Nilpeter USA. The two leaders shared their vision of the partnership and the common sense approach of bringing digital and conventional offerings together to provide a powerful solution for its customers.
Joined by many industry co-suppliers and educators, guests learned about what these technologies offer, and more importantly, how to integrate them into their workflows in order to maximize output through added automation – streamlining operations and improving efficiencies. These technologies allow company partners to modernize their facilities and overcome workforce challenges by investing in new technology.
Leading suppliers gave presentations supporting the printing and converting process from order entry to finishing. Avery Dennison started out by sharing new innovations in substrates and top-coats that directly impact the digital UV InkJet market space. Techkon gave an insightful presentation on 'Running to Color', inline color measurement solutions through automated measurement devices that can provide direct feedback to the printer. On the embellishment side, Color Logic shared its solutions for metallic embellishment utilizing color management techniques on foils and reflective materials to create appealing packaging. Automation through the entire workflow is a key step for improving efficiencies, and One Vision gave a presentation on how to automate workflow and prepress processes by utilizing the latest software solutions.
Nilpeter USA also presented and debuted the new refine finishing offline modular finishing and converting line. Guests found it interesting for its simplicity and technically advanced operations, as well as a cost-effective solution for offline finishing and converting.
Some of the most rewarding information of the day revolved around industry trends and consumer demands. Gary Walton from Cincinnati State University gave a presentation on workforce challenges and how to overcome them. A new program called 'Friends of Print' has been established for industry professionals to engage and increase the awareness of the printing and packaging markets to a new workforce. NAPCO media's Nathan Safran provided an in-depth research study of the digital market space, brand owner requirements and consumer trends. The study effectively broke down each digital technology, uncovering strengths and weaknesses. The presentation provided exceptional information to converters, allowing them to make educated equipment decisions for their business models.
After a networking lunch, the visitors attended the press demonstrations and a tour of the Nilpeter USA factory during which the company showcased its journey through automation and big data control. The partners observed the advantages and efficiencies of investing in automating workflows of the new Nilpeter operations. Next, a full demonstration of the Nilpeter FA platform showcased the platform of the future as well as the clean-hand solutions utilized as the base of the company's digital hybrid offerings. Following this, Nilpeter USA partners, Screen Americas, gave a presentation on the complete workflow of the Panorama DP3+ offering and the flexibility on offer. Visitors were provided a clear explanation on the stand-alone, near-line converting, offline converting and full hybrid solutions.
Lastly, full demonstrations of the Refine Compact unit took place. The Compact unit offers as much flexibility as other competitive units at a fraction of the cost. Nilpeter USA is already seeing good activity with this technology.
The co-sponsored Open House is reported to be successful. Combining resources along with the support of key industry suppliers will allow Nilpeter USA and Screen Americas to build brand recognition as the leaders in the Digital UV InkJet market space, with focus on innovation and printing technologies.