Gourav Roy has been selling Mark Andy narrow web flexo presses for more than 20 years. Now the managing director of FIG speaks about the Indian label industry's performance over the past year and the developments of Mark Andy and Rotoflex especially in the Indian context. Exclusive interview by Naresh Khanna.
Packaging South Asia: Can you speak a little about the label industry over the past year and how demonetization and GST have affected it?
Gourav Roy: We at FIG, experienced a great year in FY 2016-17 and I feel the Indian label industry grew quantitatively. At the LMAI meet in Agra a month ago, a growth of 15% was put forward and this can be considered very good if we compare with developed label markets. And the forecast was similar showing that the India subcontinent will keep growing. Apart from LMAI's continuous work, we saw a new association called ALPS come into the picture. I am sure with more activities and more sharing of knowledge this will also help the industry.
When our Prime Minister Mr. Modi declared the demonetization, it was a surprise for us and I am sure for the label industry too. We never imagined this type of bold move from the BJP; however, Mr. Modi did it and I must say it was a great move to curb black money.
No one will deny uncertainties were experienced in the business world and we experienced a similar situation in the label industry. With everyone busy exchanging old Rs. 500 and Rs. 1000 notes for the new Rs. 2000 and Rs. 500 notes, label converters had to give leave to their staff who wanted to be in the queue to exchange their notes.
Common people who live on just hard cash almost stopped shopping, which reduced manufacturing of many items and this directly affected the label converters. Items like liquor, cosmetics, toiletries, consumer durables and many others were affected and label converters saw the direct impact when their business reduced to almost 25% compared to what they were converting before the demonization.
Some businesses like POS rolls grew multiple fold as the middle class jumped into shopping malls to buy things with CC or ATM cards. A few label printers who are in thermal paper printing of certain AIDC got a bump in sales. Some of the large converters told me that their turnovers dipped to levels of 2 and 3 years earlier in the months from November 2016 till Aug 2017. The peak demonetization effects where seen in the January to March quarter and then came the GST effect. We were all aware of GST coming but nevertheless many projects were postponed because converters awaited the details. However, in the last couple of weeks of August we are experiencing a recovery – the industry has started looking up and turnovers are coming back and expansion plans are back on track.
Can you say something about Mark Andy or Rotoflex developments in the past year? Also, tell us about the reasonably priced digital press that you have sold to Barcom.
Gourav Roy: Mark Andy and Rotoflex have developed their products over the past year. The Performance Series has been upgraded with the aim of helping label converters boost production and improve margins. Mark Andy has come up with different types and level of digital presses to cater to all segments that are looking at short run jobs without compromising on the label quality.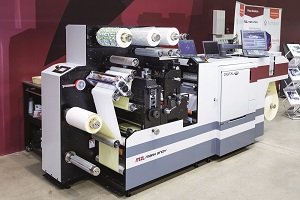 The entry-level digital option is DigitalOne. This is the first practical standalone digital prime label press for the everyday convertor. It is highly affordable and profitable to operate for short runs freeing up valuable time on other legacy equipment by producing jobs faster and at much less cost. It is a compact, simple, and easy to operate press that can be maintained easily with just one day of training to operate and maintain. It's meant to be a short run tool to get new customers, avoid outsourcing, and provide lucrative rush services. Barcom is the first label converter in India to place an order for the Digital One to be installed at their plant in October.
The Digital Plus is a low risk digital addition to existing advanced legacy prime label presses. It is perfect for turning highly specialized legacy work into highly specialized digital work on the existing press. The reinvestment in current assets and converting processes that are familiar makes it a low risk platform. Due to quick installation and a minimal footprint it enables a smooth enhancement of analog equipment. It increases the productive speed and workflow to enhance your current short run jobs.
The production level digital option consists of the Digital Series. This is the industry leading digital production workhorse. It provides precise color reproduction and control for brand specific customers. DS customers use advanced color management and vibrant UV inks to precisely match color requirements, producing more product in less time with lower costs for labor and material. The hybrid technology enables the lowest applied cost via single-pass production with unique and advanced applications that require varied material and converting workflows. It's suitable for convertors with a large base of existing short run business, with significant and varied substrates needs and unlimited colors and treatments. Mark Andy's Digital Series hybrid press platform has received the distinguished 2017 Technical Innovation Award from the Flexographic Technical Association (FTA). The award-winning Digital Series platform is customizable and configurable, with each configuration specific to converter requirements.
Mark Andy has been continuously improving its equipment to make them more robust. It recently reintroduced the Performance Series P5 and P7 with improved press configuration modularity. The press architecture allows all non-printing modules (unwind, rewind, converting) to work across all the press variants (p5, P7, Digital). Many changes have been made not only on the architecture of the press but also on the technology, web handling and user interface.
Rotoflex is also launching their HSI model with a horizontal design which brings many benefits to operators in comfort and efficiency. Designed for high volume label slitting, inspection and rewinding, the HSI is built with an extra-large inspection table, a 37-inch (940mm) high editing area, and an easily accessible slitting module. The HSI has end-to-end servo control, a web width of 330 mm, vision inspection, the latest controls and reporting systems and a running speed reaching 1000 fpm (305 mpm). Barcom is again the first one to place an order for 4 Rotoflex HSI machines which are due to be installed in October and the Signode Group of Industries have also finalized two of these new machines. Visitors to Label Expo Europe in Brussels can see all these machines live at our stand.
At Labelexpo what's relevant from the Indian point of view?
Gourav Roy: Mark Andy will once again be showcasing its robust portfolio of technology at Labelexpo Europe 2017. An updated Performance Series P5 and P7 platform, boasting direct servo improvements, fully automated job register, and a more ergonomic design to improve operator experience. The user-friendly model will be fitted with a solvent-free lamination system, producing food-grade flexible packaging live for booth attendees.
The show-floor Performance Series model will also be fitted with a new digital retrofit solution (the Digital Plus), reinforcing the company's commitment to digital hybrid innovation, which will be a highlight of the show for Indian convertors. They will be also showcasing the DigitalOne and Digital Series presses. The Rotoflex VSI 440 vertical inspection-rewinder and the Rotoflex HSI 330 horizontal inspection-rewinder with the latest controls and reporting systems will also be a highlight at the stand.
Can you say something about the changes at FIG India in the past couple of years and here you could talk about your investments in human capital?
Gourav Roy: Since 1 January 2016, with the direct agreement between Mark Andy and FIG, interaction between the two companies has increased phenomenally. PJ Desai, the owner of Mark Andy, understands the importance of the Indian subcontinent and has encouraged us with exclusive pricing and specialized training to strengthen the support system for Mark Andy and Rotoflex machines here. I am very happy to say we are ready with support system for the new generation P5 and P7 presses, the DigitalOne digital press and the latest Rotoflex machines.
In the past year, FIG has hired several new personnel to improve our responsiveness. In February 2017, Siji Raj with 3 years experience in admin, sales and HR department joined the FIG Delhi office as our purchase coordinator. In July, K Guhanath, who has 10 years of experience, joined our Chennai office as a service engineer. Recently, we have hired three personnel for various functions in our Delhi Office, Amit Kumar Mohanty, as sales executive with 8 years of experience in the printing industry, who will handle sales in the North; Rohit Singh as service engineer North, an electrical engineer with more than 4 years of experience in servicing printing machines. Also, Prit Pal Singh in a marketing executive role
who has more than 20 years of experience in graphic design and printing. He will be responsible for the marketing activities of our company and taking care of the branding and promotion.