Operating speed is a decisive factor for the success of manufacturing companies. Packaging specialist Teepack continuously develops their machines to offer new and increasingly efficient packaging solutions to their customers. "For more than 60 years our name stands for quality – and for making good things even better," says Stefan Lambertz, one of the project managers and a member of Teepack's executive board. "Our cooperation with TUD was based on this philosophy too. Together, we were able to increase the production speed of our vertical form, fill and seal machine Zenobia even further."
Alongside Lambertz, graduate engineer Thorsten Lehmann (Teepack), Jens-Peter Majschak, Johann Holzweißig and Matthias Frank were involved in the project, which was managed by TUD's Institute for Processing Machines and Mobile Working Machinery. With the aim to increase the flow velocity of loose products like rice, peas, linseeds, couscous and coffee beans, they designed a highly dynamic cup dosing system and modified the downstream filling line.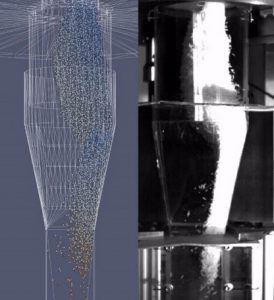 The team intensely studied the flow behaviour of rice, along with the product's relevant motion directions. Their findings were – when a telescoping filling hopper is used – as opposed to the conventional height-adjustable version – bridging and subsequent blocking of the hopper can be avoided. This adjustment in the hopper area also noticeably reduces product inclusions in the area of the cross seam. The specification of a 100-110 milli seconds sealing range (per kilo rice) was also met by the team.
Packaging South Asia is the cooperating media partner for drupa 2016 which is scheduled to be held from 31 May to 10 June at Dusseldorf, Germany.