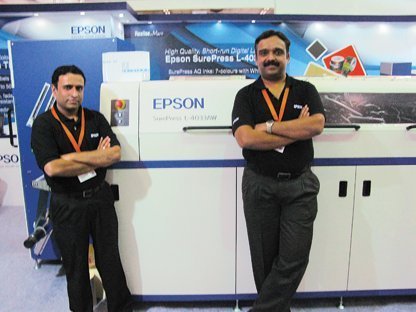 Epson at Labelexpo India 2014 showcased its short-run digital inkjet wide-format label press SurePress L-4033A. Featuring its trademark micro piezo multi-print head array it gives a high print and color quality for continuous commercial printing operations that are available for the proofing segment. LK Vasudevan, business manager, pro graphic products, says, We continue to hold around 60% market share in the wide-format inkjet proofing segment where the growth has been good. Now we have introduced the same printer as an industrial solution that can be used for both short-run printing and variable data printing and used for production printing in the narrow-web flexo segment.
Eco-friendly solution
Harishankar, senior manager, sales, says that the press is used for both label printing and for proof printing and is extremely eco-friendly. It has no chemicals or plates and reduces the adverse effect on environment. Both the label press and the SurePress AQ ink are in compliance with the EU directive on restriction of hazardous substances. It also has minimum wastage being a digital printer and uses water-based inks that are sustainable in the long run. Some of the labels printed and demonstrated at the Epson stand showed the presence of very vivid eye-catching colors with sharpness of text and firm and clearly readable barcodes.
Epson has developed a new water-based pigment ink set for the SurePress L-4033A with six colors including green and orange for an extra wide color gamut. The effect of the CMYK, green and orange is clearly visible when the bright green is paired with the yellow and orange shades making the colors look more intense. The ink also provides excellent adhesion on a wide variety of standard labelstock substrates without the need for any pre-treatment and can print up to a size of 13-inch width.
Variable sized droplet technology
The printer heads have micro fine nozzles that deliver the desired drop shapes and placement for each color, ensuring superior color quality. Optimum ink usage is achieved by use of the advanced variable sized droplet technology that provides different size ink droplets as small as 3.0 pico litres. These precision droplets allow the ink to be uniformly applied contributing to smooth gradations and sharp smudge free edges. A two-stage drying process is then used to ensure optimized ink adhesion.
Vasudevan confirmed that they have two installations with Sai Packaging, Bengaluru and Trigon in Mumbai and the third installation will be taking place at JP Printers, Mumbai. People were not ready to accept digital label printers initially because labels could be printed on much cheaper machines but now these inkjet printers are becoming increasingly popular and are used both for proofing as well as short-run print plus variable data printing (VDP) applications,says Vasudevan.