It has been five years since the last Drinktec edition… This is the world's leading trade fair in beverage and liquid food. Not surprising then, that 50.000 visitors attended the Munich show, with a notable presence of visitors from the Indian subcontinent. With eight halls and more than 1,000 exhibitors from 55 countries, this remains an excellent place to meet industry leaders, discover innovations, and get insights into the beverage sector. Dominique Huret from Cape Decision reports for Packaging South Asia.
Asian markets now account for almost a third of the total global consumption of soft drinks. This market should register the largest growth rate from 2021 to 2026, with bottled water, energy drinks, and carbonated drinks especially popular. A rise in demand is also predicted in other markets, albeit at a lower rate. 
By 2026, global sales of soft drinks are expected to increase by 19% to 848 billion liters. China is worth a special mention, with a 45% share of sales in Asian countries, making it the most important individual market for soft drinks. However, the largest growth rate goes to India, where consumption should see an 83% increase by 2026.¹  
Also well worth mentioning, the market for alcoholic beverages in Asia will grow by 4% by 2025 ². One consequence – the global demand for packaging machines in the beverage and liquid food industry is once again increasing. And, despite difficult conditions, there are good global prospects for machines and facilities that manufacture, can, bottle, and package beverages and liquid foods.  
Selected beverage equipment for today and tomorrow
KHS
At Drinktec, KHS showcased its SmartCan high-performance can filler/seamer block. It has been developed together with Ferrum, the Swiss engineering company that is a leading manufacturer of can seaming machines. The computer-controlled can filler and seamer can fill beer and carbonated soft drinks, juices, and still beverages. The servo-drive technology enables automated positioning with a highly accurate degree of reproducibility coupled with a low amount of wear. The can filler/seamer block can process up to 135,000 cans per hour with a diameter of 50 to 73 millimeters and a height of 88 to 200 millimeters.
The KHS/Ferrum SmartCan operates according to the volumetric filling principle – this provides maximum filling accuracy and freedom in the choice of the can to be processed. Furthermore, all processes are automated – each process step is documented and can be reproduced at any time. In its initial available size, the can seamer comes with 14 seaming stations and a capacity of 108,000 cans per hour. The first equipment has been sold to Konings, a Belgian co-packer and private label producer of beverages.
Another innovation from KHS is the Innokeg AF-C Transversal, a fully automated transversal kegging line. This sophisticated setup washes and racks up to 500 kegs an hour. Thanks to its single central conveying segment, the system is particularly compact and accessible. It can adjust to different formats fully automatically, providing more flexibility, efficiency, and speed.
Krones
Attracting many visitors to the Krones huge stand was the Barifill Canto – a multipurpose filler for bottles and cans on a single machine. Italian subsidiary Kosme is responsible for its development, construction, and installation. Thanks to the multipurpose filling valve, it fills beer, CSDs, sparkling water, and sparkling wines in a variety of can types and sizes plus PET containers and glass bottles. That allows smaller craft breweries and wineries the flexibility in container choice without requiring investments in three different filling machines.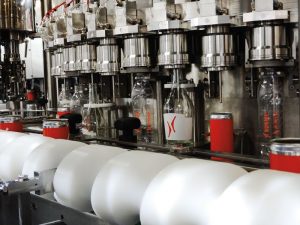 The Barifill Canto's output range is as customizable as the applications it can serve. Depending on the product and the machine configuration, it can handle outputs as high as 16,300 cans and 17,000 bottles per hour. A French drink maker is already running this equipment for a low-alcoholic wine-flavored beverage.
Another interesting recent piece of equipment is the Dynafill – Krones' new energy and line concept for beer filling. This concept developed by the Krones subsidiary, Brewnomic enables a brewery to be energy self-sufficient by smartly using and recovering the residual materials from the brewing and filling processes. Brewnomic consists of several modules, many of which relate to the brewing process. But systems and lines used in the bottling operation can also contribute to overall sustainability.
The Dynafill solution combines filling and crowning on a single functional unit. In a conventional filling process, the filling temperature, at around six degrees Celsius, is relatively close to the starting temperature of one degree Celsius, at which most beers are stored. If a brewery were to increase the filling temperature, it would also have to provide for longer treatment times. As a consequence, conventional fillers would have to be significantly larger for the same output. Filling into a vacuum, by contrast, which Dynafill has translated into shop-floor reality, combines two advantages – the filling process is significantly shorter, taking a mere 0.5 seconds, and, filling temperatures of up to 30 degrees Celsius are possible without the need for a larger filler. Savings in energy and footprint. 
Sidel
The Sidel Group also took part with a massive stand and presence on the show. Among other products, the French company introduced the Aseptic Predis X4, pushing the boundaries again in the aseptic packaging market. The new system combines the highest food safety standards, ease of use, flexibility, and best-in-class environmental footprint. It is an integrated blow-fill-cap solution that incorporates the consolidated Predis dry preform sterilization, making it ideal for the growing market of sensitive beverages in PET bottles. It builds on Sidel's proven and successful aseptic technology and introduces further innovation in design and digitalization.
The result is that it offers the best possible experience in both food safety and operation. With more than 45 years of experience and expertise in the aseptic packaging equipment market, Sidel has been a pioneer in introducing preform sterilization systems. The Aseptic Combi Predis technology received FDA approval in 2017 for low acid products sold in the US, an industry first.
With more than 200 installations worldwide, Sidel aims to help its customers to meet the growing market for healthy and nutritious drinks with a long shelf life. Demand for these products is expected to reach 192 billion units by 2024, an increase of 44% compared to 2011. Sensitive products represent 55% of the non-alcoholic beverages market and forecasted growth (at 2.3% CAGR 2019-25) is higher for PET than for other materials.
Last year, Varun Beverages, part of RJ Corp group, one of the largest franchisees for PepsiCo globally, installed Sidel's Aseptic Combi Predis in its plant in Punjab, India. The possibility to combine dairy and juice filling on the same bottling line convinced RJ Corp. The company was commercializing its liquid dairy products (LDP) in PET for the first time in India.
Put all into practice here is Sidel's proof of excellence –1SKIN. This is a one-liter bottle for sensitive products, created by Sidel's engineers. They have used their packaging optimization expertise to develop a bottle design that offers the perfect balance of product safety, performance, and sustainability. Using minimum raw material of 28 grams for the 1-liter format, with a neck reduced to 3.2cm, it is made from 100% recycled PET and is label-free. The bottle is free from additional materials such as glue that can disrupt the recycling process. The closure is attached in line with the forthcoming European single-use plastic (SUP) legislation, allowing customers to achieve sustainability targets and stay ahead of regulations.
Gea
Finally, Gea also showcased its significant achievements – the Gea AromaPlus Pro equipment, which virtually eliminates freshwater from the de-alcoholization process by using a membrane-based filtration. The AromaPlus Pro drastically reduces the volume of water required during de-alcoholization. At the same time, beverage producers can use the byproduct, the alcoholic base, to produce other alcoholic beverages such as hard seltzer. And last but not least, Gea's Better Juice Sugar Converter Skid is the world's first solution that naturally reduces juice's sugar content by up to 80%, without affecting its nutritional value or authentic taste. The Israeli start-up Better Juice invented the biological process, while Gea designed and built the pilot-scale process technology. Since July 2022, beverage producers can implement product testing with the bioreactor skid at Gea's test center in Ahaus, Germany.
Analysis by the German Mechanical Engineering Industry Association (VDMA).
Euromonitor International.