Mumbai-based packaging major TCPL Packaging has recently wrapped up a major investment drive in its flexible packaging division and expects it to notch up solid growth going forward. TCPL started its flexible packaging unit in Silvassa in October 2016 with a Bobst 9-color rotogravure press and a full-fledged converting section.
"We had planned for the expansion in our flexible packaging division more than two years ago but the plans went haywire due to the advent of the Covid-19 pandemic. We have finally managed to complete the investment and expansion phase with some of the best technology available. This phase of our investment is much bigger than the initial one when starting our flexible packaging unit," says Vidur Kanoria, associate director at TCPL Packaging who manages the flexible packaging operations at the company.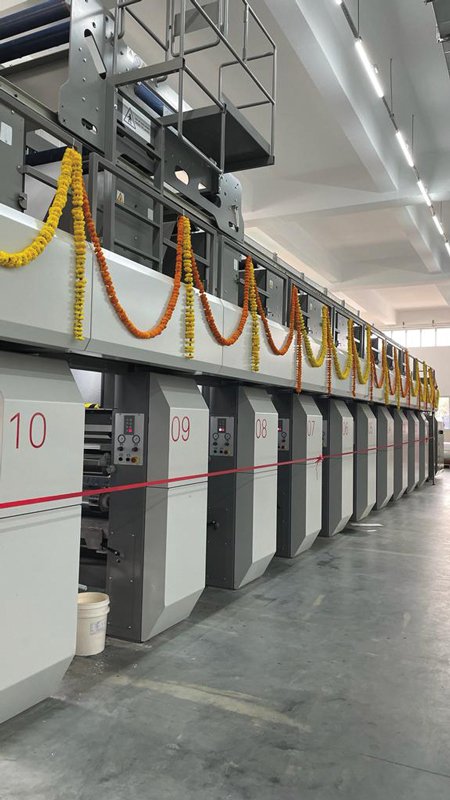 In the recently concluded investment phase, the company has bought a Reifenhauser EVO Ultra Stretch 5-layer blown film line with an MDO unit, critical for adding various attributes and properties that improve PE films by stretching the film in the machine direction. The blown film line has a height of 25 meters and a width of 3 meters and is being used to manufacture MDO-PE films, which when used in mono polymer laminates are inherently easier to put into the polyolefin mono-material family waste stream for 100% recycling. 
"The films produced on the Reifenhauser blown film line are rigid with high tensile strength, have decent heat resistance and offer great clarity. The line can produce 650 kilograms of film per hour," Kanoria says. The MDOPE films are easily printable on a gravure press like BOPET films and the same applies to their runnability on FFS machines used by the consumer product brand owners.
TCPL has also commissioned a Bobst 10-color rotogravure press, which has a production speed of 350 meters per minute and a width of 1,300 mm. The press has a movable turner bar and can be run in 8+2 and 9+1 color configurations. The Bobst contains TAPS – the total automatic pre-register system by which the register settings for the entire press are done with a single button without any other operator intervention. 
The company has also added a co-extrusion lamination line, another Nordmeccanica laminator, and slitters besides equipped with centre seal and gusseted pouch making machines. TCPL now has multiple printing presses from Bobst and laminators from Nordmeccanica. 
TCPL has three parcels of land adjacent to its existing plant in Silvassa and the company has used one parcel of land to set up the unit that houses these newly acquired machines. "We can fit two more printing presses and two more blown film lines in the present unit," says Kanoria. 
With the commissioning of the new hardware, TCPL's flexible packaging division has added 500 tons per month of capacity to its existing 500 tons. The company can now print and convert 1,000 tons per month of packaging films, monthly. Its capacity to produce PE films stands at 350 tons per month. 
TCPL not only uses the films in-house but also supplies these to third parties under the InnoPure (MDO PE for printing) and InnoMet (Metallized PE for sealing) brand names. It has established a fully-owned subsidiary, TCPL Innofilms, for the films business and marketing. 
Flexible division poised for solid growth
With the expansion phase over, Kanoria believes, TCPL's flexible packaging division is now set for a phase of high growth. Not only has the company added to its existing capabilities, but it has also entered new converting areas such as co-extrusion lamination and pouch making. This should help the business immensely, he explains.
"Now we can grow very fast as TCPL can offer new products. With InnoPure & InnoMet, we can cater to various consumer goods and F&B brands. There is a very good demand for sustainable solutions among brand owners and these films should address that. Our customer base should see a significant diversification going forward. We expect to double the turnover of the flexible packaging division by the end of the 2022-2023 financial year. FY23 is also when we should hopefully add our third flexible packaging printing press," Kanoria says.
Although TCPL exports packaging films to Africa and the Middle East, it is now eyeing developed markets such as North America and the European Union. "We see a huge potential in these markets. There is a big demand for MDO PE films in developed markets," he says. "In addition, we recently opened an office in Dubai to cater to export needs."

Indian flexible packaging industry poised for steady growth
In the past six months, the packaging industry has faced sharp raw material inflation. Raw material prices have increased manifold due to supply chain disruptions caused by the pandemic and more recently due to the Russia-Ukraine war. Kanoria says despite the short-term challenges, both the Indian flexible packaging industry and TCPL will continue to witness steady growth. 
"The fundamentals of the Indian economy are intact. When things settle down and the uncertainties are gone, the Indian economy should go back to its high growth path. As the economy grows, so will consumption. This will boost demand for packaging. And since flexible packaging is the dominant form of packaging in India, the industry should see robust growth as well. TCPL should also manage to manage the cost inflation challenge much better now as our scale has increased with the commissioning of our latest expansion phase," he concludes.